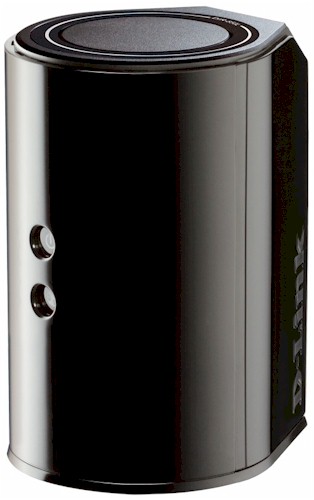 At a glance
Product
D-Link Wireless AC1200 Dual Band Gigabit Cloud Router (DIR-850L) [Website]
Summary
Realtek-based AC1200 class router with IPv6 support, Gigabit ports and USB 2.0 port
Pros
• Good routing feature set
• IPv6 support
Cons
• Poor handling of simultaneous up/down routed traffic
• No bridge mode
• Only two status lights / indicators
Typical Price: $50 Buy From Amazon
Overview
Updated 8/16/2012: Corrected 20/40 Coexistence test info
We're continuing to work our way through D-Link's new AC routers. We were impressed with the top-of-line AC1750 class Broadcom-based DIR-868L back in May. This time, we're looking at the first of D-Link's two AC1200 class routers we'll be reviewing, the DIR-850L.
The descriptions below taken from D-Link's site are identical except for the price. So what's the difference? According to D-Link:
"The main difference between the two models is the DIR-860L features a USB 3.0 port and the DIR-850L features a USB 2.0 port. In addition, the DIR-860L is equipped with D-Link's SmartBeam technology which provides stronger, clearer and faster Wi-Fi by locating and focusing bandwidth to your devices."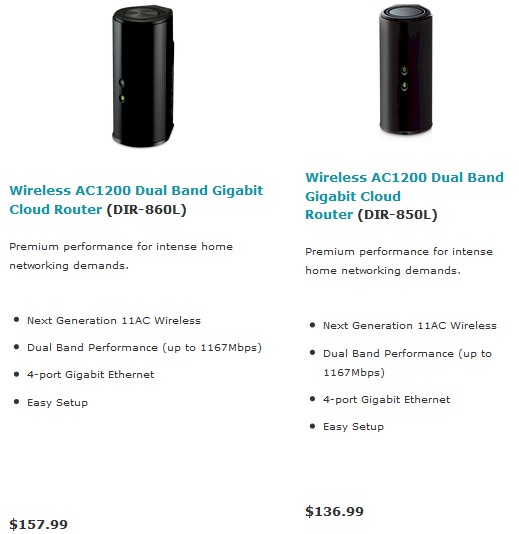 DIR-850L / DIR-860L descriptions
Actually, there is a more important difference, as we'll see shortly when we dissect its innards. Like the DIR-868L, the 850L has only power and "Internet" indicators, which use color and blinking to indicate power, boot, WPS and internet connection status. There are no indicators to show Ethernet or wireless activity or status.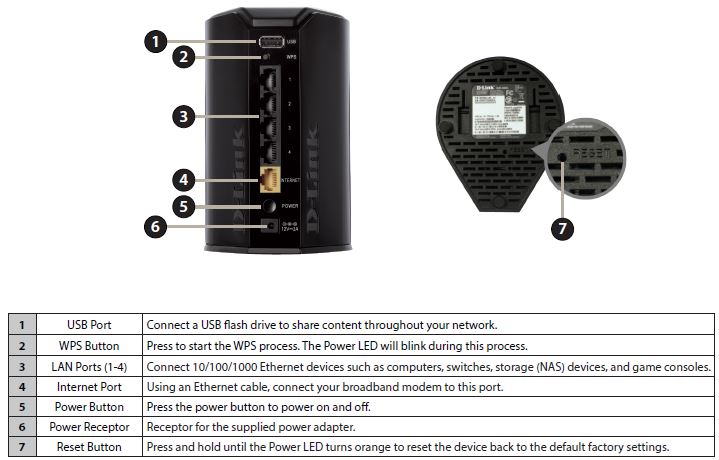 DIR-850L ports and buttons
All the 850L's Ethernet ports are Gigabit and, as noted above, its single USB port that supports D-Link's Shareport Plus drive and printer sharing feature is 2.0.
Inside
Digging into the 850L's FCC ID photos revealed the first AC router we've tested based on Realtek silicon. The main processor is an RTL8197D, that is not listed on Realtek's website. WikiDevi, however, lists it as based on a Lexra RLX5281 (MIPS-based) core clocked at 500 – 660 MHz.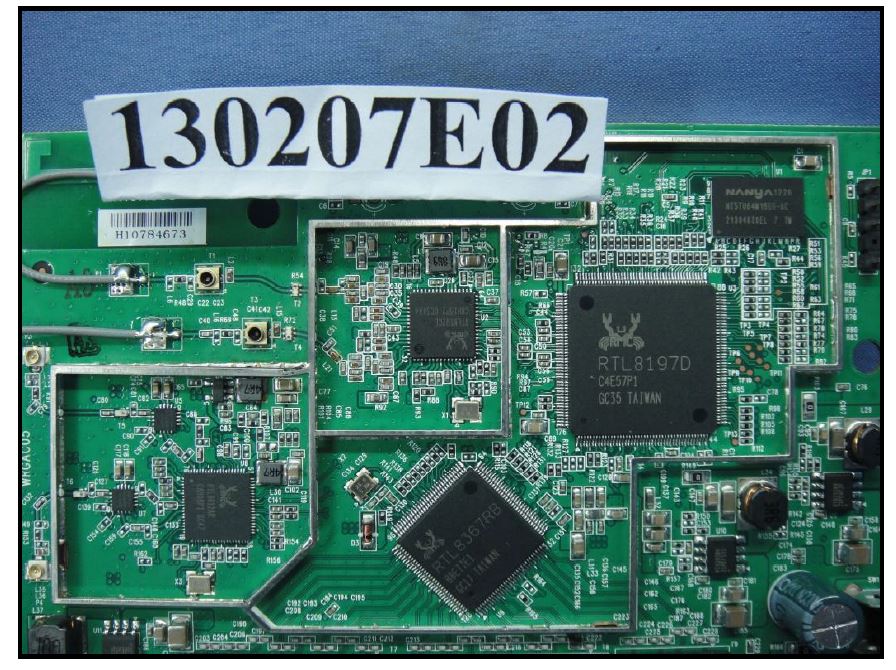 D-Link DIR-850L board
The DIR-860L's FCC overview photos aren't that great. Fortunately, there are excellent close-ups of all the key components that clearly show a Broadcom-based design.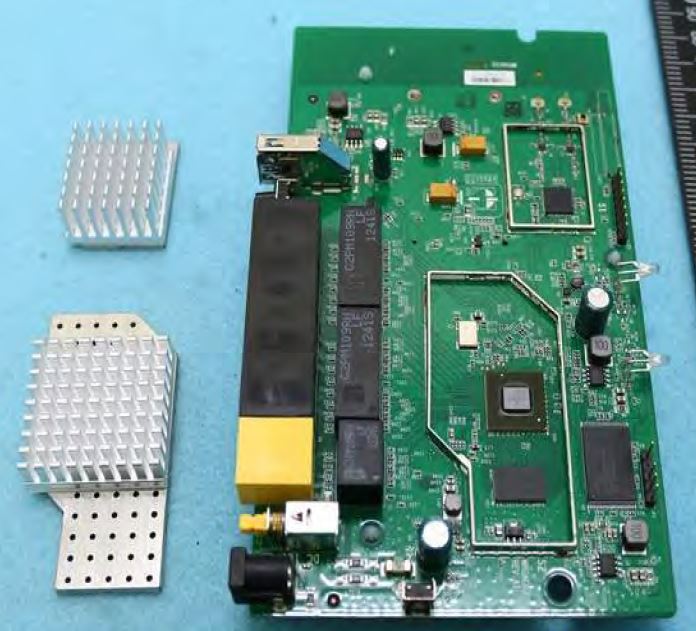 D-Link DIR-850L board naked
The 860L uses Broadcom's second-generation dual-core BCM47081A0 SoC that handles the main CPU, Ethernet and USB functions. All the other key parts are listed in Table 1.
DIR-850L
DIR-860L
CPU
Realtek RTL8197D
Broadcom BCM47081A0
Switch
Realtek RTL8367RB
In CPU
RAM
128 MB Spansion S34ML01G100TFI00 (x1)
128 MB Spansion S34ML01G100TFI00 (x1)
Flash
128 MB (Nanya NT5TU64M16CG-AC) (x1)
128 MB Micron MT47H64M16HR (x1)
2.4 GHz Radio
– Realtek RTL8192CE (2×2 bgn)
– No amplifiers
– Broadcom BCM43217
– No power amps
5 GHz radio
– Realtek RTL8812AR (2×2 agnac)
– Unidentified 5 GHz amps (x2)

– Broadcom BCM4352KMLG
– RF Micro Devices RFFM4501 802.11a/n/ac Front End Module (x2)
(Radio is on mini PCIe module Alpha Networks WMC-A02)
Table 1: D-Link DIR-850L / DIR-960L key components
Features
The 850L has D-Link's standard router feature set, which we covered most recently in the DIR-868L review. D-Link hasn't posted an emulator for the 850L, but the DIR-657's emulator is pretty close. The feature summary below is copied from the 657 and 827 reviews.
Routing
DHCP, Static, PPPoE, PPTP, L2TP, DS-Lite WAN types
DHCP server with MAC address reservation, lease time setting and NetBIOS controls
Built-in dynamic DNS client for dlinkddns.com and dyndns.com free and custom services
Static routes
DMZ host
SPI firewall disable, UDP / TCP endpoint filtering, anti-spoof checking
WAN ping allow / deny
Multicast stream enable
IPv6 support (auto-detect, static, link-local, autoconfiguration (SLAAC/DHCPv6), PPPoE, IPv6 over IPv4 tunnel, 6to4, 6rd)
IPv6 static routes
IPv6 port forwarding
PPTP, IPsec, RTSP, SIP ALG disables
Schedulable single port, port range and triggered port forwarding. (Can set source and destination ports on single ports [virtual servers])
Allow / deny (global) MAC address filtering for network access
Outbound schedulable port filtering by IP or MAC address with selectable web access logging
40 domain-based allow / deny (global) Web access filters
8 inbound IP range allow / deny (global) filters
Remote admin access enable, IP access filtering, port setting and graphic authentication enable
UPnP support
WAN port speed set
HTTPs admin access enable
Syslog support
Email alerts and log send
Automatic uplink QoS with manual / automatic uplink speed detection and manual rule option
Sharing features
UPnP / DLNA Media server enable
iTunes server enable
SharePort Plus drive and printer sharing
The 850L also supports D-Link's mydlink cloud service that provides secure remote access to attached storage and some router management features. I took a quick peek to see if the service's very basic feature set had changed since our review last year and it hadn't…at least not for the web interface shown below. The only router settings you can access are wireless enables for each radio, SSIDs, security mode and password, email notifications and remote web access enable.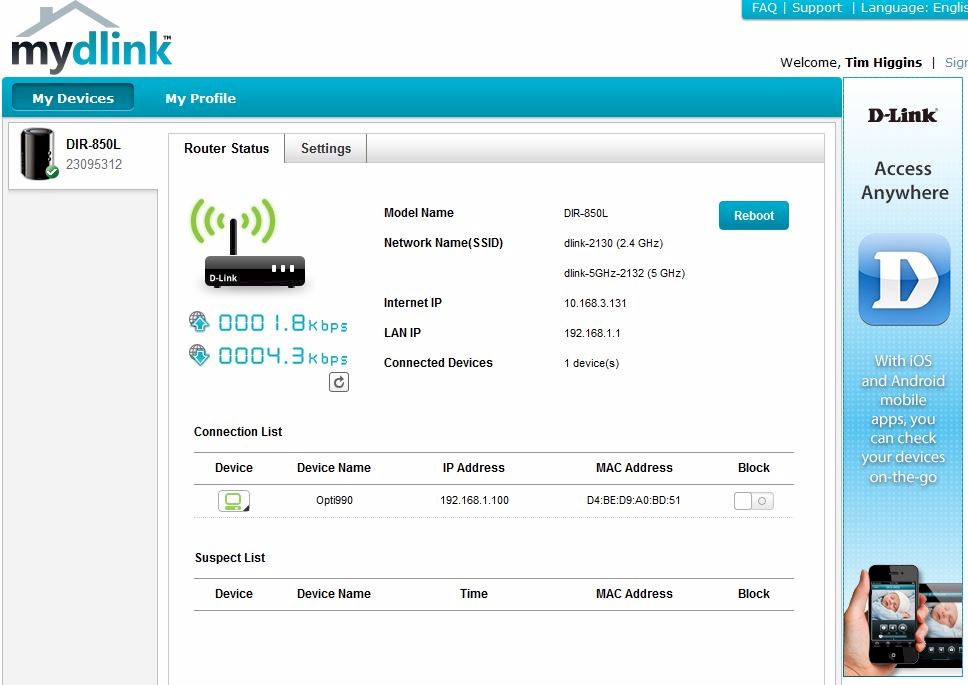 mydlink router status
A check of the Google Play Store showed an assortment of apps, some for remote storage access and others for management. Looks like D-Link is still trying to get 99 cents for its "+" Android management app. Really, guys?
Wireless
Table 2 summarizes the basic wireless setting modes and channels supported. Note the access to channel 165 in the 5 GHz band, something not found in every dual-band router.
Setting
2.4 GHz
5 GHz
Channel
Auto [default]
1 – 11
Auto [default]
36, 40, 44, 48
149, 153, 157, 161, 165
Channel Width
20 MHz only
20/40 MHz (Auto) [default]
20 MHz only
20/40 MHz
20/40/80 MHz (Auto) [default]
Network Mode
802.11b only
802.11g only
802.11n only
Mixed 802.11g and 802.11b
Mixed 802.11n and 802.11g
Mixed 802.11n, 802.11g and 802.11b [Default]
802.11n only
802.11ac only
Mixed 802.11a and 802.11n
Mixed 802.11ac and 802.11n
Mixed 802.11ac, 802.11n and 802.11a [default]
Security Modes
None
WEP
WPA-Personal
WPA-Enterprise
WPA
Auto (WPA or WPA2)
WPA2 only
WPA only
Table 2: Wireless settings summary
In addition to the manual wireless security settings, the router supports WPS PIN and pushbutton setup modes. You also can define schedules for turning each radio on and off for added security.
Updated 8/16/2012
After a discussion with D-Link, I discovered an error in my previous test and description of the 850L's implementation of the 20/40 MHz coexistence mechanism, so I'm correcting it.
The Advanced Wireless screen HT 20/40 Coexistence control shown below allows you to disable the mechanism that should prevent the router from using 40 MHz bandwidth mode in 2.4 GHz when there are in-range networks that the wider bandwidth would collide with. I'm not a fan of this control and have called out NETGEAR for a similar one. But since the router properly defaults to it enabled, this is kosher as far as the Wi-Fi Alliance is concerned and the product conforms to its Certification requirements in this regard.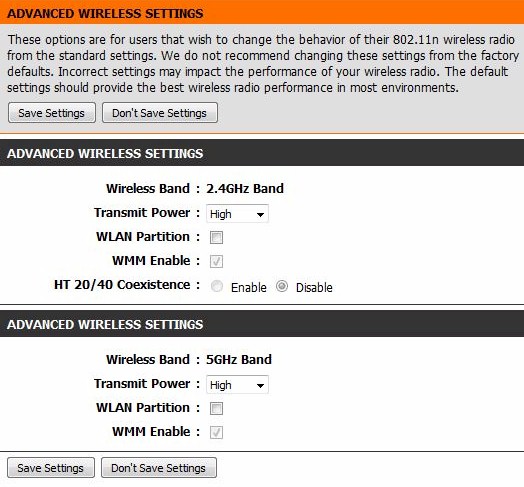 DIR-850L Advanced Wireless settings
However, I had mixed results when I ran our 40 MHz Coexistence and Fat channel intolerant tests. The Fat Channel intolerant bit tests passed with the router immediately switching to 20 MHz link rates when the bit was set and switching back when it was cleared. The 40 MHz coexistence test failed, however. The test client continued to indicate 40 MHz mode link rates even after 5 minutes when the 850L was set to both Channel 8, then Channel 9 with my house router set to Channel 11 and 20 MHz mode.
The WMM Enable boxes for both radios are also greyed-out, but are enabled. This is good, because WMM must be enabled to allow 802.11n and 802.11ac link rates to be supported (anything above 54 Mbps). You can also adjust transmit power on both bands with High (default), Medium and Low settings only. The 850L does not support wireless bridging or repeating or have an access point mode.
Storage
The 850L supports D-Link's Shareport Plus drive and printer sharing feature with the same feature set as the DIR-868L. The router admin GUI has separate links for Storage and Media Server and the Media Server screen has separate DLNA and iTunes server enables.
I ran Windows filecopy tests using the standard NAS testbed to the 850L with our USB standard drive (Startech USB 3.0 eSATA to SATA Hard Drive Docking Station (SATDOCKU3SEF) containing a WD Velociraptor WD3000HLFS 300 GB drive) formatted in FAT32 and NTFS.
DIR-850L
TRENDnet
TEW-811DRU
NETGEAR R6100
TRENDnet
TEW-812DRU
Processor
Realtek RTL8197D
Broadcom BCM47081A0
Atheros AR9344
Broadcom BCM4706
FAT32 Write (MBytes/s)
6.1
8.9
7.8
5.0
FAT32 Read (MBytes/s)
9.7
10.8
10.5
6.4
NTFS Write (MBytes/s)
5.3
3.6
9.9
2.2
NTFS Read (MBytes/s)
7.2
9.4
10.5
5.5
Table 3: File copy throughput
The results are interesting because they compare storage performance using four different processors, one of which is dual-core (Broadcom BCM47081A0). From what I can see, none of these routers has a strong performance advantage in this department.
Routing Performance
Routing throughput was measured running 1.0.7 firmware, using our router test process. Table 4 summarizes the results.
| Test Description | DIR-850L |
| --- | --- |
| WAN – LAN | 910 Mbps |
| LAN – WAN | 907 Mbps |
| Total Simultaneous | 312 Mbps |
| Maximum Simultaneous Connections | 19,705 |
| Firmware Version | 1.0.7 |
Table 4: Routing throughput
The IxChariot composite plot below shows steady and essentially Gigabit wire-speed throughput in the unidirectional benchmarks.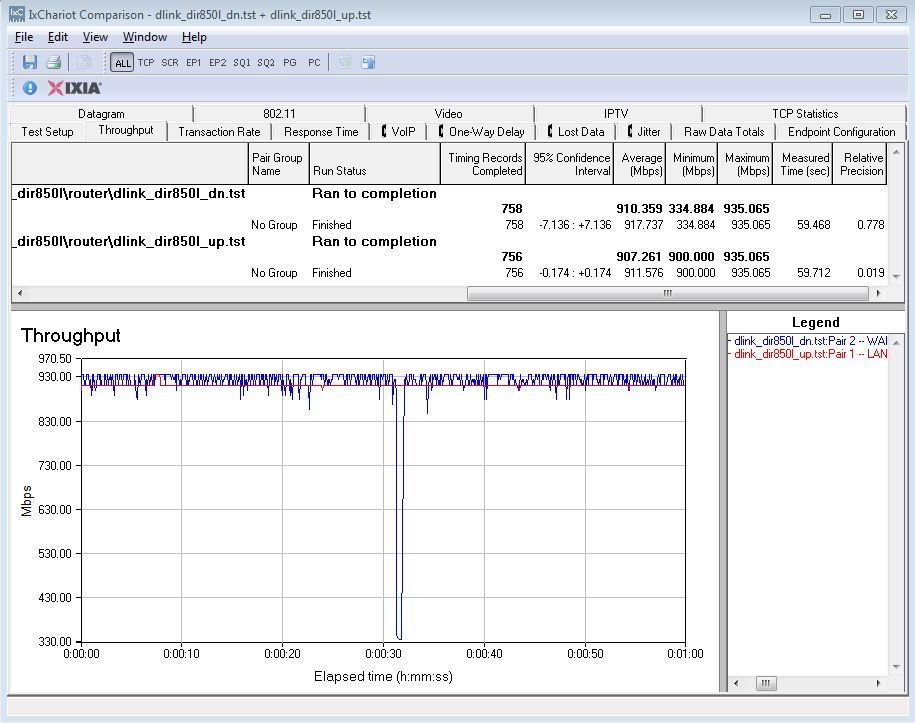 D-Link DIR-850L routing throughput unidirectional summary
But the simultaneous up/downlink benchmark plot below shows some serious problems in balancing traffic loads in heavy use. You probably wouldn't see this problem with typical ASDL connections like mine, which is 10 Mbps down and 1 Mbps up. But folks with symmetrical connections might want to steer clear of the 850L.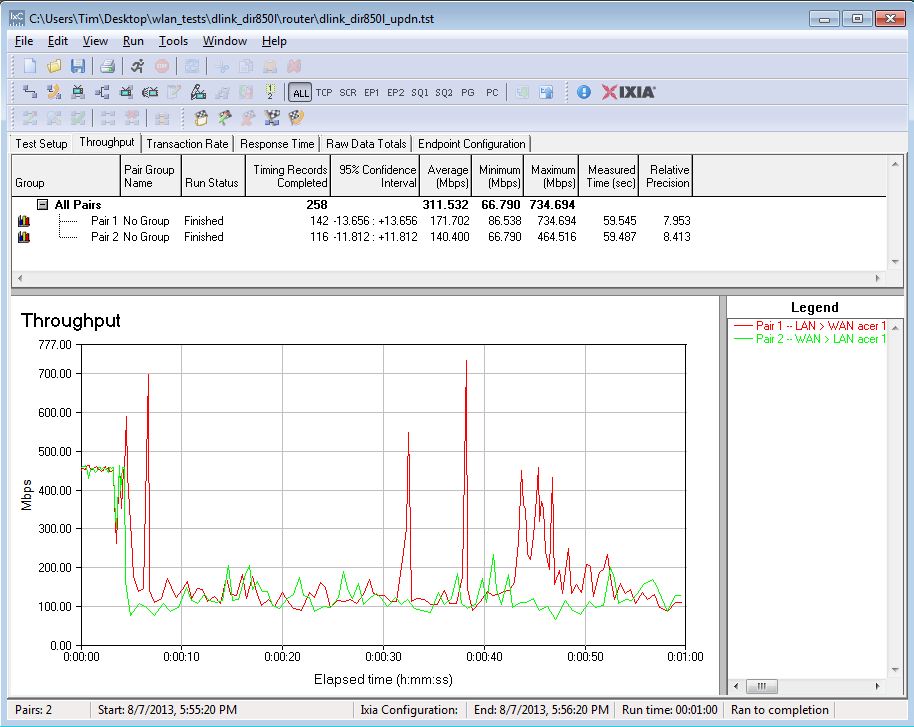 D-Link DIR-850L routing throughput bidirectional summary
Wireless Performance
The DIR-850L is Wi-Fi Certified for 802.11a/b/g/n (not ac) and defaulted to Auto 20/40 Channel Width on the 2.4 GHz radio and Auto 20/40/80 MHz bandwidth mode for the 5 GHz radio upon power-up. The router comes with different 2.4 and 5 GHz SSIDs set, so you'll be able to connect to your desired band without having to change router settings.
I successfully ran a pushbutton Wi-Fi Protected Setup (WPS) session with a Win 7 client. The WPS session completed quickly and resulted in a WPA2/AES secured connection with the same WPA2 pre-shared key set for both radios.
All tests were run using our new wireless test process and 1.0.7 version firmware loaded. The router was first reset to factory defaults and Channel 6 was set for 2.4 GHz and Channel 153 for 5 GHz. 20 MHz bandwidth mode was set for 2.4 GHz and 80 MHz mode (to enable draft 802.11ac link rates) was set for 5 GHz. The test client was connected using WPA2/AES encryption.
The router were positioned 8" from the chamber antennas in all test positions. The 0° position had the router front facing the chamber antennas.
The retest Benchmark Summary below shows the average of throughput measurements made in all test locations.
D-Link DIR-850L Benchmark Summary
Since we have tested only two other AC1200 routers so far, pickin's are slim for comparison. Comparing average 2.4 GHz benchmark values with other AC1200 class routers, the 868L's 50 Mbps downlink and 49 Mbps uplink results ranks it between the other two in both cases. The 102 Mbps simultaneous up/downlink result also slots it in the middle.
For 5 GHz, the 850L's 76 and 70 Mbps average results for downlink and uplink and 285 Mbps simultaneous up and downlink throughput also put it smack in the middle of the other two competitors.
For a look at full throughput vs. attenuation plots, I included the other two AC1200 class routers currently tested, NETGEAR's R6100 and TRENDnet's TEW-811DRU. Keep in mind that the R6100's 5 GHz wireless performance is limited by its 10/100 Mbps Ethernet ports vs. the Gigabit ports on the TRENDnet and D-Link.
But the 2.4 GHz downlink profile shows that the NETGEAR's slower Ethernet isn't holding it back. Of the three, it clearly has the best range performance. The 850L, however has the highest throughput at 0 dB attenuation of the three, which ranks it #1 for that benchmark.
2.4 GHz Downlink Throughput vs. Attenuation
The 2.4 GHz uplink plot shows essentially the same result as downlink—NETGEAR best for range and D-Link tops for maximum throughput at 91 Mbps.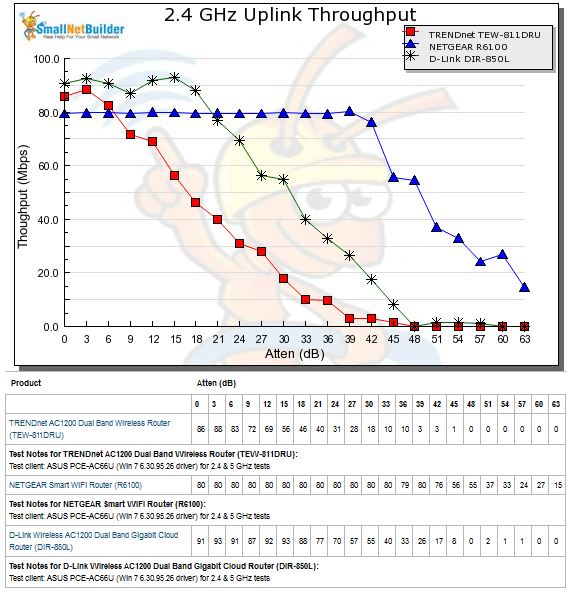 2.4 GHz Uplink Throughput vs. Attenuation
Wireless Performance – more
The 5 GHz downlink benchmark provides our first real competitive look at AC1200 routers with Gigabit ports. In this matchup, the Broadcom-based TRENDnet clearly has the performance edge for both maximum throughput and range. The D-Link ranks in the middle for maximum throughput, due to the NETGEAR's 10/100 ports. But for range, the 850L ekes out only 3 Mbps at the 39 dB attenuation point used for range ranking vs. the NETGEAR's 39 Mbps.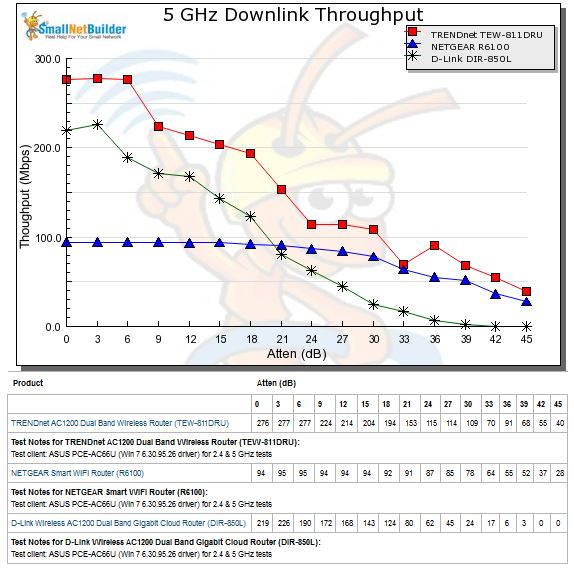 5 GHz Downlink Throughput vs. Attenuation
The 5 GHz uplink plot shows a similar story, but with 11 Mbps at the range ranking point.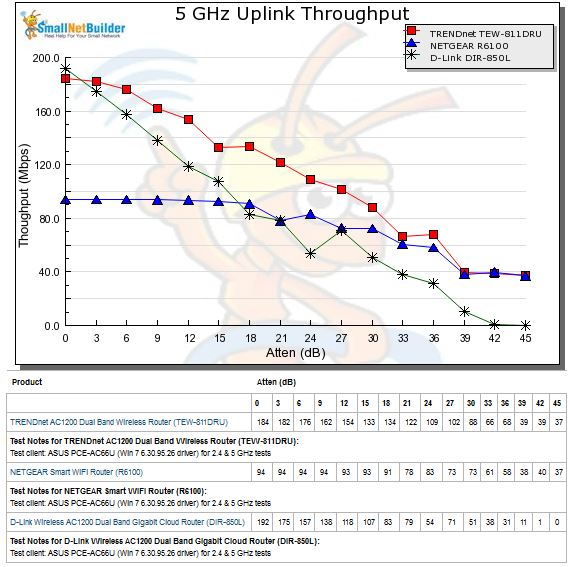 5 GHz Uplink Throughput vs. Attenuation
I called out the DIR-868L for its large variation in performance among the four test runs with the router rotated 90° each time. I again found significant variation for the 850L in the 2.4 GHz tests, primarily running downlink as the composite plot below shows. It was tough to make a call on which is the best run, but I chose the 180° orientation mainly because it gave the highest results at 0 dB attenutation, which is used for wireless performance ranking. Unfortunately, throughput in this run tended to fall off faster than in the other orientations.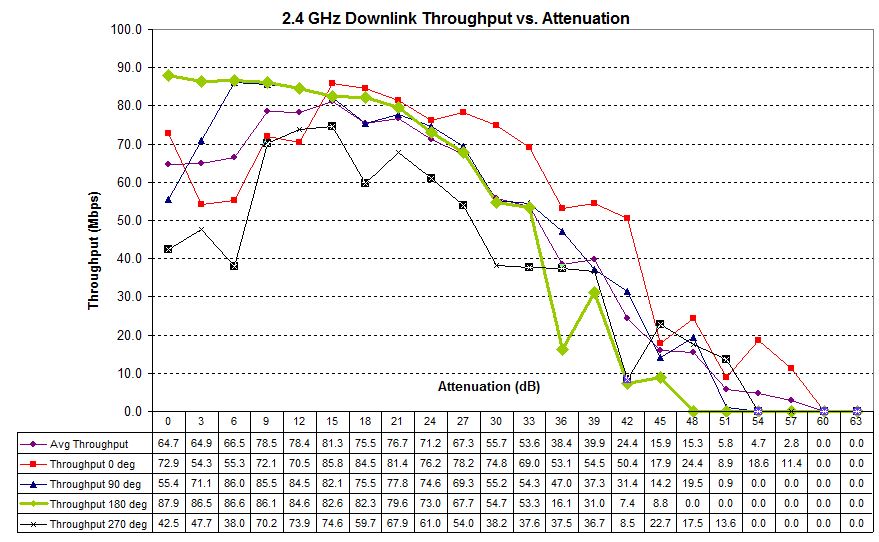 Four test runs – 2.4 GHz downlink – D-Link DIR-850L
The uplink plot shows smoother runs that tended to balance around the average. But since the rule is to choose the same run (or average of the four) for up and downlink, the 180° run was again entered into the Charts database.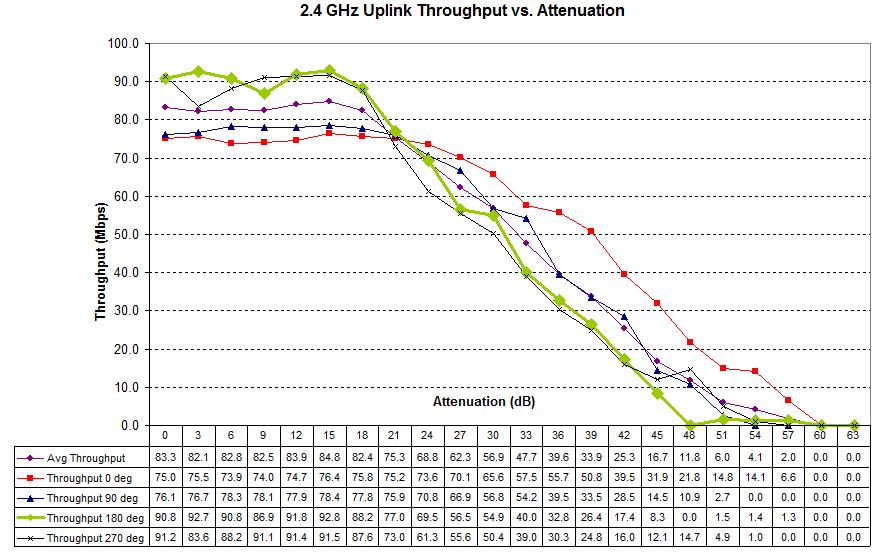 Four test runs – 2.4 GHz uplink – D-Link DIR-850L
For 5 GHz, I ended up using the average of the four runs, even though downlink throughput in the 180° run was better through the midrange attenuations.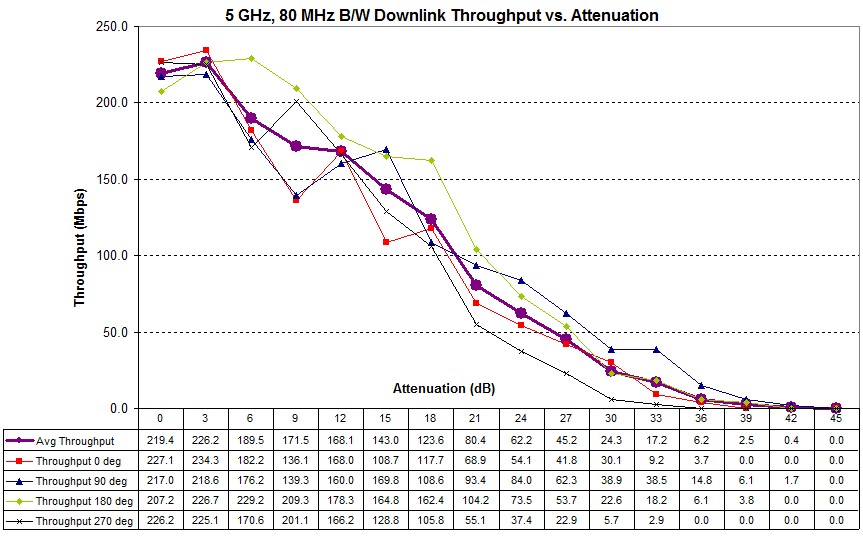 Four test runs – 2.4 GHz downlink – D-Link DIR-850L
The run-to-run spread is wider running 5 GHz uplink.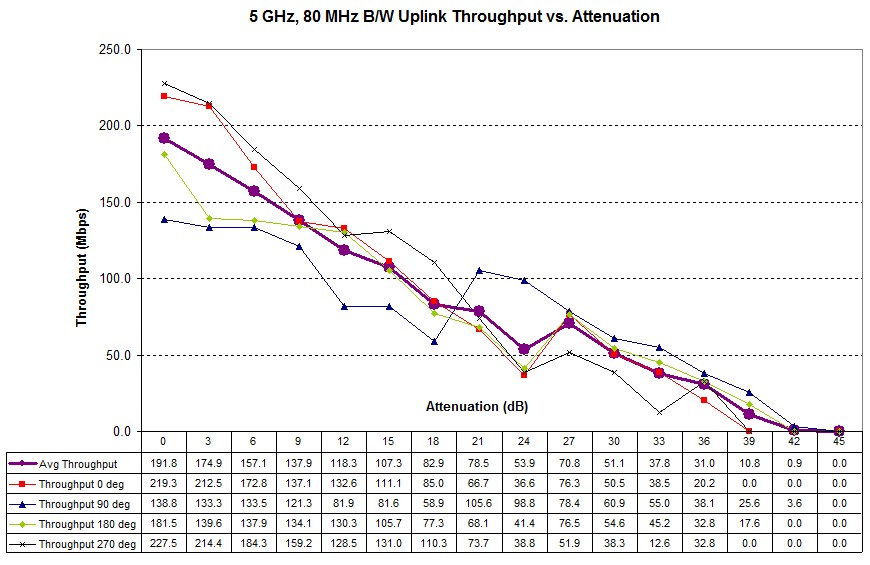 Four test runs – 2.4 GHz uplink – D-Link DIR-850L
Once again, the upshot is that D-Link's unusual antenna arrangement is perhaps more directional than the cylindrical format might suggest—at least when the router and client are very close together.
Closing Thoughts
Just as N600 routers are the current bread-and-butter of today's wireless routers, so will AC1200 be for tomorrow's. Since most AC clients will be 1×1 or 2×2, i.e. AC433 or AC867, AC1200's will provide best price performance. Companies are already focusing on this, being careful to bring AC1200 street prices in close to $100.
This first look at what Realtek draft 11ac silicon has to offer isn't that impressive. But it's not that bad either. Good enough, in fact, to rank the DIR-850L in the #2 spot for AC1200 class routers in our Router Ranker.
The summary below shows that the 850L's main weakness is 5 GHz range. But if the NETGEAR R6100 wasn't capped by its 10/100 ports, I suspect the D-Link would have come in at #3 for Routing throughput due to its severe throughput reduction in the simultaneous up/down tests.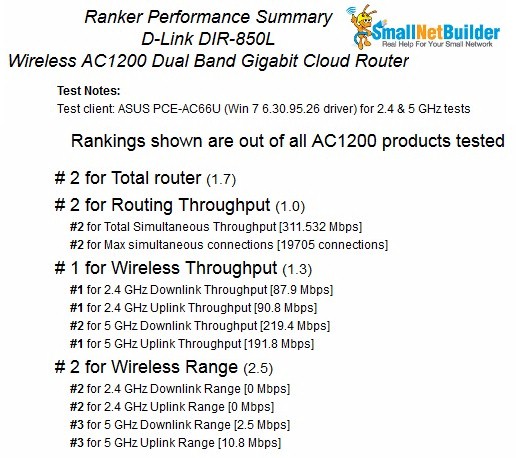 D-Link DIR-850L Router Ranking Summary
Of the three AC1200 routers tested so far, I have to agree with the Ranker and suggest TRENDnet's TEW-811DRU. But we've only begun to scratch the surface of what is fast becoming a crowded field. If you don't have to buy right away, I'd wait to see what the other AC1200 routers we'll be testing soon bring to the party.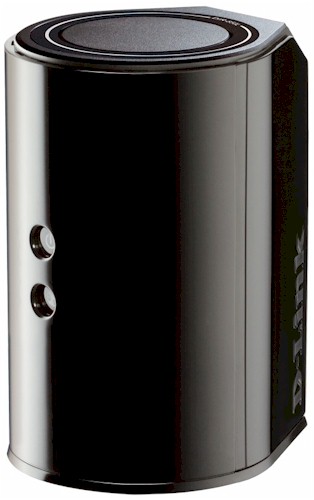 Buy Wireless AC1200 Dual Band Gigabit Cloud Router from Amazon