At a glance
Product
D-Link AC1900 Wi-Fi Router (DIR-880L) [Website]
Summary
AC1900 class router with Gigabit Ethernet ports,USB 3.0 storage and printer sharing & L2TP/IPsec VPN server
Pros
• VPN server
• Local and remote storage access
Cons
• Some controls are not where you expect them

• Older design (1st gen Broadcom CPU)
• No VPN setup example
Typical Price: $188 Buy From Amazon
Overview
Updated 8/29/2014: Multiple corrections
It took D-Link longer than they probably wanted to squeeze out its first AC1900 router, the DIR-880L. Perhaps it was angst over abandoning the upright cylinder format adopted for just about all its other AC class routers. Nevertheless, it's out, it's flat, so let's take a look.
The DIR-880L does indeed look like most other AC1900 routers, with three designed-to-impress large dual-band dipole antennas arrayed across its rear panel, joined via RP-SMA connectors. The 880L's data sheet says these are "high-gain" antennas, but omits actual gain numbers.
The callout diagram below shows the 880L has both USB 2.0 and USB 3.0 ports, just like NETGEAR's R7000 Nighthawk, ASUS' RT-AC68U and Linksys' EA6900. All lights are on the top panel and most connectors are on the rear. Note none of the gigabit Ethernet ports have link or activity lights, so you need to log into the admin interface to see if stuff is actually connected.
The USB 3.0 port is awkwardly stuck on the left side and the WPS button, which bears no marking identifying it, sits in about the same position on the right side panel. At least D-Link didn't hide the USB 3.0 port under a gawd-awful tethered rubber plug as ASUS did on the RT-AC87.
On a more positive note, there are mounting screw slots centered on the bottom side that allow you to decide whether ports and antennas point up or down when wall mounting.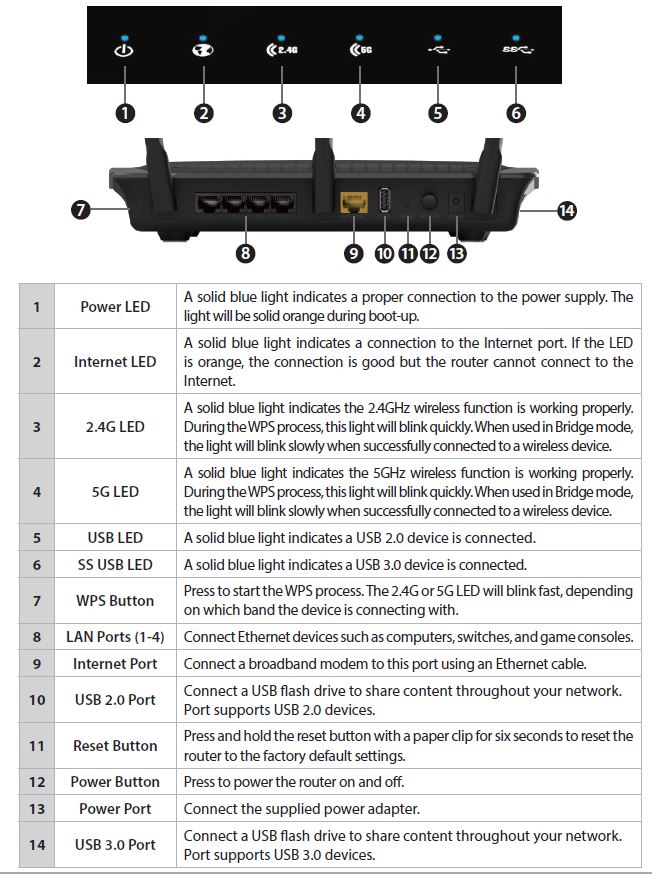 D-Link DIR-880L front and rear panel callouts
Inside
Updated 8/29/2014
You would think given its timing and pricing that the 880L would have a latest-and-greatest design. But you may be disappointed to learn that it uses the older Broadcom BCM4708A SoC as its main processor vs. the newer and more powerful BCM4709A. D-Link also cheaped out on memory, too, providing only 128 MB of RAM and 16 MB of flash.
At least they tried to do a decent job of heat-sinking, as evidenced by the big plate in the internal FCC photo below.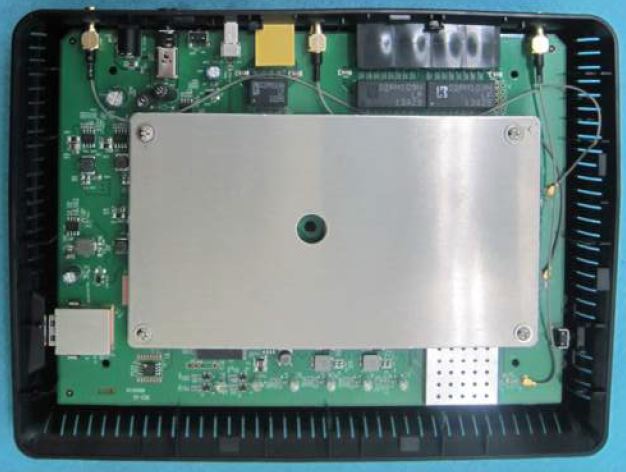 D-Link DIR-880L inside
Removing the heatsink plate and RF can lids lays bare the 880L's design, which alternates 2.4 and 5 GHz amplifiers to keep path distances to each antenna connector short. That's the USB 3.0 port at the photo left front, wisely placed far away from the radios and shielded both top and bottom of the board, to eliminate causing problems with 2.4 GHz radio performance.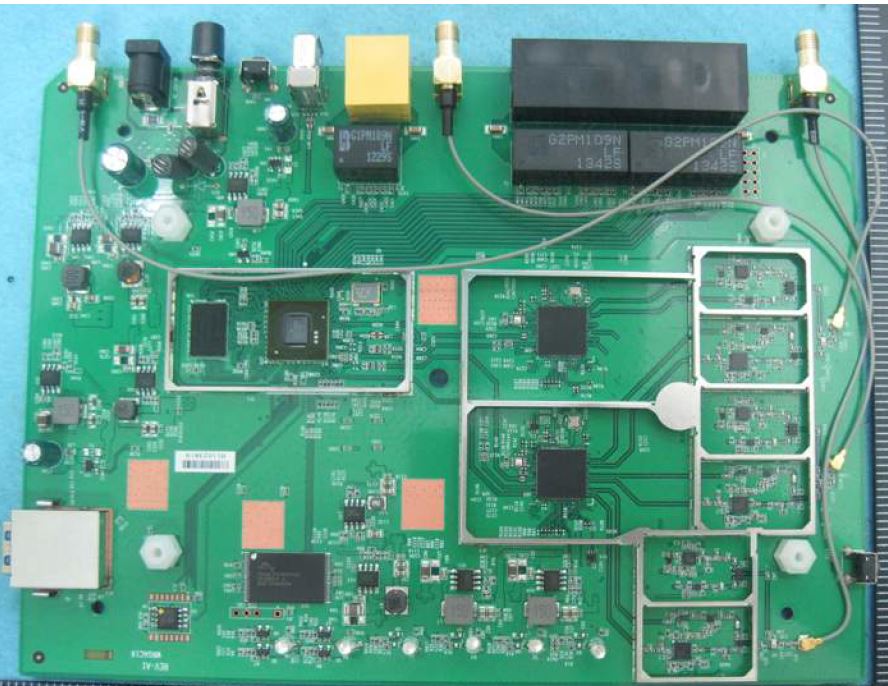 D-Link DIR-880L board
Table 1 shows the key components for the 880L and its AC1900 competition.

D-Link DIR-880L
Linksys WRT1900AC
NETGEAR R7000 (Nighthawk)
ASUS RT-AC68U
CPU
Broadcom BCM4708A
Marvell MV78230 Armada XP @ 1.2 GHz (ARMv7)
Broadcom BCM4709A
Broadcom BCM4708A
Switch
In BCM4708A
Marvell 88E6172
in BCM4709A
In BCM4708A
RAM
256 MB
256 MB
256 MB
256 MB
Flash
128 MB
128 MB
128 MB
128 MB
2.4 GHz Radio
– Broadcom BCM4360
– Skyworks SE2623L 2.4 GHz Power Amp (x3)
Marvell 88W8864
– Skyworks SE2623L 2.4 GHz Power Amp (x4)
– Broadcom BCM4360
– Skyworks SE2623L 2.4 GHz Power Amp (x3)
– Broadcom BCM4360
– Unidentified 2.4 GHz Power Amp marked 397 649e 230(x3)
5 GHz radio
– Broadcom BCM4360
– Skyworks SE5003L1 5 GHz Power Amp (x3)
Marvell 88W8864
– Skyworks SKY85402 5 GHz Power Amp (x4)
– Broadcom BCM4360
– Skyworks SE5003L1 5 GHz Power Amp (x3)
– Broadcom BCM4360
– SiGE 5023L 5 GHz Power Amp (x3)
Table 1: Component summary
Features
The 880L's is the first router with the new, sparser admin interface I first encountered on the DAP-1520 AC750 range extender. As other reviewers have noted, the new look has both Yin and Yang. The good is that it's more finger-friendly, making it easier to drive on touch-screen Win 8 notebooks or your favorite tablet. The bad is some features you might expect from a router of its class and price, such as DHCP reservation, parental controls, in-browser logs and access to transmit power control and other Wi-Fi knobs to twiddle, are not to be found.
The Home page adopts the current de rigueur network status look, complete with clickable icons that change the information displayed and provide links to associated function admin pages.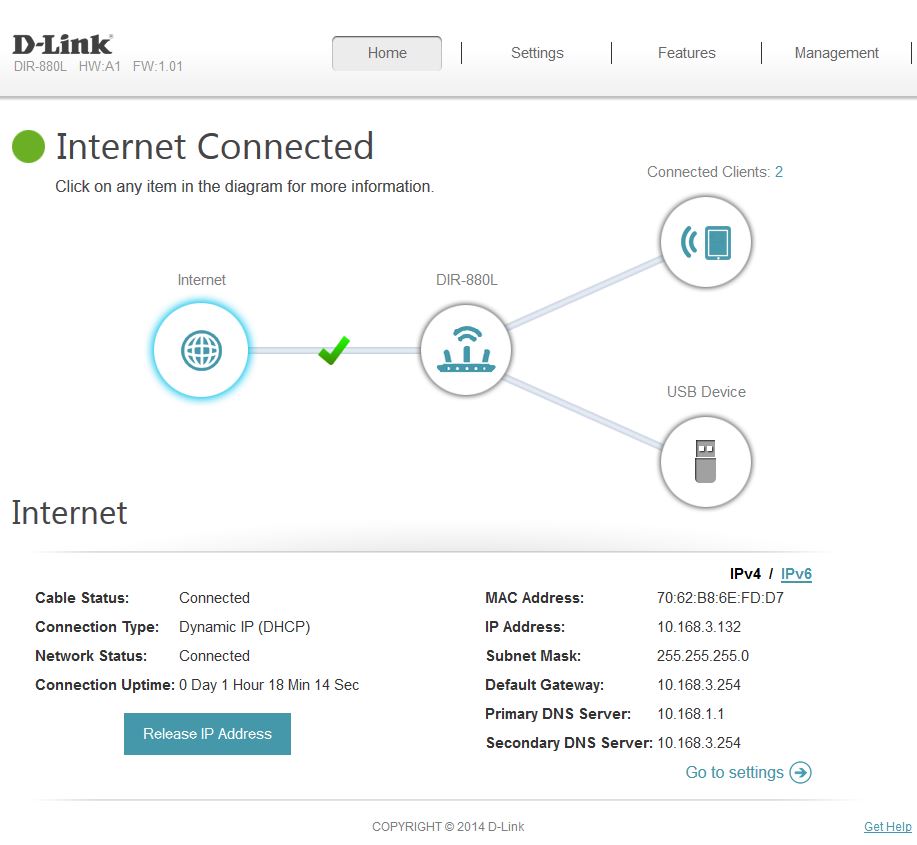 D-Link DIR-880L Home page
Here's a feature rundown, mostly extracted from browsing through the admin GUI.
Routing
DHCP, Static, PPPoE, PPTP, L2TP, DS-Lite WAN connection types
MTU adjust for all connection types
Router / bridged router modes
DHCP server with lease time setting, DHCP reservation and broadcast controls
WAN port speed setting (Auto, 1000, 100, 10 Mbps)
Built-in dynamic DNS client for dlinkddns.com and dyndns.com free and custom services
15 each IPv4 and IPv6 static routes
DMZ host
IPv4 SPI firewall enable, anti-spoof checking, IPv6 Simple Security, IPv6 Ingress filtering
WAN ping allow / deny
Multicast stream enables for IPv4 and IPv6
IPv6 support (auto-detect, static, link-local, autoconfiguration (SLAAC/DHCPv6), PPPoE, IPv6 over IPv4 tunnel, 6to4, 6rd)
PPTP, IPsec, RTSP, SIP ALG disables
15 each schedulable single port and port range forwarding. (Can set source and destination ports on single ports [virtual servers])
15 each IPv4 / IPv6 schedulable allow/deny inbound/outbound port filtering by IP address
15 domain-based allow / deny (global) Web access filters
Remote admin access enable, IP access filtering, port setting and graphic authentication enable
WAN port speed set
Automatic uplink QoS with manual / automatic uplink speed detection and manual rule option
Administration
Syslog support
Email alerts and log send
Login CAPTCHA (default disabled)
Save / restore settings
Reset to defaults
Reboot
Firmware update check (not automatic) and update via browser or downloaded file
Sharing features
UPnP / DLNA Media server enable
iTunes server enable
SharePort Plus drive and printer sharing
Storage web access
VPN
Quick VPN (L2TP over IPsec)
Missing
Triggered port forwarding
IPv6 port forwarding
Useful online help
Logs in browser
Parental controls (web filtering)
Traffic monitoring, limit alerts
iTunes server
UPnP media server index controls
UPnP disable
Remote access controls
HTTPS administration support
Most users will find the controls they want and even more among the features listed above. But if you're looking to be able to monitor every CPU cycle or tweak buffer depths, you'll want to take a pass on the 880L.
Some key features are hidden pretty well. For example, I was just about to wrap up the review and was taking screenshots when I stumbled across DHCP reservation and "Parental Control" features shown below, which I had missed up until then.
The "Parental Controls" feature is just scheduled general internet access, not content filtering, set by IP address, not MAC address. IP address is also used for DHCP reservation, although I'm sure MAC address is in there somewhere. But you won't find it in the Client information displayed.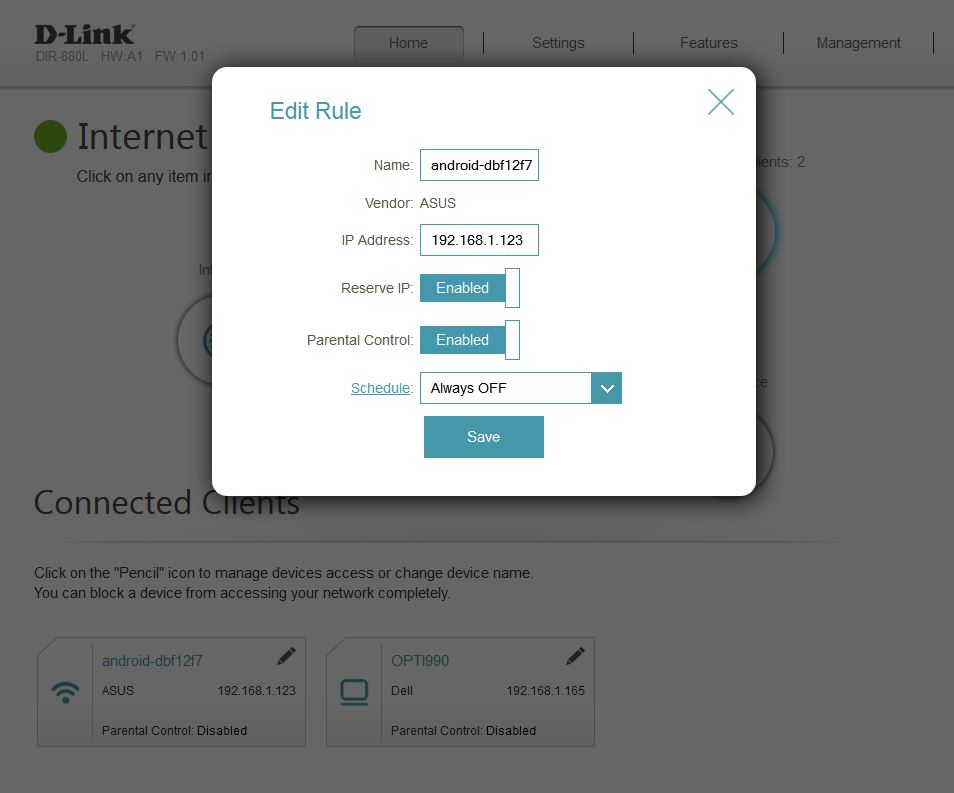 Hidden DHCP reservation and Parental Control settings
One key annoyance is there is no online help built into the router. The Help links shown in the GUI just dump you at the main D-Link support page. Online help would go a long way in helping users adjust to the new GUI.
Updated 8/29/14
D-Link said they are adding "adding additional VPN Setup details in the User Manual based on feedback received from the user community".
Features – more
The User Manual covers the basics. So when I went looking for information on how to set up Quick VPN I found only the cryptic information below, which seems to indicate that Quick VPN is helpful only for connecting via an iOS device. Querying the Support database for "Quick VPN" turned up nothing either. And, D-Link, you do know that Cisco also has a "QuickVPN"?
Updated 8/29/14
D-Link said they are adding context-sensitive online help in an upcoming firmware release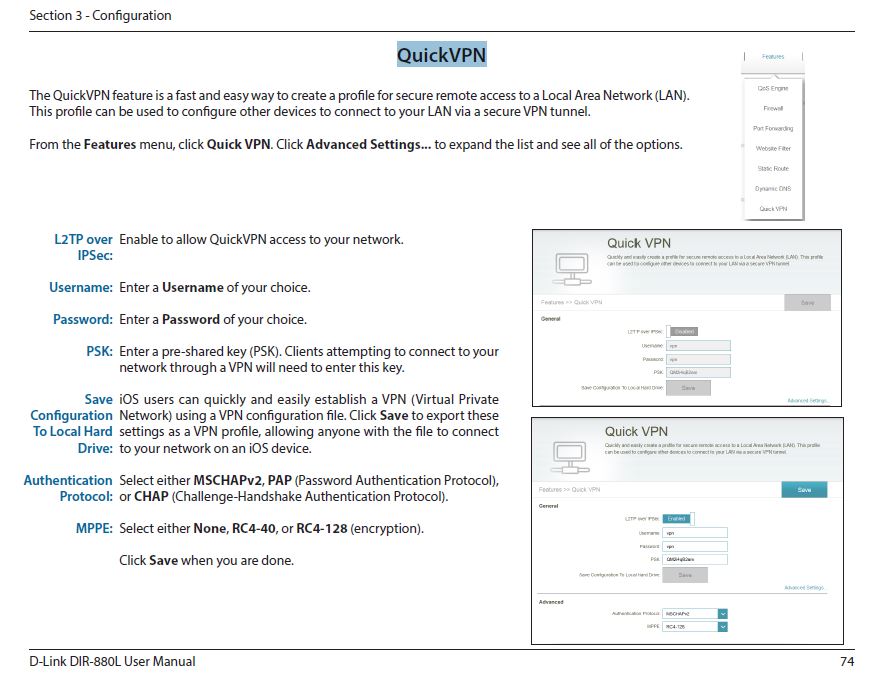 D-Link DIR-880L Quick VPN user manual page
Remote admin depends mainly on the still-not-ready-for-prime-time mydlink portal. I've bitched about mydlink's lameness enough, so won't bore you here. But note that HTTPS admin is not supported and there are no remote admin controls.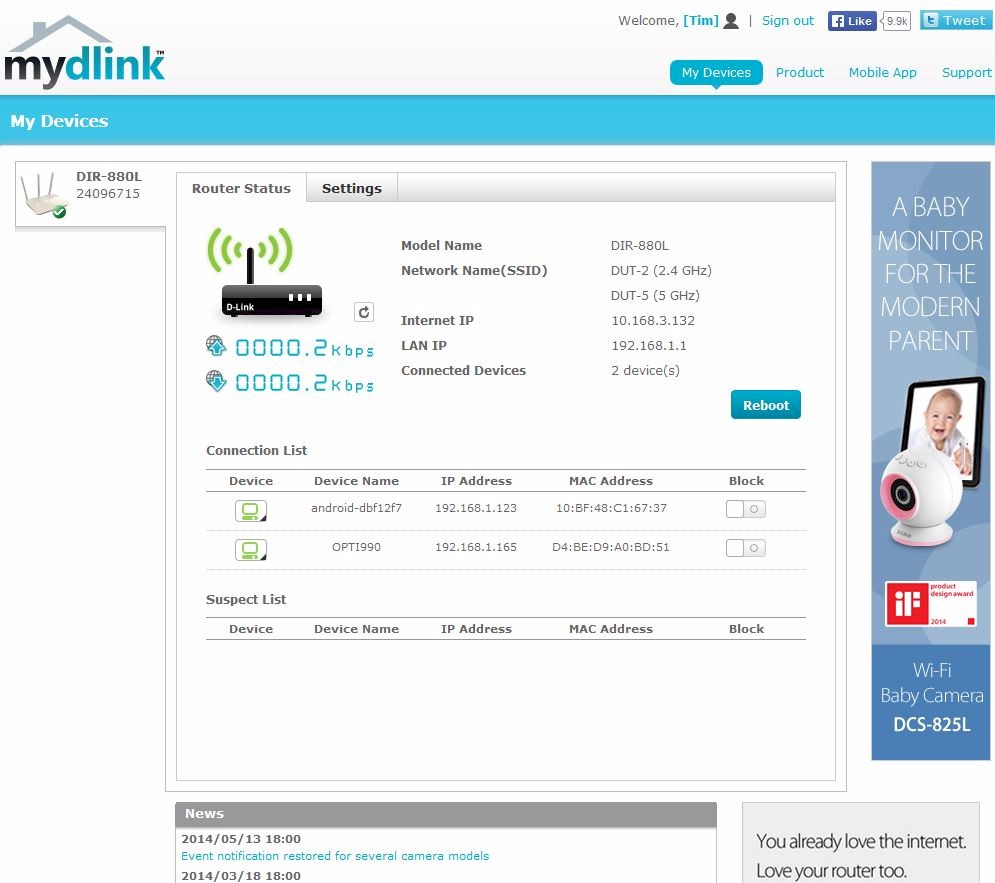 D-Link DIR-880L Quick VPN user manual page
Table 2 summarizes the basic wireless setting modes and channels supported. Note no support for WPA-Enterprise (RADIUS); no biggie for consumers.

Setting
2.4 GHz
5 GHz
Channel
Auto [default]
1 – 11
Auto [default]
36, 40, 44, 48
149, 153, 157, 161, 165
Channel Width
20 MHz
Auto 20/40 MHz [default]
Auto 20/40 MHz
20/40/80 MHz (Auto) [default]
Network Mode
802.11n only
Mixed 802.11g/n
Mixed 802.11b/g/n [Default]
802.11a only
802.11n only
Mixed 802.11a/n
802.11ac only

Mixed 802.11n/ac
Mixed 802.11a/n/as [default]
Security Modes
None
WEP
WPA/WPA2 Personal
Table 2: Wireless settings summary
There is no WPS admin screen. So if WPS goes awry, or you want to disable it, you're out of luck. No advanced wireless features either. At least you get transmit power adjustment of High (default), Medium and Low, scheduled wireless on/off, radio disables and one guest network for both radios.
Updated 8/29/14
A big missing feature, however, is lack of a wireless bridge mode or support for WDS bridging/repeating. WDS bridging / repeating isn't supported. But you can switch the router to act as a wireless bridge using the Device Mode switch on the Internet settings page. Unlike NETGEAR's R7000, the 880L's bridge mode has a network scan function making it much easier to connect the bridge to your main router.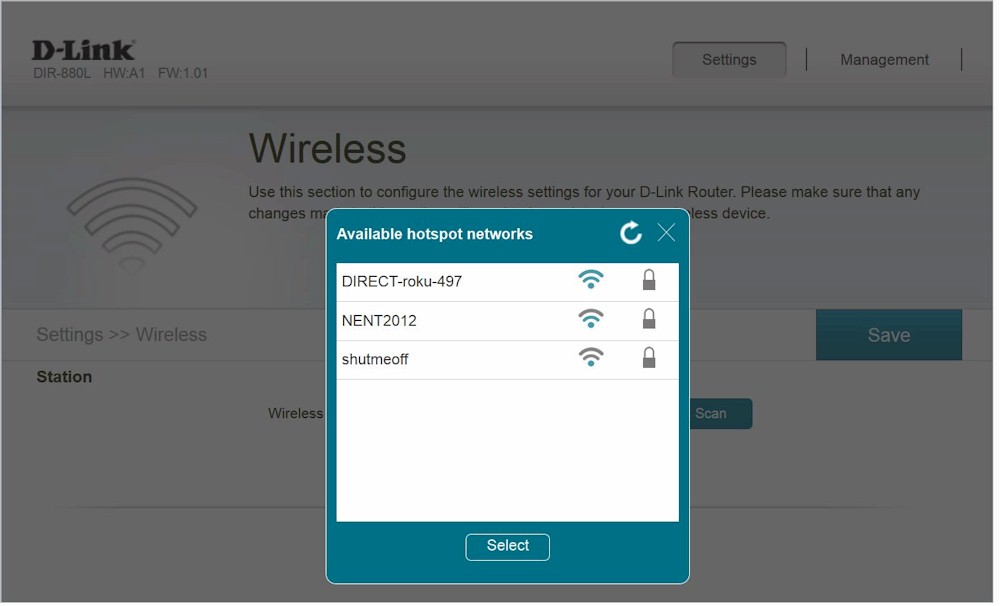 D-Link DIR-880L Wireless Bridge mode scan
There is no online emulator, so I've included a few more admin GUI screenshots and commentary in the gallery below.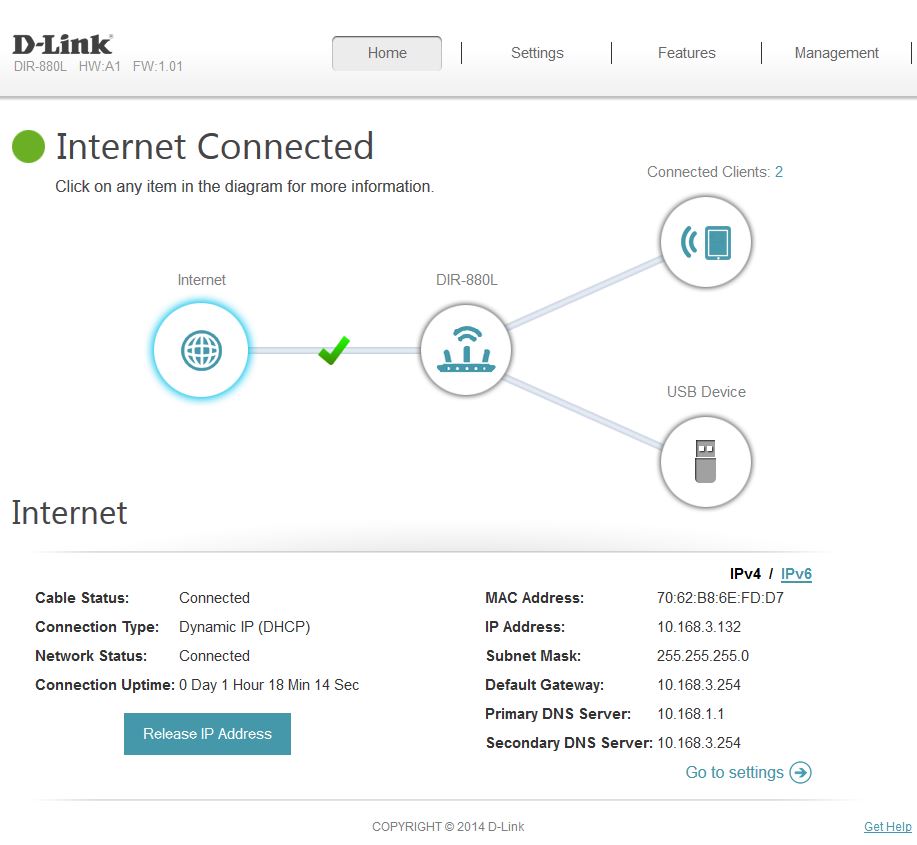 The Home page shows a status summary. Clicking on each icon changes the display. This screenshot shows Internet status.
Home display of router information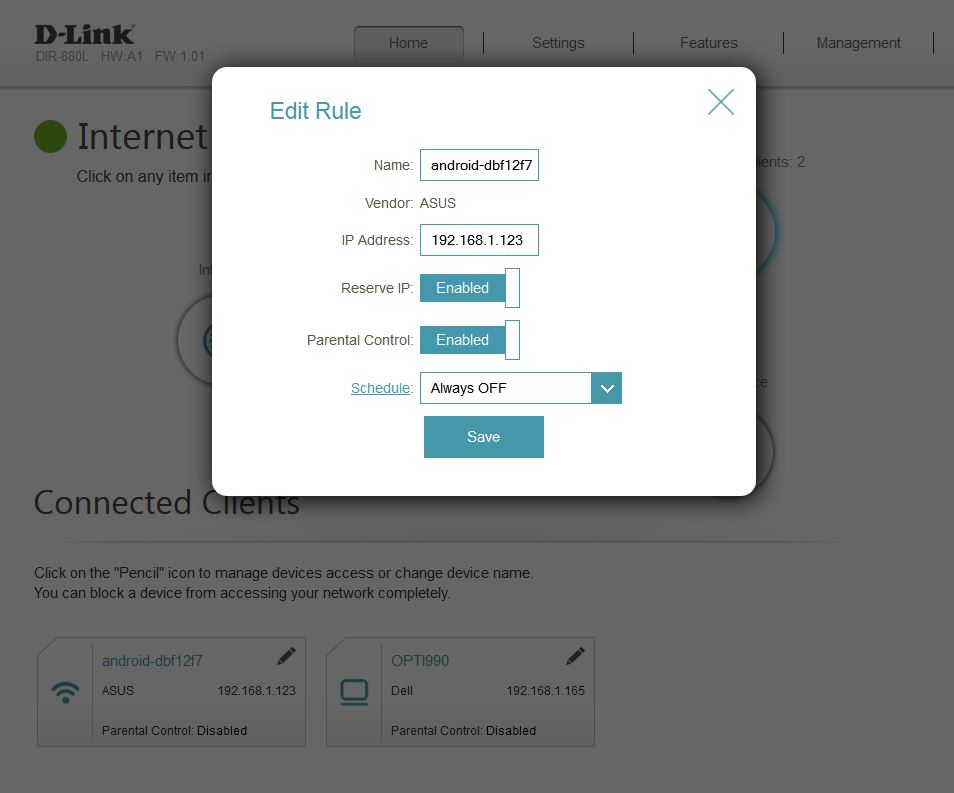 Clicking on a client icon reveals DHCP reservation and Parental Controls (internet access).
2.4 GHz radio settings. This is with the Advanced settings panel exposed.
5 GHz radio settings. This is with the Advanced settings panel exposed.
Guest settings. Note the Internet Access only switch
Shareport controls. There is no iTunes server and no ability to force a UPnP rescan.
QoS controls internet downlink only using a three-level priority system. You can't expand the number of positions in each level.
Both IPv4 and IPv6 firewall rules can be set.
Port forwarding is IPv4 only. The Virtual Server feature supports different external and internal ports. The regular Port Forwarding has just port definitions. Both can be scheduled.
Web filtering is by domain only with 15 rules total
It is not clear which clients support this feature. There are no setup examples
The mydlink web portal still requires Java to show the router status.
The only traffic statistics are in these plots.
Storage Performance
Windows filecopy tests were run using the standard NAS testbed connected to a router Gigabit LAN port and the standard USB drive formatted in FAT32 and NTFS [NAS test details]. Tests were run connected with the USB drive connected to both the USB 2.0 and USB 3.0 ports.
Table 3 summarizes USB 2.0 performance and includes some of the 880L's AC1900 competitors. USB 2.0 doesn't really test the limits of storage performance, so the 880L holds its own in this comparison.

| | D-Link DIR-880L | Linksys WRT1900AC | NETGEAR R7000 | ASUS RT-AC68U |
| --- | --- | --- | --- | --- |
| Processor | Broadcom BCM4708A | Marvell MV78230 | Broadcom BCM4709A | Broadcom BCM4708A |
| FAT32 Write (MBytes/s) | 21.3 | 28.7 | 24.8 | 11.8 |
| FAT32 Read (MBytes/s) | 24.7 | 31.0 | 27.8 | 24.0 |
| NTFS Write (MBytes/s) | 21.4 | 30.1 | 27.9 | 23.7 |
| NTFS Read (MBytes/s) | 25.0 | 30.8 | 27.9 | 24.2 |
Table 3: File copy throughput – USB 2.0 (MBytes/sec)
For USB 3.0 results, Table 4 shows the results of using Broadcom's older processor, with performance lagging behind the most comparable NETGEAR R7000 Nighthawk. It's not really a fair fight with the ASUS RT-AC68U, which can't work around its poor hardware implementation of its USB 3.0 port.

| | D-Link DIR-880L | Linksys WRT1900AC | NETGEAR R7000 | ASUS RT-AC68U |
| --- | --- | --- | --- | --- |
| Processor | Broadcom BCM4708A | Marvell MV78230 | Broadcom BCM4709A | Broadcom BCM4708A |
| FAT32 Write (MBytes/s) | 21.5 | 61.1 | 33.4 | 11.7* |
| FAT32 Read (MBytes/s) | 43.5 | 76.5 | 57.4 | 21.6* |
| NTFS Write (MBytes/s) | 28.5 | 66.7 | 36.8 | 23.6* |
| NTFS Read (MBytes/s) | 43.8 | 75.1 | 57.7 | 24.3* |
Table 4: File copy throughput – USB 3.0 (MBytes/sec)
* = "Reducing USB 3.0 interference" setting enabled
Routing Performance
Routing performance for the 880L using our standard test method is summarized in Table 5.

At least here, the 880L does pretty well. Sure, its unidirectional up and downlink throughput tends to make you scroll down a bit to find it in the Router Charts. But you really can't complain much about the throughput, which is more than enough for most internet connections.

| Test Description | DIR-880L |
| --- | --- |
| WAN – LAN Throughput – (Mbps) | 766 |
| LAN – WAN Throughput – (Mbps) | 810 |
| Total Simultaneous Throughput – (Mbps) | 1354 |
| Maximum Simultaneous Connections | 37,689 |
| Firmware Version | 1.0.1 |
Table 5: Routing throughput
The IxChariot composite plot for the unidirectional tests shows steady throughput, with periodic spikes into the 900 Mbps range.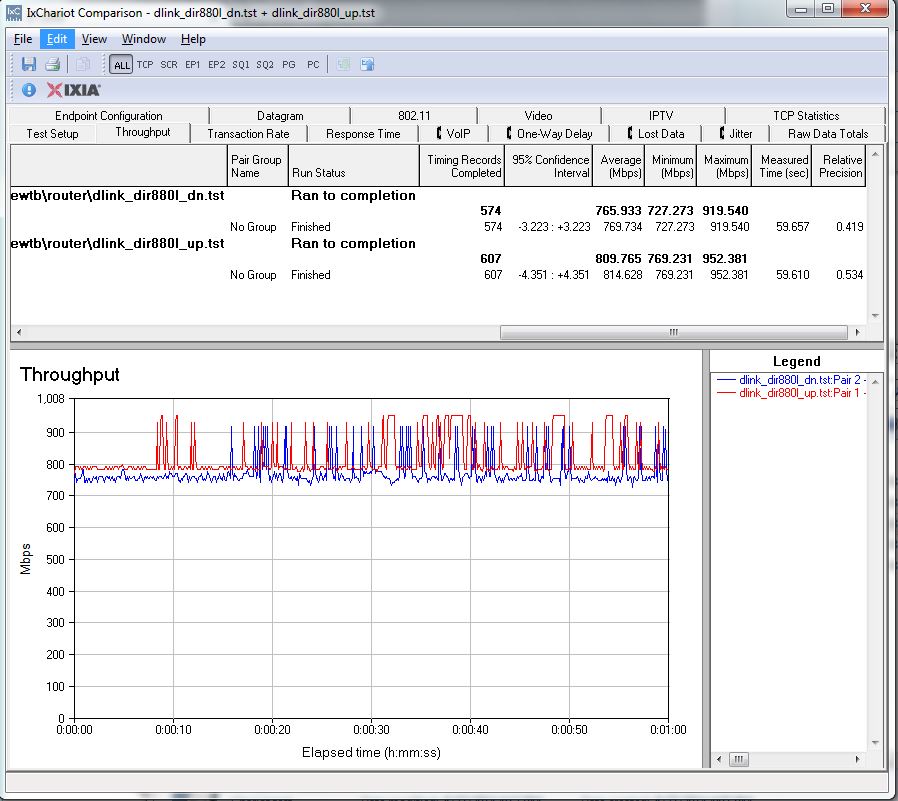 D-Link DIR-880L unidirectional routing throughput
The simultaneous up and downlink plot below shows a preference for uplink traffic when both directions are running full blast. The jump up before 20 seconds is an IxChariot quirk. But the ramp up in WAN > LAN throughput after 30 seconds or so was reproduced in multiple runs. Still, the 880L should provide plenty of routing throughput.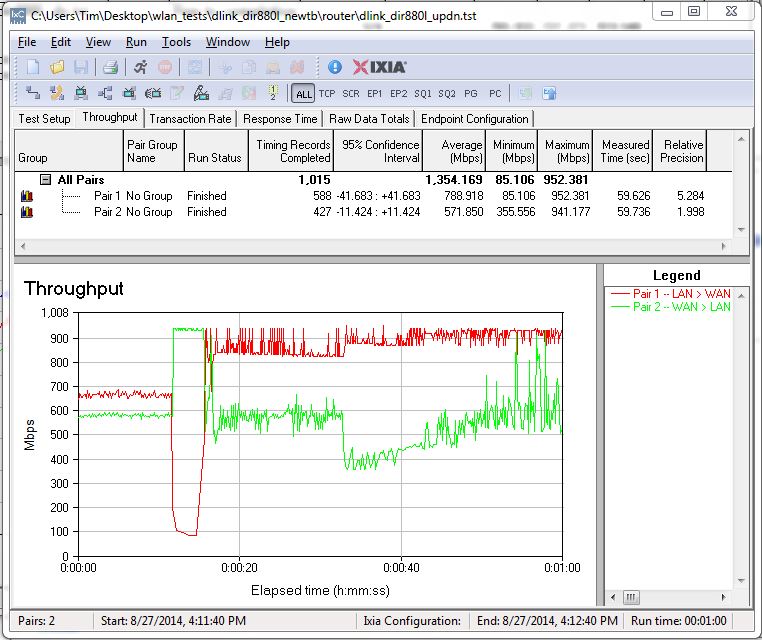 D-Link DIR-880L bidirectional routing throughput
Wireless Performance
The 880L is Wi-Fi Certified. It defaults to Auto channel on both bands and auto 20/40 MHz B/W mode on 2.4 GHz and Auto 20/40/80 MHz mode on 5 GHz upon power-up. The router comes with different 2.4 and 5 GHz SSIDs set, so you'll be able to connect to your desired band without having to change router settings. The wizard that launches upon first login walks you through changing these settings as well as encryption.
The quick WPS pushbutton test with a Win 7 client ran without a problem, connecting with a WPA/AES secured connection. I skipped 40 MHz Coexistence and Fat channel intolerant tests and will probably stop mentioning this going forward.
Wireless throughput testing used our new Version 8 wireless test process with 1.0.1 version firmware loaded. The router was first reset to factory defaults, then Channel 6 and 20 MHz B/W mode was set for 2.4 GHz and Channel 153 and 80 MHz B/W mode was set for 5 GHz. The router was positioned in the test chamber with the antenna row centered on the turntable side-to-side (of chamber) and middle antenna centered on the turntable front-to-back. The 0° position had the front side of the router facing the chamber antennas.
The Benchmark Summary below shows the average of throughput measurements made in all test locations. The results rank the 880L in a tie with the ASUS RT-AC68U in third place among AC1900 routers tested, below the NETGEAR R7000 Nighthawk in first and Linksys WRT1900AC in second.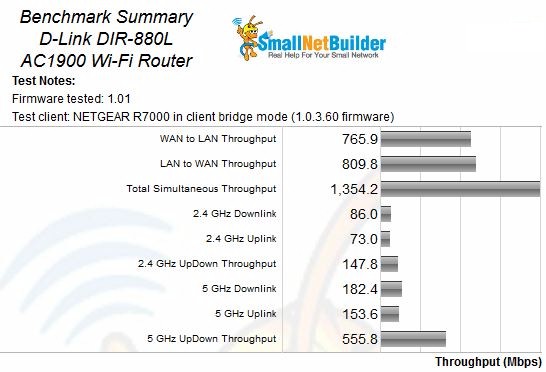 Benchmark Summary
Wireless Performance – Comparative
I pulled the NETGEAR R7000, ASUS RT-AC68U, Linksys WRT1900AC into a wireless performance comparison.
2.4 GHz downlink shows little significant difference among the group. The most I can say is the DIR-880L tends to run on the lower side of the group. It also has the lowest throughput at 63 dB, but none of the products are producing much bandwidth at that point anyway.
2.4 GHz Downlink Throughput vs. Attenuation
The 2.4 GHz uplink plot follows a similar pattern, with the 880L tracking lower with the Linksys WRT1900AC, which has the best throughput with strong signals from 0 to 24 dB.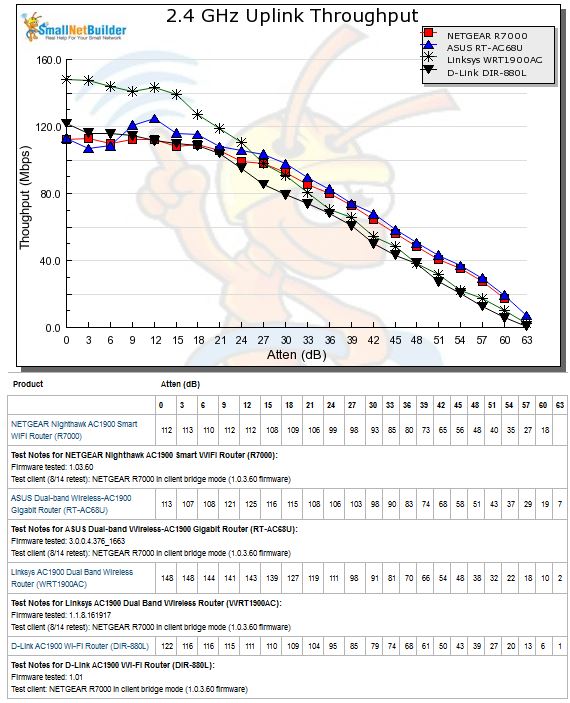 2.4 GHz Uplink Throughput vs. Attenuation
The 5 GHz downlink profile shows the 880L again running on the low side of the group. Along with the ASUS RT-AC68U, it disconnects 3 dB earlier than the R7000 and Linksys WRT1900AC.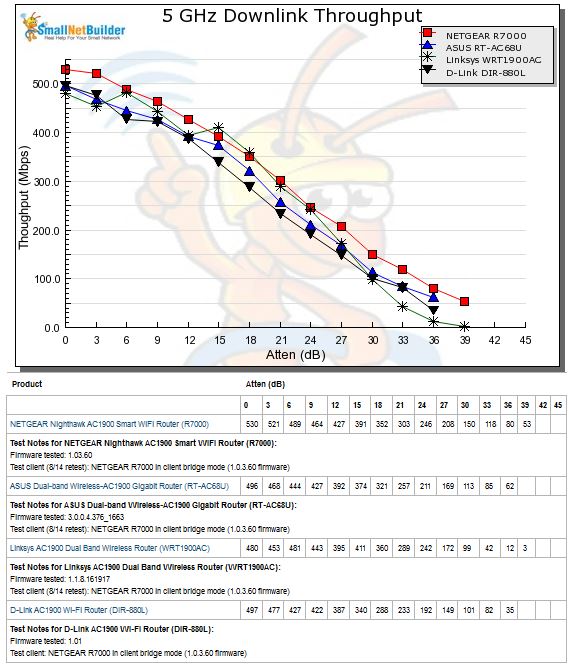 5 GHz Downlink Throughput vs. Attenuation
The same trend is also seen in the 5 GHz uplink profile, i.e. tracking with the ASUS and disconnecting at the same attenuation.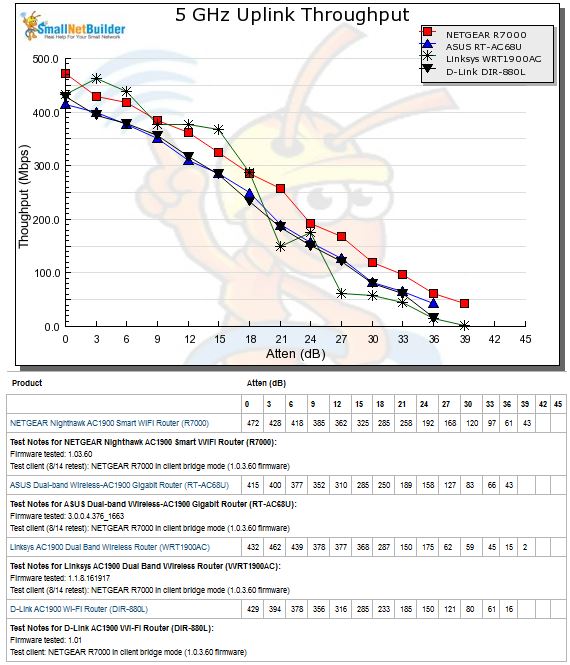 5 GHz Uplink Throughput vs. Attenuation
Closing Thoughts
D-Link's DIR-880L is a late entry to a market that has already decided on its favorites. With the focus moving on to this year's early-adopter bait—AC2350 and AC3200 routers—AC1900 class products are fast becoming last year's news. But don't expect AC1900 bargains just yet.
Router makers have also moved on to higher price points north of $250 for both new router classes and at least early buyers are showing no reluctance to part with bigger bucks in hopes of improved wireless performance. (Sighhhh… foolish humans….) So with no downward price pressure, makers are leaving prices pretty much as they are until TP-LINK or someone else comes in with a decent performance AC1900 router at a more aggressive price. Don't hold your breath for this, though, since TP-LINK is still birthing its second AC1750 class router, the Archer C8 that has yet to ship.
The bottom line is there is no compelling reason to not buy the DIR-880L. But there is no big thing making it a must-have, either.
Buy AC1900 Wi-Fi Router from Amazon