At a glance
Product
NETGEAR Smart WiFi Router (R6100) [Website]
Summary
Qualcomm Atheros based draft 802.11ac AC1200 router with storage sharing USB 2.0 port, performance limited by 10/100 Ethernet ports
Pros
• Has WDS and AP modes
• Inexpensive for an 802.11ac router
Cons
• 10/100 ports limit wireless throughput
• No client bridge mode
Typical Price: $97 Buy From Amazon
Overview
Updated 11/6/2013: Wi-Fi Certified Sept. 2013
We've seen what NETGEAR has to offer in AC1750 and AC1600 class routers in the reviews of the R6300 and R6250. This time, our attention is turned to the only NETGEAR AC router so far to be demoted to its "High Performance" router category vs. the "Ultimate Performance" category where its cousins reside.
As befits its lesser performance, the R6100 is physically smaller than the R6250, measuring 7" wide and 6.75" tall to the R6250's 7.5″ wide and just shy of 8″ tall. Aside from its size, you would think that you had an R6250 in your hands, with its upright stance and similar design features. It has same backlit icons shown in the diagram taken from the R6250's user manual below—the R6100's is not yet available.
NETGEAR R6100 indicators and buttons
Like the R6300 and R6250, the R6100 has only power, Internet, Wireless and USB status indicators on the front panel and no link or activity indicators for wired network traffic on either the front panel or Ethernet rear panel WAN or LAN ports. The rear panel diagram below shows a sole USB 2.0 port and subtly identifies the single WAN and four switched LAN Ethernet ports as "Fast" aka 10/100 Mbps. As we'll see when we get to performance, this design choice may severely limit this product's appeal.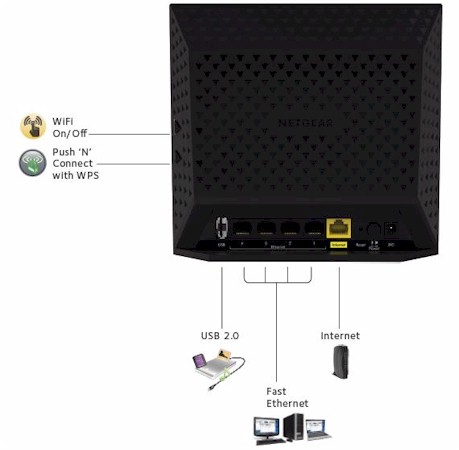 NETGEAR R6100 indicators and buttons
Inside
It seems that everyone is now having the FCC delay the release of internal photos. So I got out my trusty Torx set and opened up the R6100 for photos. Taking off the front cover reveals a view similar to the R6250's. Unlike the TRENDnet TEW-811DRU, the R6100 has four single-band antennas; two for each radio. The shielding tape partially covers the flash memory.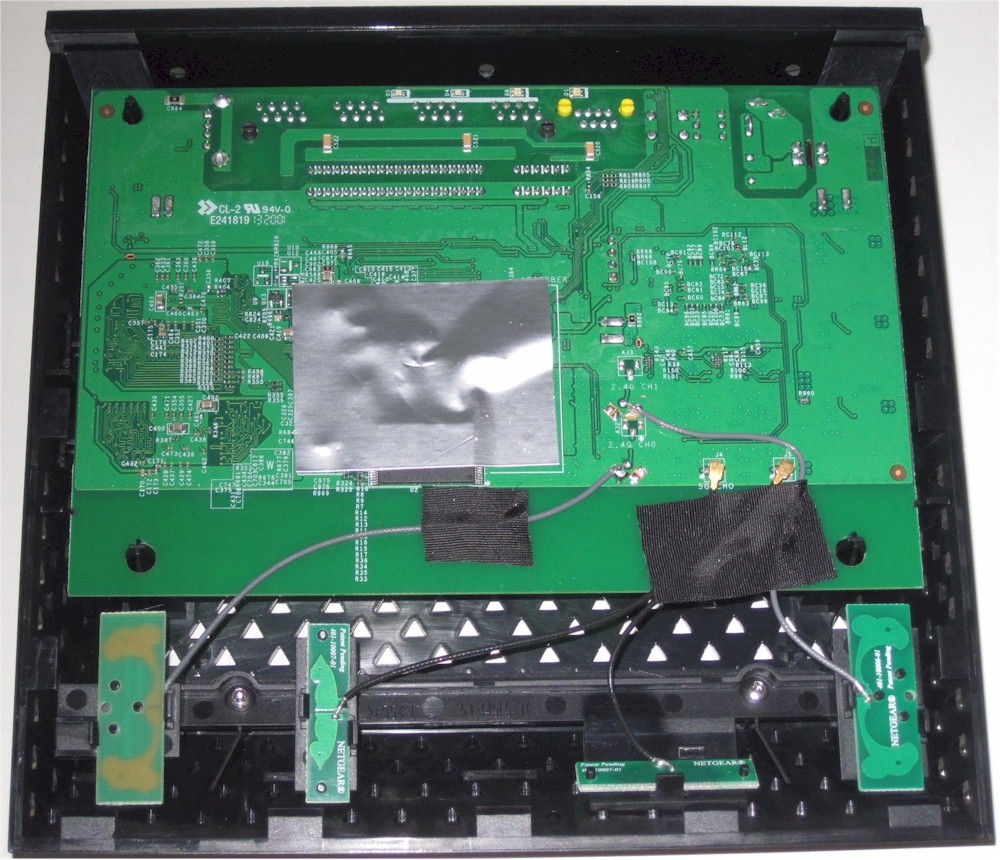 R6100 inside
NETGEAR again mounted its "Patent pending" circuit board antennas on a removable frame. This view has the board and antennas removed from the case. Not much to see here with those pesky shields blocking the view.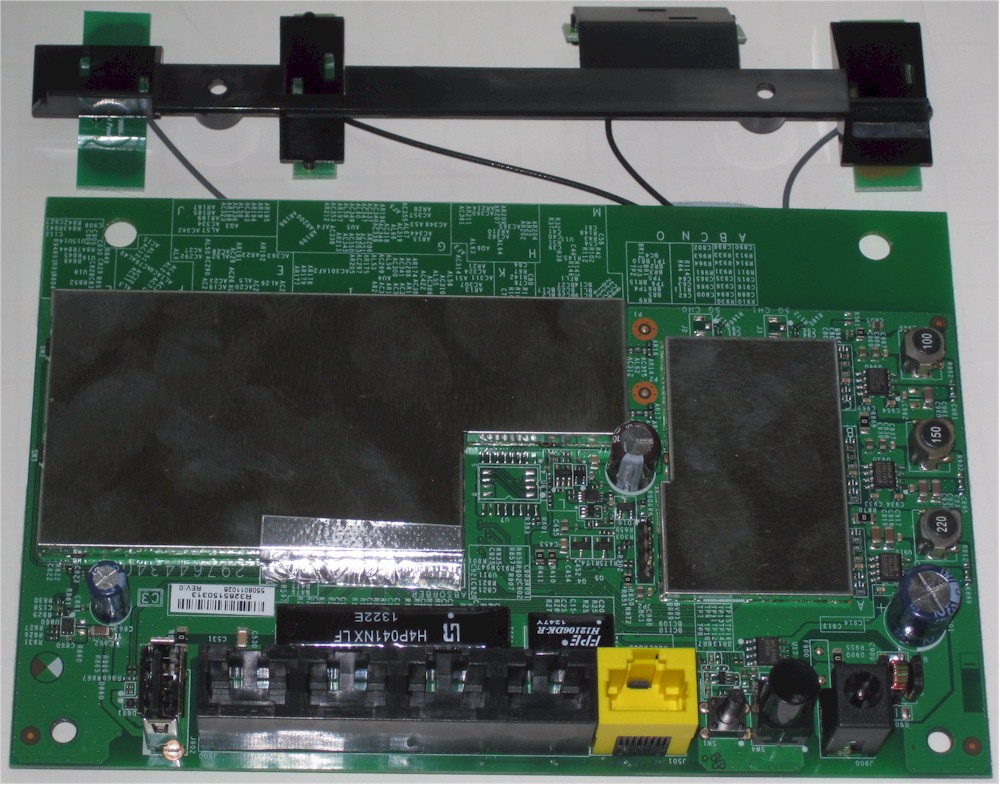 R6100 board with shields
The shields came off with a little effort, rewarding us with our first view of a draft 802.11ac router based on Qualcomm Atheros chipsets.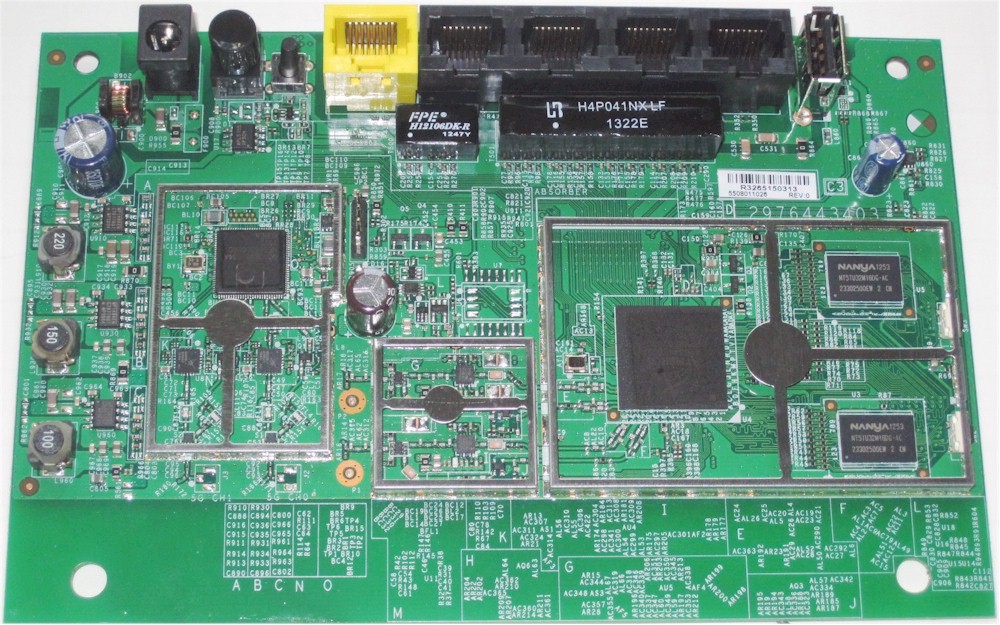 R6100 board naked
The large device is an Atheros 9344 802.11n 2×2 dual-band router SoC. This handles the 2.4 GHz radio, main CPU, Ethernet and USB 2.0 functions. It's the main reason why the router has 10/100 ports and has an aggressive $100 price. It has a thermal pad on it that couples it to the RF shield cover. There are two small devices in the shielded area to the left, but the numbers on them didn't reveal what they were.
The smaller device to the left of the photo is the 5 GHz radio in the form of a QCA9882 2×2 802.11ac/a/b/g/n radio with two Skyworks SE5003L 5 GHz power amplifiers. It also is thermally coupled to its RF shield via a thermal pad. 128 MB of RAM and flash finish up the design. Table 1 includes the R6250's key components for comparison.
R6100
R6250
CPU
Atheros AR9344
Broadcom BCM4708X
Switch
In Atheros AR9344
In BCM4708X
RAM
128 MB Nanya
NT5TU32M16DG-AC (x2)
256 MB Samsung K4B2G1646E
Flash
128 MB Micron 29F1G08ABADA
128 MB Samsung K9F1G08U0D
2 MB Macronix MX25L1606
2.4 GHz Radio
– In Atheros AR9344
– Possible power amps (x2)
Broadcom BCM43217 2×2 802.11b/g/n transceiver (guess)
5 GHz radio
– QCA9882 2×2 802.11ac/a/b/g/n radio
– Skyworks SE5003L 5 GHz power amp (x2)
– Broadcom BCM4360
– Unidentified power amplifier (x3) (guess)
Table 1: NETGEAR R6100 key components
Feature Summary
The R6100 has the same "genie" feature set as the R6250, so see that review for details. The Advanced Home screen shows that new firmware is available (V1.0.0.28). Unfortunately, that flag wasn't set until after I finished testing. The release notes, however, don't indicate that the performance test results would be affected by the changes.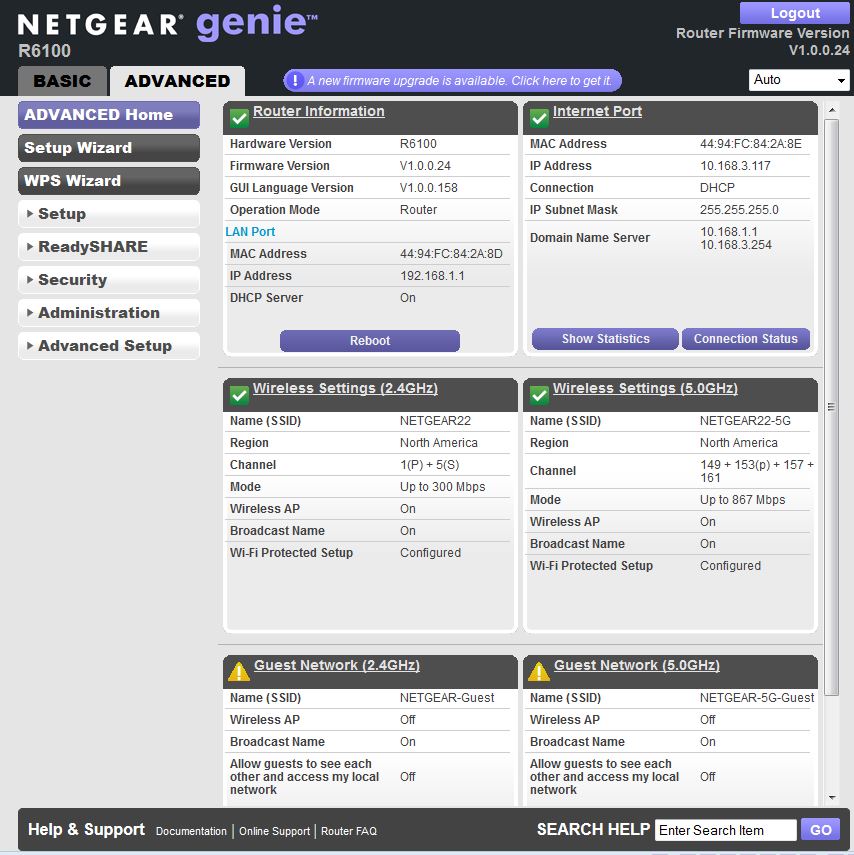 NETGEAR R6100 Advanced Home screen
Even though the R6100 isn't in the "Ultimate Performance" category, it has all the features of its more expensive siblings, including Live Parental controls and the same ReadySHARE features. But NETGEAR says that it will not support the genie+ marketplace, i.e. loadable apps, when that feature is turned on in the R6250 and R6300. They said that it does not support the "beamforming+" capability on those routers, either.
Wireless Features
Table 2 summarizes the basic wireless setting modes and channels supported.
Setting
2.4 GHz
5 GHz
Channel
Auto, 1 – 11
36, 40, 44, 48, 149, 153, 157, 161
Mode
Up to 54 Mbps
Up to 145 Mbps
Up to 300 Mbps
Up to 192 Mbps
Up to 400 Mbps
Up to 867 Mbps
Security
None
WEP (Up to 54 Mbps only)
WPA-PSK [TKIP]
WPA2-PSK [AES]
WPA-PSK [TKIP] + WPA2-PSK [AES]
WPA/WPA2 Enterprise
None
WPA2-PSK [AES]
WPA-PSK [TKIP] + WPA2-PSK [AES]
WPA/WPA2 Enterprise
Table 2: Wireless settings summary
In addition to the manual wireless security settings, the router supports WPS PIN and pushbutton setup modes. You also can define schedules for turning each radio on and off for added security.
Updated 11/6/2013: Wi-Fi Certified Sept. 2013
As I called out on the R6250, the R6100 also lets you disable 20/40 MHz coexistence via the Advanced Wireless Settings page. This shouldn't be possible on a Wi-Fi Certified product. but the R6100 isn't Wi-Fi Certified even though the logo is displayed on the product box.
Like other R-series routers, the R6100 has an AP mode and also supports WDS-based bridging and repeating. It looks, however, like the no-WDS-required bridge mode has been removed. You normally get to that feature via a Use other operation mode checkbox that sits between the WPS Settings and Wireless Card Access List sections on the R6300 and R6250. NETGEAR told me that this function will be restored "in the next maintenance firmware". Note that transmit power is adjustable downward in 25% steps on both radios.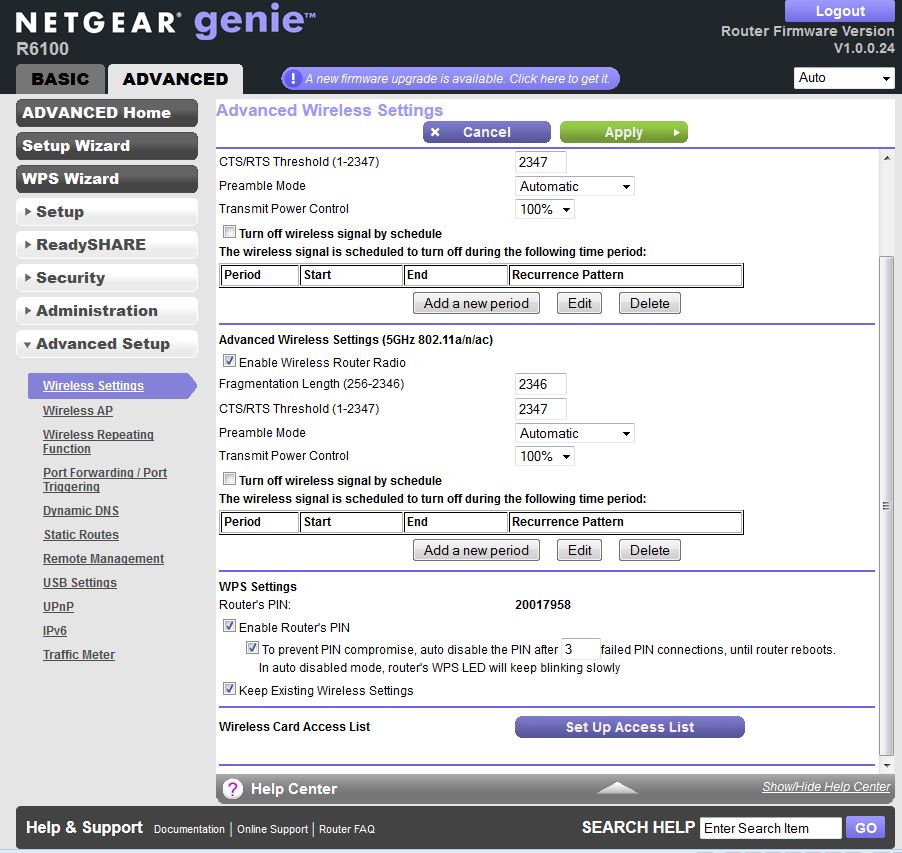 NETGEAR R6100 Advanced Wireless Settings
Storage
The R6100 supports NETGEAR's ReadySHARE drive and printer sharing feature, which supports file sharing via SMB, HTTP, HTTPs and FTP. As noted earlier, access from the internet is not via ReadyNAS Cloud.
I ran Windows filecopy tests using the standard NAS testbed to the R6100 with our USB standard drive (Startech USB 3.0 eSATA to SATA Hard Drive Docking Station (SATDOCKU3SEF) containing a WD Velociraptor WD3000HLFS 300 GB drive) formatted in FAT32 and NTFS. Table 3 shows the results along with some from other draft 11ac routers with USB 2.0 ports.

R6100
TRENDnet
TEW-812DRU
TRENDnet
TEW-811DRU
FAT32 Write (MBytes/s)
7.8
5.0
8.9
FAT32 Read (MBytes/s)
10.5
6.4
10.8
NTFS Write (MBytes/s)
9.9
2.2
3.6
NTFS Read (MBytes/s)
10.5
5.5
9.4
Table 3: File copy throughput
The R6100 is the best of this bunch, obviously. But keep in mind that most draft 11ac routers now come with USB 3.0 ports. So lower file sharing performance is another trade-off NETGEAR is asking you to make in return for spending only $100 on a draft 11ac router.
Routing Performance
Routing throughput was measured running V1.0.0.24 firmware, using our standard router test process. Table 4 summarizes the results. The 160 Mbps Total Simultaneous throughput indicates that the unidirectional throughput is being limited by the 10/100 WAN and LAN ports.
The unusually high Maximum Simultaneous Connection number is a reflection of a tweak I made to the test process. The result still indicates that the test hit a Windows-imposed limit. The router obviously can handle plenty of simultaneous sessions.

| Test Description | R6100 |
| --- | --- |
| WAN – LAN | 93.9 Mbps |
| LAN – WAN | 94.7 Mbps |
| Total Simultaneous | 160.2 Mbps |
| Maximum Simultaneous Connections | 40,125 |
| Firmware Version | V1.0.0.24 |
Table 4: Routing throughput
I am now separating the unidirectional and simultaneous IxChariot throughput plots for clarity. The composite unidirectional plot below shows rock-steady throughput in each direction, with essentially 100 Mbps wire-speed throughput in each direction.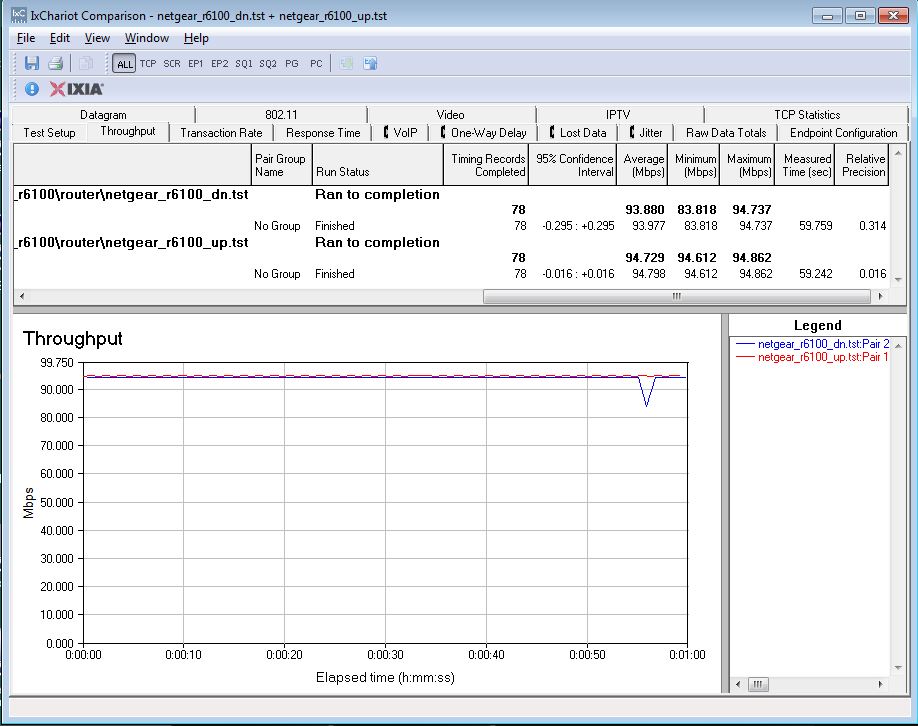 NETGEAR R6100 routing throughput unidirectional summary
The simultaneous up/downlink test shows 160 Mbps of total throughput, evenly shared between up and downlink. In all, the R6100's routing performance looks solid.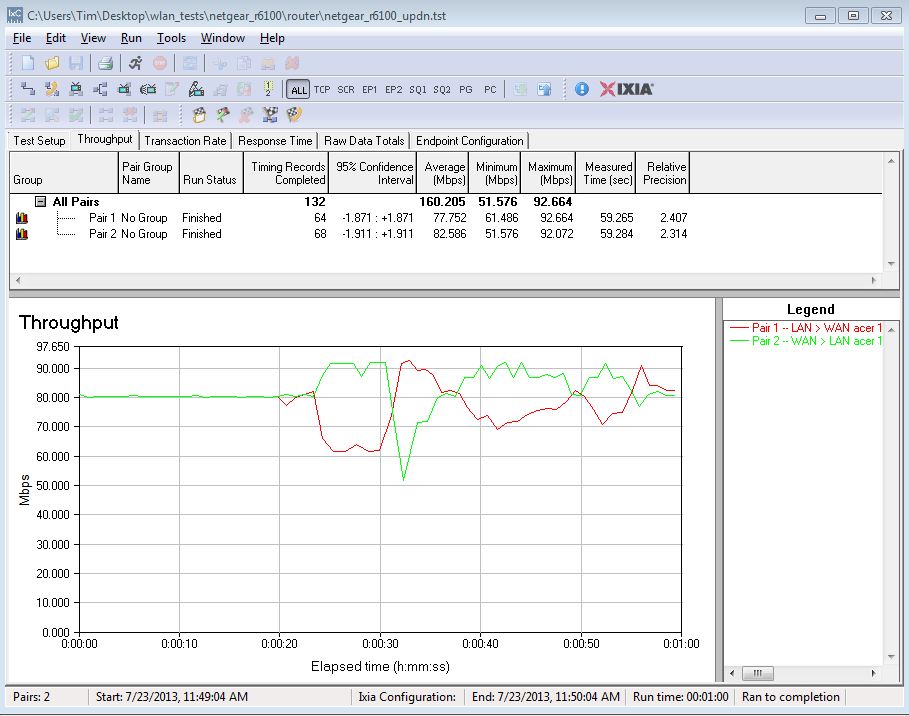 NETGEAR R6100 routing throughput bidirectional summary
Wireless Performance
Updated 11/6/2013: Wi-Fi Certified Sept. 2013
The R6100 is not Wi-Fi Certified. It defaulted Auto channel and "Up to 300 Mbps" mode (20 MHz B/W mode) on the 2.4 GHz radio and channel 153 and "Up to 867 Mbps" (auto 20/40/80 MHz B/W mode) for the 5 GHz radio upon power-up. The router comes with different 2.4 and 5 GHz SSIDs set, so you'll be able to connect to your desired band without having to change router settings.
I ran 40 MHz Coexistence and Fat channel intolerant tests to make sure the R6100 behaved when encountering interfering 2.4 GHz networks. I first had to disable Auto Channel selection to get the router to allow a 300 Mbps link rate.
The R6100 immediately fell back to 20 MHz mode link rates when the Fat Channel Intolerant bit was set on the client and quickly switched back to a 300 Mbps link when the bit was cleared. The coexistence test passed, too, with the client again switching quickly back to a 300 Mbps link when the R6100 was moved back to a non-interfering channel.
I successfully ran a pushbutton Wi-Fi Protected Setup (WPS) session with a Win 7 client. The WPS session took about 5 seconds to get started, but then completed quickly and resulted in a WPA2/AES secured connection. WPS appeared to be enabled only on the 2.4 GHz radio.
All tests were run using our new wireless test process and V1.0.0.24 version firmware loaded. The router was first reset to factory defaults and Channel 6 was set for 2.4 GHz and Channel 153 for 5 GHz. "Up to 145 Mbps" (20 MHz B/W) mode was set for 2.4 GHz and "Up to 867 Mbps" (80 MHz B/W) mode (to enable draft 802.11ac link rates) was set for 5 GHz. The test client was connected using WPA2/AES encryption.
The router was positioned 8″ from the chamber antennas in all test positions. The 0° position had the router front facing the chamber antennas.
The retest Benchmark Summary below from the new Consolidated benchmark process shows the average of throughput measurements made in all test locations. The 2.4 GHz values in the summary correspond to 2.4 GHz values (20 MHz B/W) and the 5 GHz values correspond to the 80 MHz B/W – 3 stream values measured with the previous test methodology.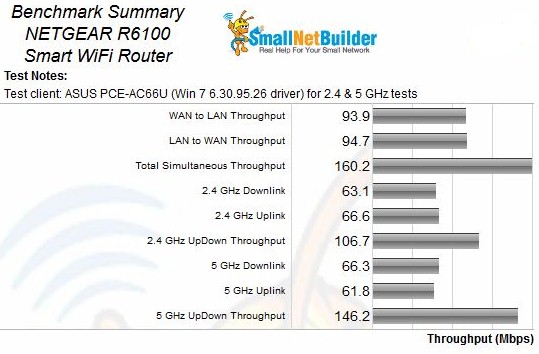 NETGEAR R6100 Benchmark Summary
Compared to the only other AC1200 router tested so far—TRENDnet's TEW-811DRU (which hasn't been reviewed yet)—the R6100's 2.4 GHz average throughput is about double the TRENDnet's for both up and downlink. The main reason for the difference is that the TRENDnet's throughput falls off drastically as signal level drops. You'll see this clearly in the throughput vs. attenuation plots shortly.
5 GHz performance is the opposite, with the TRENDnet averaging about double the NETGEAR's downlink throughput and 50% more on uplink.
Wireless Performance – more
For a look at full throughput vs. attenuation plots, I plotted the only other AC1200 router, TRENDNet's TEW-811DRU and threw in NETGEAR's R6250 AC1600 router as a next-step-up alternative. Note that both comparison routers have Gigabit Ethernet ports.
The 2.4 GHz downlink profile shows the TRENDnet's much poorer range performance. Throughput falls off sooner than both NETGEARs with the router disconnecting at 48 dB attenuation. The R6100's 100 Mbps Ethernet ports are probably not holding back its maximum throughput, which at the 0 dB point used for throughput ranking falls midway between the other two products at 78 Mbps.
The better news is that the Qualcomm Atheros chipset holds this throughput for longer and starts its falloff out at 42 dB attenuation. The dips at 51 and 57 dB are probably due to link rate switching at the lower signal levels. A look at the RSSI readings didn't indicate dips at those points, but the IxChariot plots showed throughput dropping from high to low during the runs.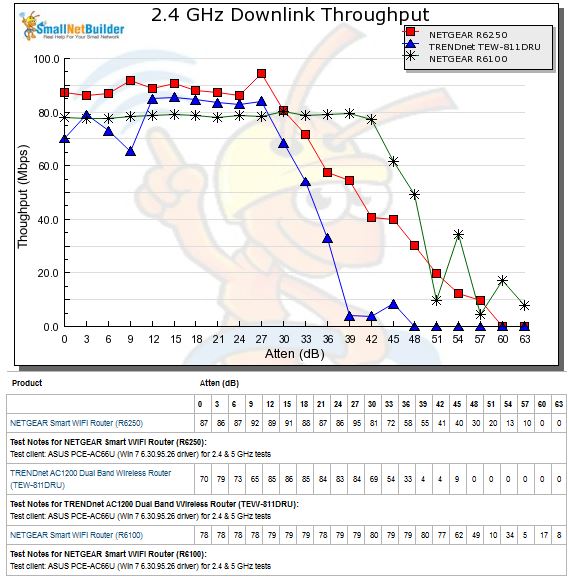 2.4 GHz Downlink Throughput vs. Attenuation
The 2.4 GHz uplink plot again shows superior range performance, but lower maximum throughput. Note the lack of dips at 51 and 57 dB and 27 Mbps throughput at the 60 dB point that is used for range ranking.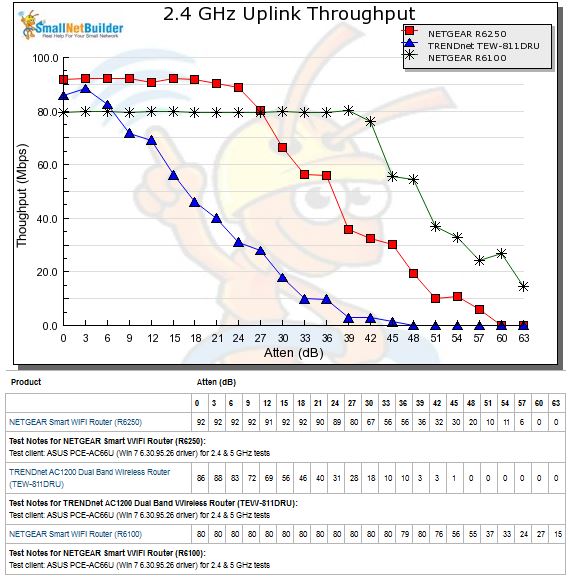 2.4 GHz Uplink Throughput vs. Attenuation
Unfortunately, the positives of the R6100's 2.4 GHz performance are offset by what happens in 5 GHz. The good news is that downlink throughput stays up in the 90 Mbps range out to 21 dB of attenuation. But the bad is that the TRENDNet's throughput is higher than the R6100's throughout the entire measured range. At least the R6100 has decent throughput (28 Mbps) where the testing stops at 45 dB.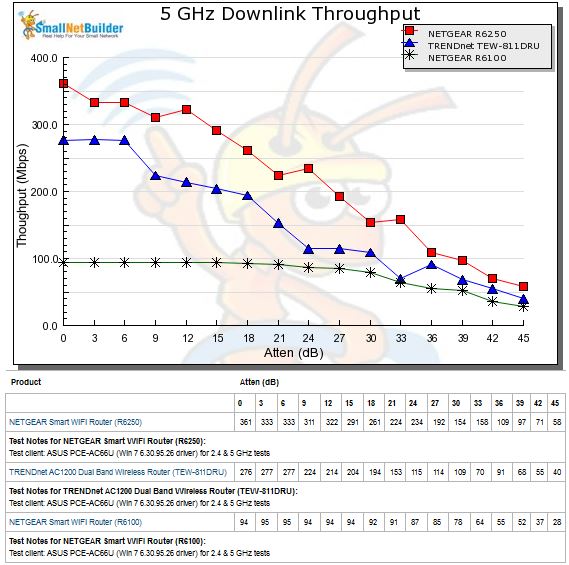 5 GHz Downlink Throughput vs. Attenuation
The 5 GHz uplink plot shows a similar story, the AC1600 R6250 on top, TRENDnet AC1200 in the middle and R6100 on the bottom. Given the flatter throughput at the beginning of its run, I'd sure like to see what the Qualcomm Atheros chipset could do if it weren't limited by the 100 Mbps Ethernet connection! That will have to wait for another router, though.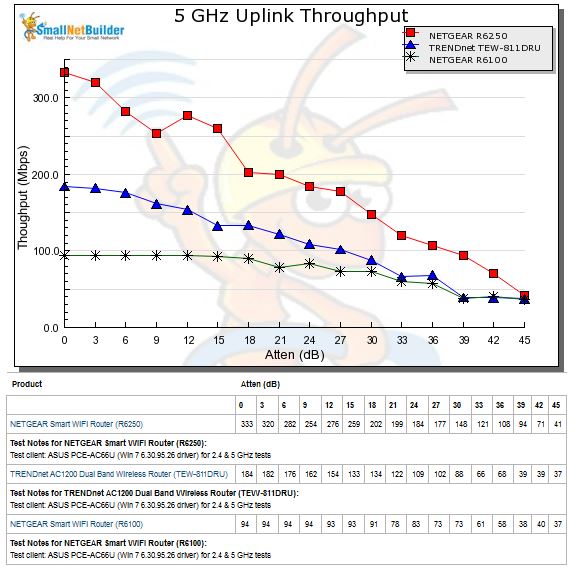 5 GHz Uplink Throughput vs. Attenuation
For a look at throughput characteristics, let's peek at a few IxChariot plots. Here is the simultaneous up/downlink plot for the 2.4 GHz radio. I'm accustomed to seeing a uplink or downlink bias in these simultaneous tests and the QCA chipset looks like it has a downlink bias.
The reason you can see > 100 Mbps of total throughput is that the 100 Mbps Ethernet connection is full duplex, i.e. can support 100 Mbps in each direction simultaneously. There's also that throughput bump around 10 seconds into the test run that we're accustomed to seeing on Broadcom-based products.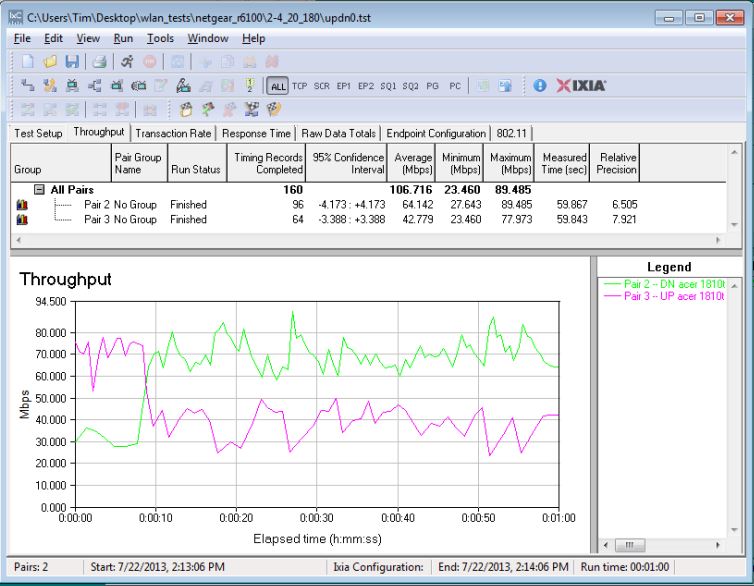 2.4 GHz up/downlink IxChariot plot – 0dB
The 5 GHz simultaneous up/downlink plot below is very similar to the 2.4's. Same throughput jump up near the beginning of the run; same preference for downlink over uplink.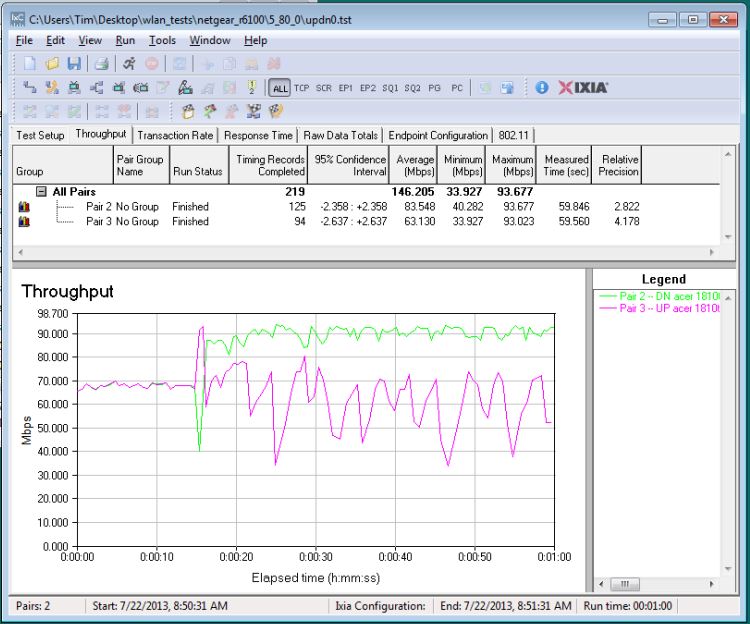 5 GHz up/downlink IxChariot plot – 0dB
So what does 5 GHz throughput look like with only one direction at a time? The plot below is a composite of the unidirectional uplink and downlink runs at 0 dB. Pretty flat, eh? Keep in mind that I did not lower the IxChariot test file size to match the lower throughput, so there is some smoothing built into the plot. Still, there is no sign here of the throughput bump at the start of the test run.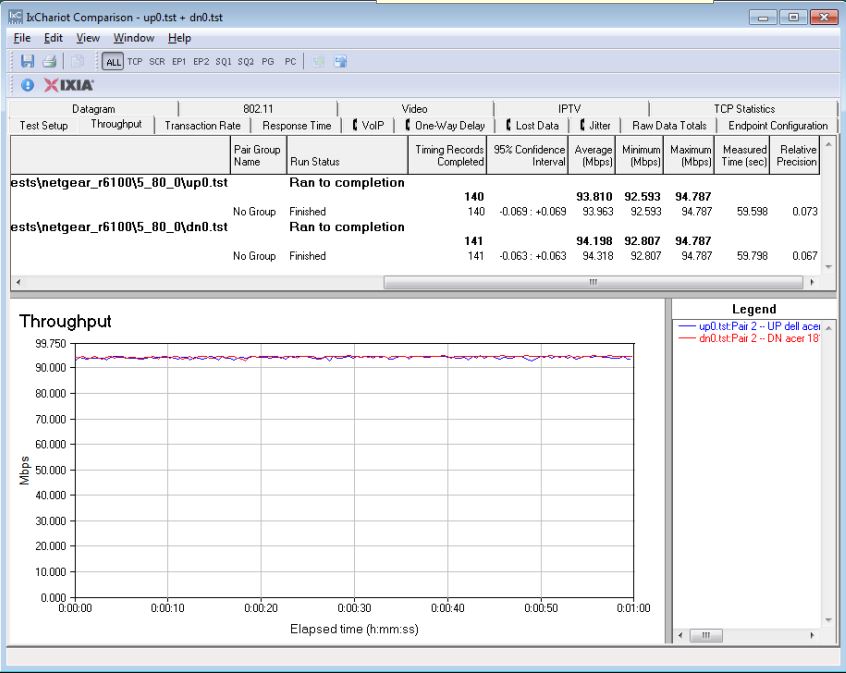 5 GHz unidirectional up and downlink composite IxChariot plot – 0dB
Closing Thoughts
The bummer in all of this is that despite its decent performance, the R6100's ranking is held back by its 100 Mbps Ethernet connection. The R6100's older AR9344 processor probably doesn't have a shot at equaling the 500+ Mbps routing throughput that Broadcom's newer processors delivers. But it definitely looks like the slower Ethernet is holding back the potential wireless throughput that the QCA9882 could provide.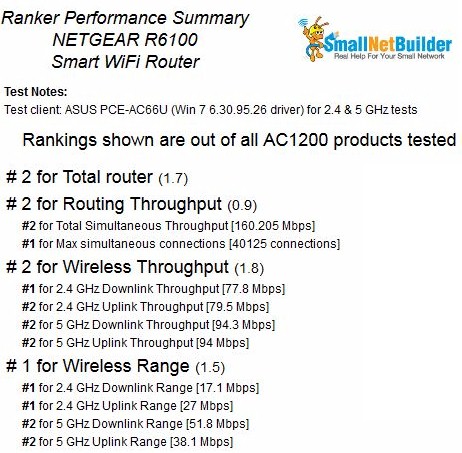 NETGEAR R6100 Router Ranking Summary
I'm not sure this ranking matters to NETGEAR, however. NETGEAR told me that the R6100 is "targeted for the value customer" looking for the best Wi-Fi performance with 11ac support for their latest smartphone and who isn't concerned about using the wired connections.
My first reaction to this was who doesn't use a router's wired connections? But when you think about it, the likelihood of that is increasing all the time as the desktop market withers away and tablets and smartphones become the dominant internet devices. With most internet connections (at least those in the U.S.) having bandwidth far below 100 Mbps, a 100 Mbps WAN port is perfectly appropriate. And if someone wants faster LAN connections, an inexpensive Gigabit switch is an easy solution.
If I can get the time, I might be coming back to this router for a few follow-up tests to see if I can see what I can get with multiple wireless AC clients. It will also be instructive to see the actual throughput that a single-stream 433 Mbps 11ac connection can provide vs. a 150 Mbps 11n.
In the meantime, if you'd like to try out Qualcomm Atheros' draft 802.11ac hardware to see how it works with your "latest (11ac-enabled) smartphone" and do it for only $100, the NETGEAR R6100 is the only way to do it.
Buy Smart WiFi Router from Amazon