At a glance
Product
NETGEAR Nighthawk X6S Tri-Band WiFi Router with MU-MIMO (R8000P) [Website]
Summary
Three stream AC4000 Broadcom-based router with two 5 GHz radios
Pros
• OpenVPN server
• Supports wireless bridge on both bands

• Supports airtime fairness
Cons
• No QoS features
Typical Price: $250 Buy From Amazon
Introduction
Update 10/19/17: Corrected Smart Connect features
NETGEAR has come out with two redesigns of classic Nighthawk routers. The R7000P I reviewed back in June, wasn't a clear winner over the original R7000 Nighthawk, whose original "first look" review remains one of our most-read reviews even four years (!) later.
Today, I'm looking at the R8000P Nighthawk X6S Tri-Band WiFi Router with MU-MIMO, a redesign of NETGEAR's first tri-radio router, the R8000 Nighthawk X6 Tri-Band WiFi Router, which got a two-part review (part 1, part 2) in 2014.
Like the R7000P, the R8000P is still a Broadcom-based design using Broadcom's newish BCM4365E radio SoC. This chip is the latest step on the long, tortured path Broadcom has taken to get functional MU-MIMO. It's ironic (at least to me) to see tri-band and MU-MIMO in the same product, since Broadcom's tri-radio design was originally designed to compete against MU-MIMO.
The R8000P uses the new radio for both bands in all three radios instead of just the 5 GHz radio. The P also bumps the main processor SoC up to a dual core 1.8 GHz BCM4906 (ARM v8 Cortex A53) from the R8000's dual core 1 GHz BCM4709A (ARM Cortex A9).
Since the BCM4365 supports non-standard 1024 QAM, it lets NETGEAR continue to play the number inflation game and class the P as AC4000 (2.4 GHz @ 750 Mbps + 5 GHz low band @ 1625 Mbps + 5 GHz low band @ 1625 Mbps) vs. the original's AC3200 (2.4 GHz @ 600 Mbps + 5 GHz low band @ 1300 Mbps + 5 GHz low band @ 1300 Mbps).
Only owners of an ASUS PCE-AC88 PCIe desktop adapter will be able to take advantage of the R8000P's 1024 QAM link rate and only if the adapter is very close to the router. For most people, though, the P is for all intents and purposes still an AC3200 class router, which is in turn, just an AC1900 class router with a second 5 GHz radio. Your 2×2 AC device will still reach a maximum 5 GHz link rate of only 866 Mbps with any of these routers.
You can't tell the P apart from the original R8000 except by looking at the serial number label on the router bottom. The callouts below are reused from the R8000 review.
All indicators are in a nicely-styled strip on the router top as shown below along with the conveniently-placed WPS and Wi-Fi On/Off lighted buttons at the bottom. The default color is a soft white vs. the eye-killing blue that tends to not have high WAF. For an additional WAF boost, there is a physical LED On/Off switch on the back panel, that shuts off everything except the Power light.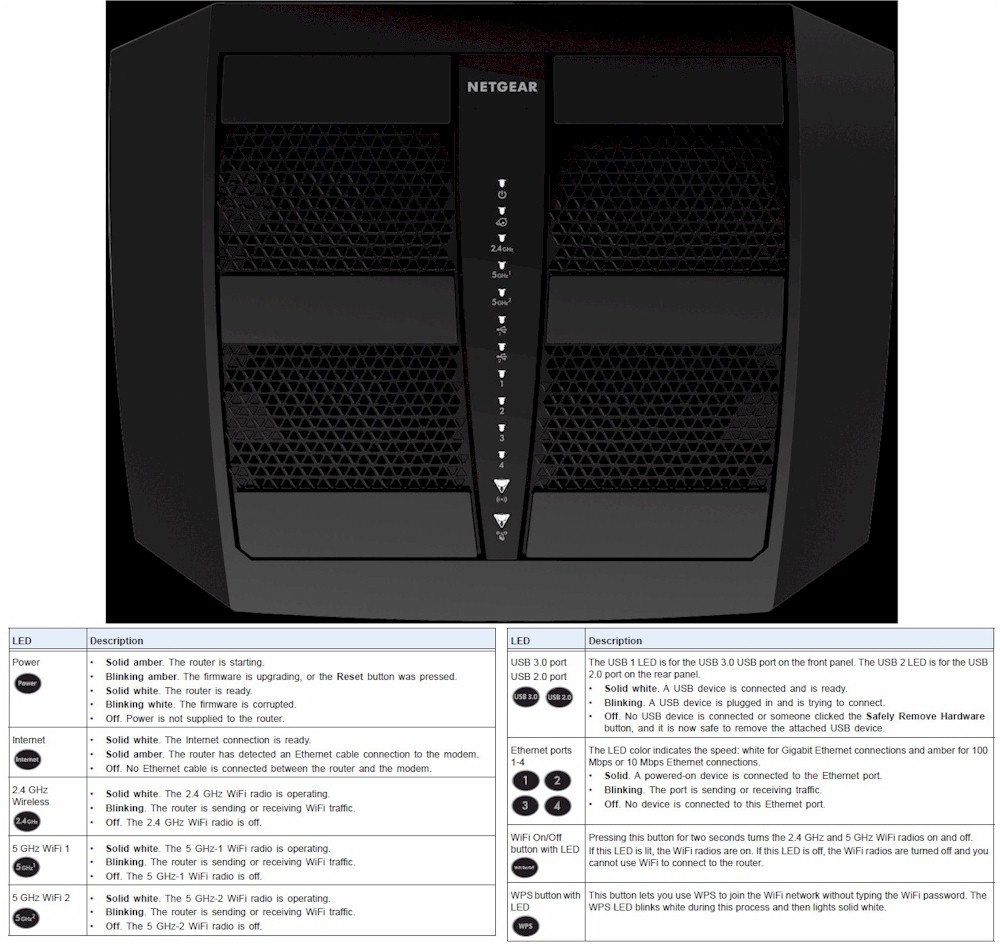 R8000P front panel
All switches except the two mentioned above are on the rear panel along with all connectors. There is nothing on the side panels and only attractively designed ventilation slots on the front panel. All Ethernet ports are Gigabit, of course, and you get one each USB 2.0 and 3.0 ports.

NETGEAR R8000P rear panel callouts
The black plastic case has plenty of ventilation holes on top and bottom cover. Two screw mounting slots are on the router bottom that will point connectors upward in a wall mount scenario.
Inside
As noted, the P is still built on a Broadcom platform. The fuzzy FCC pictures show the large heatsink covering the topside RF cans.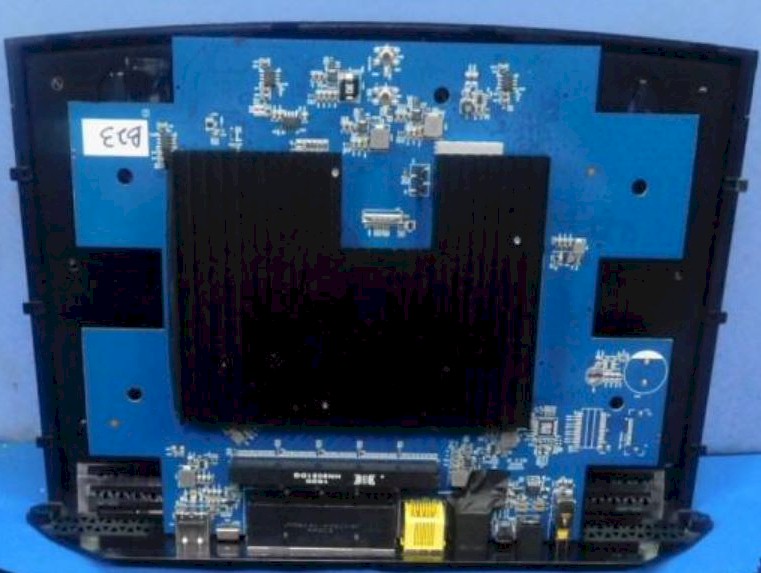 R8000P inside
Comparing the board tops with heatsink and RF can tops removed shows very similar layouts between the P…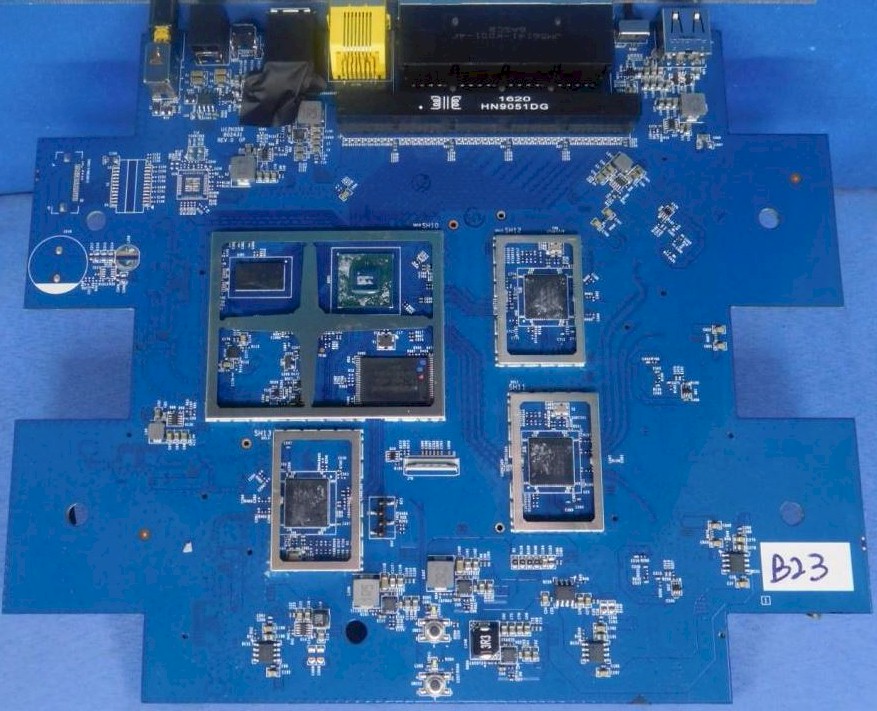 R8000P board top
…and original R8000. The 2.4 and 5 GHz -1 radios feed the antennas on the right of the router (facing front). The 5 GHz – 2 radio gets the left three antennas all to itself.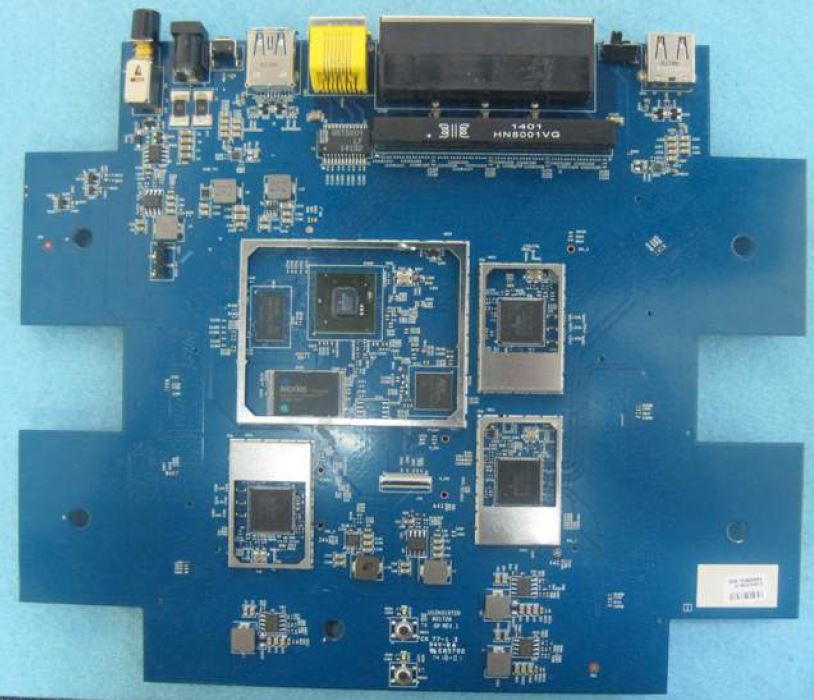 R8000 board top
Both photos of the board bottoms are too fuzzy for component identification, but again show very similar layouts.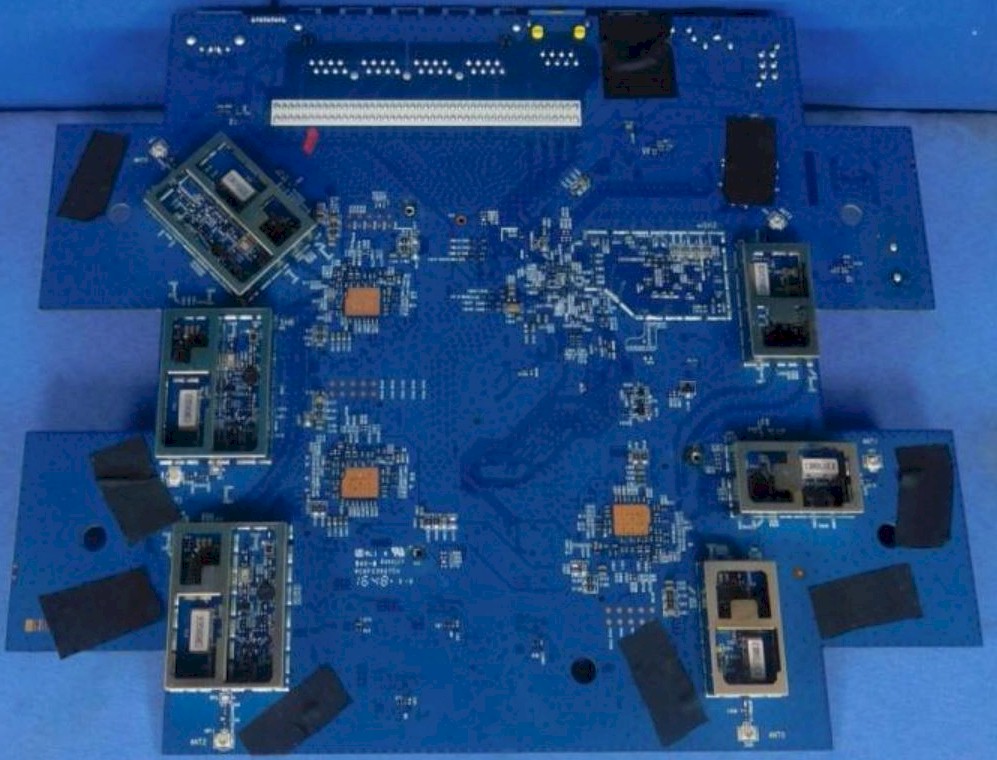 R8000P board bottom
Both boards put the external RF amplifiers/front ends in separate cans for each antenna. The larger cans on the left contain both 2.4 and 5 GHz components.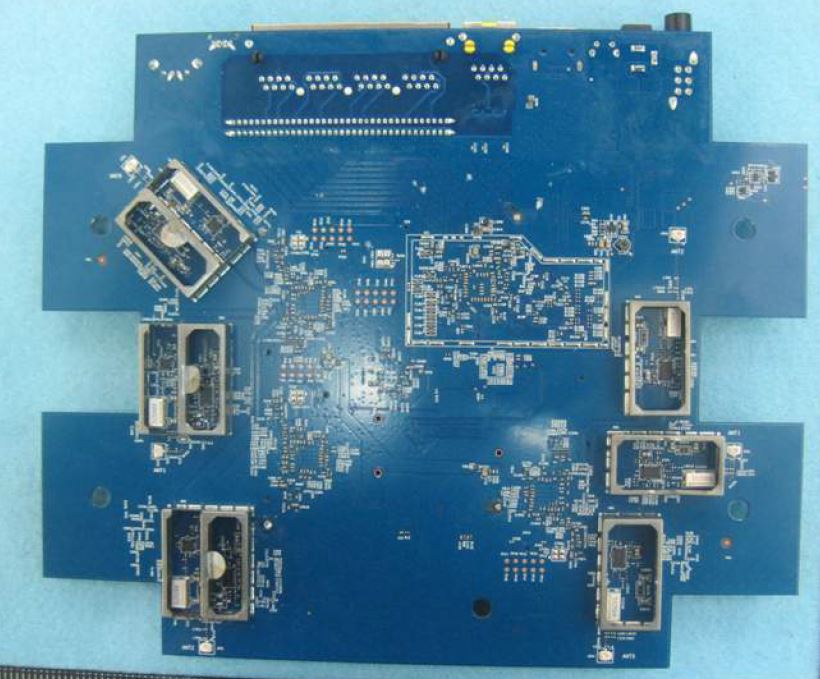 R8000 board bottom
Table 1 compares the R8000P with the R8000. I threw in the R7000 and R7000P so you can compare how NETGEAR approached the "P" redesigns for each.
NETGEAR R8000P
NETGEAR R8000
NETGEAR R7000P
NETGEAR R7000
CPU
Broadcom BCM4906 dual core @ 1.8 GHz
Broadcom BCM4709A
Broadcom BCM4708C0KFEBG
Broadcom BCM4709A
Switch
in BCM4906
in BCM4709A
In BCM4708C0
In BCM4709A
RAM
512 MB
256 MB
256 MB
256 MB
Flash
128 MB
128 MB
128 MB
128 MB
2.4 GHz Radio
– Broadcom BCM4365E
– Unidentified 2.4 GHz power amp (x3)
– Broadcom BCM43602
– Skyworks SKY85309-11 2 GHz Front end (x3)
– BCM4360KMLG 3×3 11abgnac SoC
– Skyworks SKY85319-11 2.4 GHz front end (x3)
– Broadcom BCM4360
– Skyworks SE2623L 2.4 GHz Power Amp (x3)
5 GHz radio 1
– Broadcom BCM4365E
– Qorvo QPF4519 5 GHz front end (x3)
– Broadcom BCM43602
– Skyworks SKY85712-11 5 GHz Front end (x3)
– BCM4365EKMMLG 3×3 11abgnac SoC w/ MU-MIMO
– QPF4519 Quorvo 5 GHz front end (x3)
– Broadcom BCM4360
– Skyworks SE5003L1 5 GHz Power Amp (x3)
5 GHz radio 2
– Broadcom BCM4365E
– Qorvo QPF4519 5 GHz front end (x3)
– Broadcom BCM43602
– Skyworks SKY85710-11 5 GHz Front end (x3)
N/A
N/A
PCIe
N/A
PLX Technology PEX8603 3-lane, 3-port PCIe switch
N/A
N/A
Table 1: Component summary
Features
The R8000P supports most of the same NETGEAR genie feature set supported by the R8000.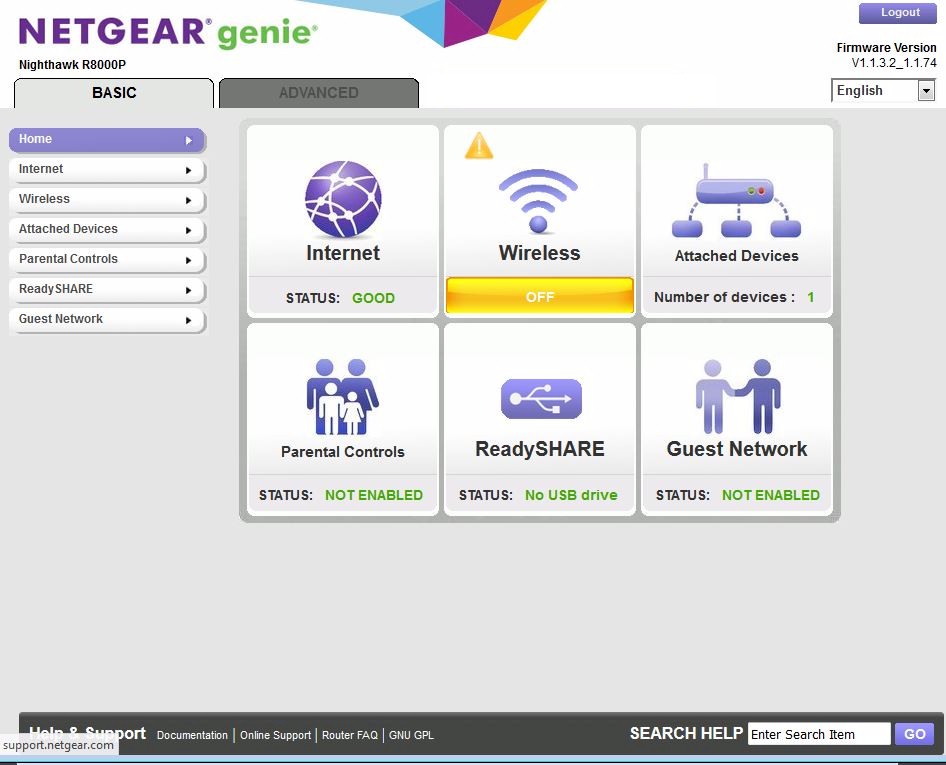 NETGEAR R8000P Home page
Here's a rundown of the R8000 / Genie feature, set copied from that review.
Routing / Firewall
Static and Dynamic IP, PPPoE and PPTP, L2TP and Bridge WAN connections (IPv4)
IPv6 WAN : 6to4 tunnel, Passthrough, Fixed, DHCP, PPPoE, Auto Detect, Auto Config
MTU Adjust on all connection types
Secure / Open NAS select
Application Layer Gateway (ALG) enable/disable for SIP
IGMP Proxy (default disabled)
WAN Port ping response control (default disable)
Port Scan / DoS Protection (default enabled)
WAN MAC address clone
WAN IP release / renew
DHCP Server with MAC reservation
NAT enable / disable
RIP 1, 2B, 2M in and out
Static Routes
Single & port range forwarding with separate source and destination ports
Triggered port range forwarding.
DMZ Host
UPnP enable/disable with portmap table
DDNS support for Dyndns (www.dyndns.org), NETGEAR, NO-IP.com
OpenVPN support
Administration
Attached devices (wired, 2.4 GHz, 5 GHz Radio 1, 5 GHz Radio 2)
Internet Traffic Meter with volume and connection time controls, counter reset and limit warning
Router reboot
Configuration backup / restore
Previous firmware restore
LED control (in addition to hardware on/off switch)
Emailed block site access alert and scheduled logs
Browser logging with clear and email controls
QoS
Access / Parental Control
OpenDNS Live Parental controls
MAC based access control
Schedulable domain / keyword blocking
Service blocking for single and port range to single or IP range
USB features
ReadyShare Vault SMB storage sharing
Network USB Print server
Media server with iTunes and TiVo support
FTP server
Share access control by user
HTTPs remote storage access
Approved device list
There are, however some differences between the original using V1.0.3.54_1.1.37 firmware and the P using V1.1.3.2_1.1.74.
HTTPS management is now supported in both routers, but for remote access only. If you hit the LAN-side 192.168.1.1 address or even the alternate routerlogin.net using HTTPS and appending port 8443, you won't connect.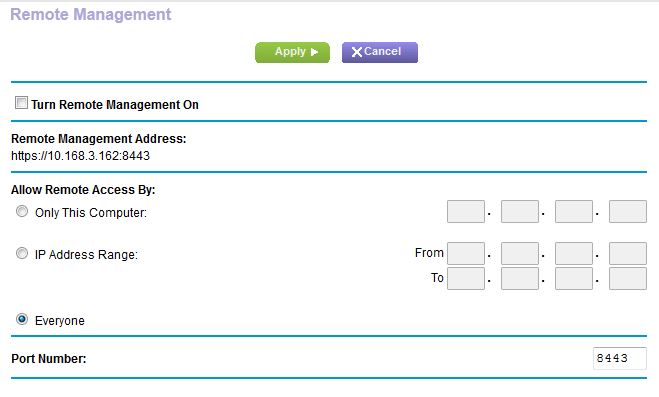 NETGEAR R8000P remote management
Dynamic QoS is now supported for the R8000, but not for the P.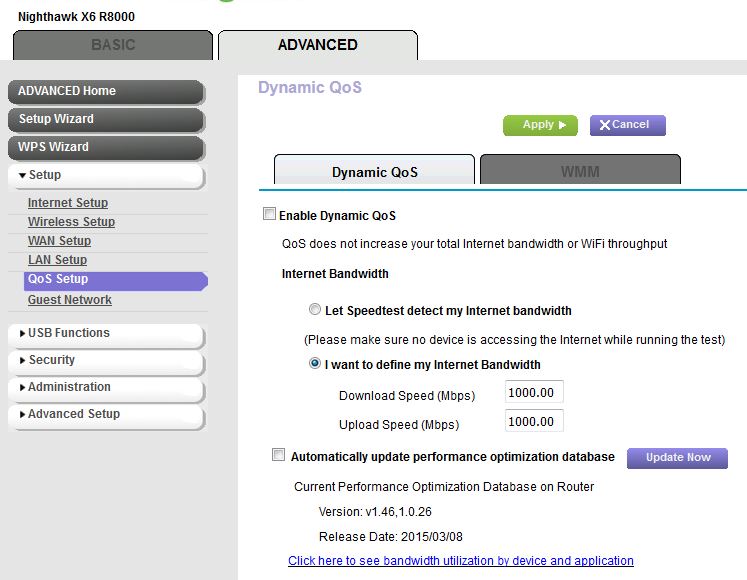 NETGEAR R8000 QoS
Smart Connect support for both original and P remains the same. The only Smart Connect control you get is an on/off switch. Check the box and the only thing you can adjust on the 5GHz-2 radio is the primary channel. Everything else is copied from the 5GHz-1 radio settings.
Update 10/19/17
The R8000's Smart Connect feature worked only to steer devices between the two 5 GHz radios. The R8000P's implementation now steers devices among all three radios. When Smart Connect is enabled, there is a single SSID for all three radios. No controls are provided to tune Smart Connect behavior.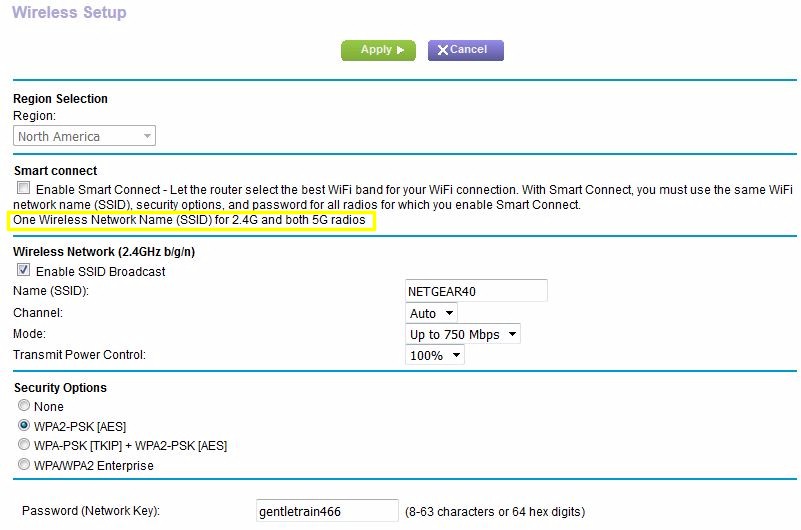 Basic Wireless Settings for Smart Connect
The R8000's Advanced Wireless settings are still limited to what you see below. The lone advanced control is the implicit Beamforming enable. Standard 802.11ac "explicit" beamforming is enabled by default and can't be disabled.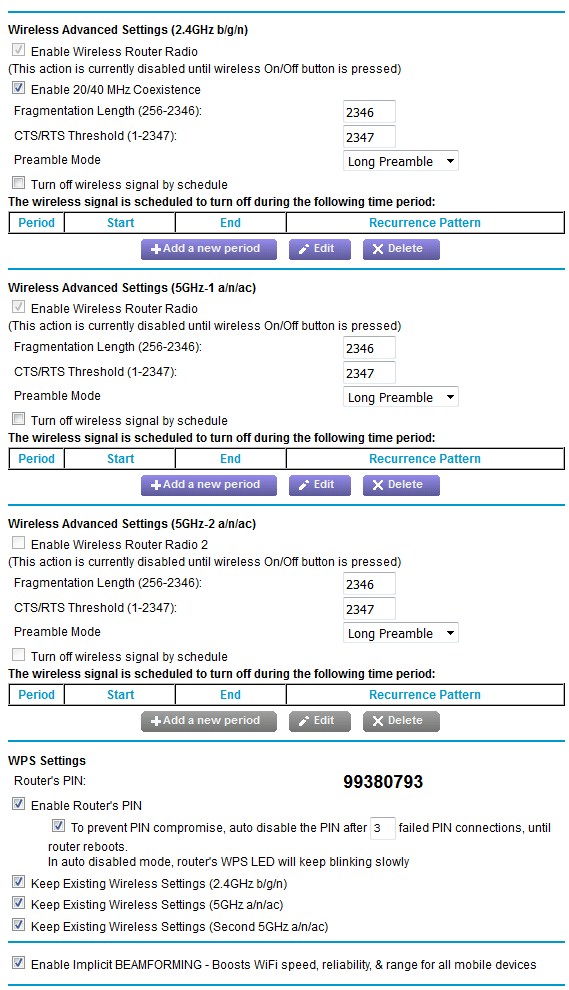 R8000 Advanced Wireless settings
The R8000P's base advanced wireless features are the same as the 8000's. But scroll down and you see Airtime Fairness, MU-MIMO and wireless bridge mode settings. The Wireless Settings part of the composite screenshot below opens when you click the setup bridge mode wireless settings button. You can enable bridging on 2.4 and 5 GHz bands separately, but there is only one 5 GHz setting.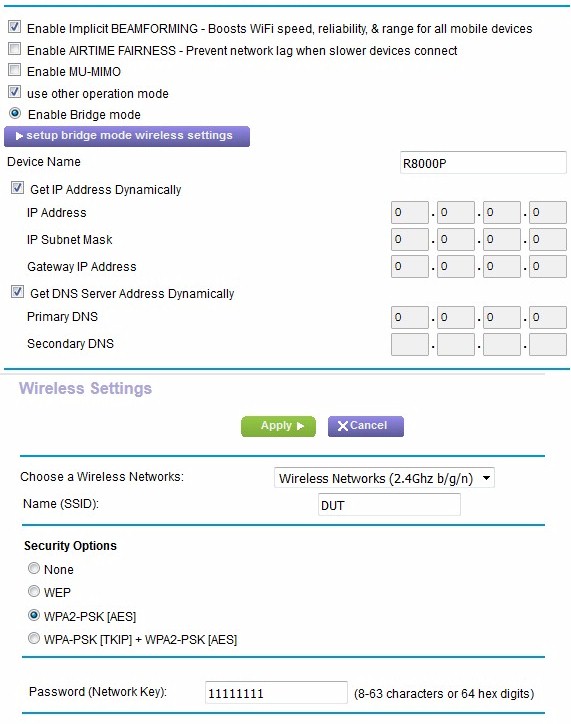 R8000P Advanced Wireless settings – more
Both routers also have separate pages to enable AP mode operation.
Storage Performance
The standard router storage test procedure was used to measure file copy throughput for FAT32 and NTFS volumes connected via USB 2.0 & 3.0. All the data is in the Router Charts; I'll be comparing USB 3.0/NTFS results only.
The P's more powerful processor propelled it to the top of both write and read charts. The R8000's 39 MB/s write and 74 MB/s read for the same benchmarks pale in comparison. Note the R8000 was not retested; the results shown were just copied from the original test. I spot-checked NTFS/USB3.0 performance and found it about the same as before, if not a bit lower.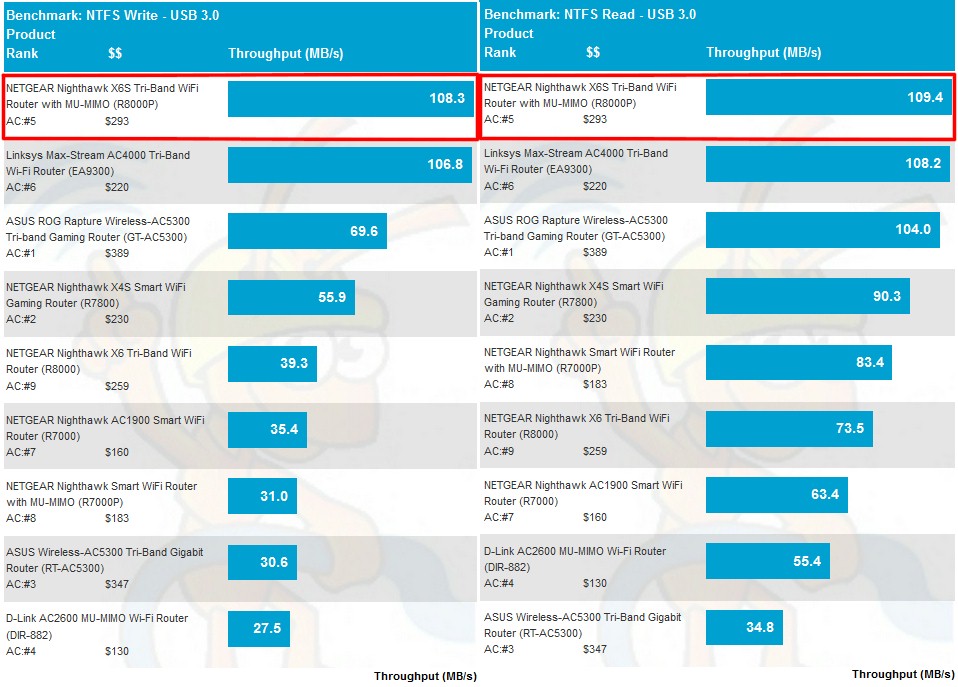 USB 3.0/NTFS storage performance comparison
Routing Performance
The R8000P was loaded with V1.1.3.2_1.1.74 firmware and tested with our V10 router test process.
| Test Description | NETGEAR R8000P | NETGEAR R8000 |
| --- | --- | --- |
| WAN – LAN Throughput (Mbps) | 940 | 937 |
| LAN – WAN Throughput (Mbps) | 940 | 940 |
| HTTP Score – WAN to LAN (%) | 61 | 31 |
| HTTP Score – LAN to WAN (%) | 51 | 36 |
| Bufferbloat Score- Down Avg. | 617 | 478 |
| Bufferbloat Score- Down Max. | 372 | 113 |
| Bufferbloat Score- Up Avg. | 477 | 448 |
| Bufferbloat Score- Up Max. | 162 | 358 |
| CTF Score (%) | 59 | 42 |
| Firmware Version | V1.1.3.2_1.1.74 | V1.0.3.54_1.1.37 |
Table 2: Routing throughput
Both routers show gigabit wirespeed routing using our simple iperf3-based test. But the tougher HTTP tests show a significant difference in download and upload average performance.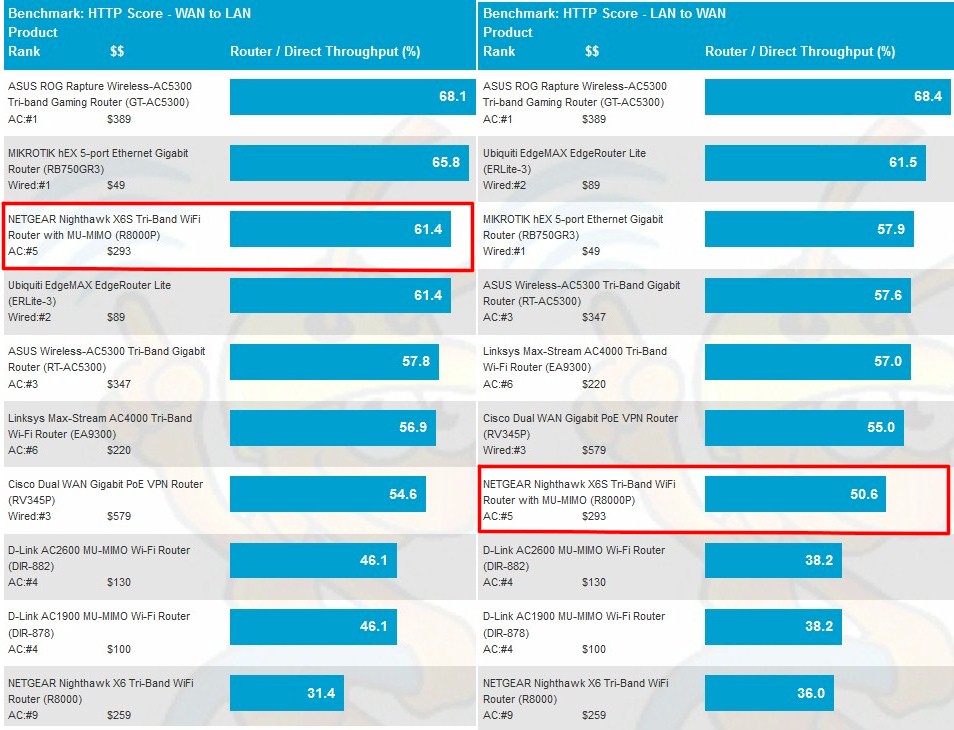 HTTP Score averages
Looking at a plot of the benchmarks that make up the averages above, I added in the ASUS GT-AC5300 that sits at the top of both charts for comparison. The R8000P and ASUS are the same on WAN-to-LAN at the two largest filesizes tested. While neither NETGEAR equals the ASUS on the two smaller filesizes again on WAN-to-LAN, the gap significantly widens for LAN-to-WAN.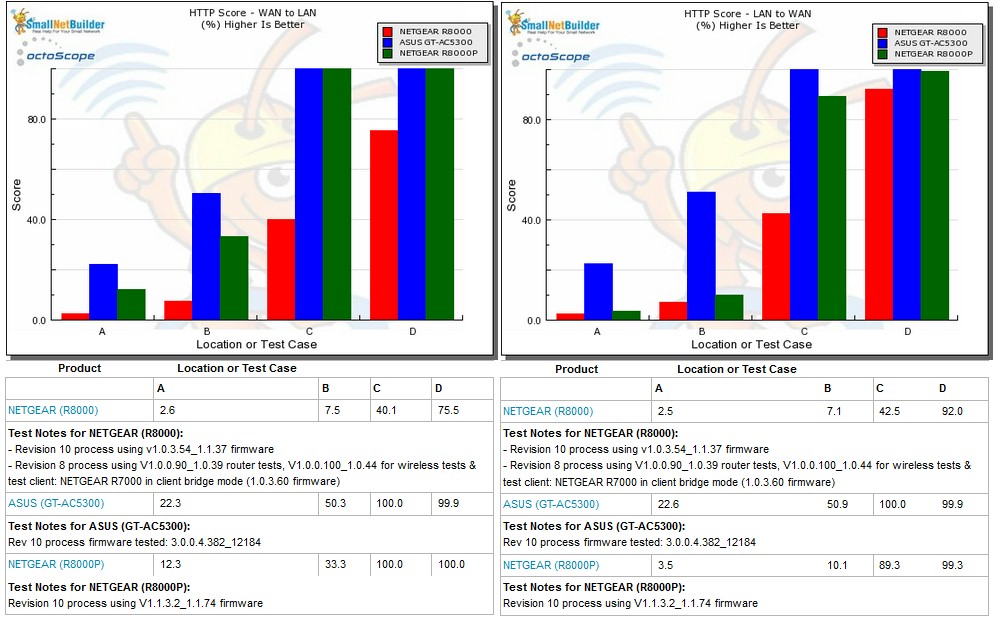 HTTP Score comparison
Plot key file size: [A] 2 KB, [B] 10 KB, [C] 108 KB and [D] 759 KB file
Comparing average Bufferbloat scores shows the P doing a bit better on average download than the 8000. But the table below with actual latency measurements added shows even the ASUS' relatively low uplink score equates to around 4 ms, not much to worry about.
| Test Description | NETGEAR R8000P | NETGEAR R8000 | ASUS GT-AC5300 |
| --- | --- | --- | --- |
| Bufferbloat Average Downlink Score | 617 | 478 | 450 |
| Bufferbloat Average Downlink latency (ms) | 1.6 | 2.1 | 2.2 |
| Bufferbloat Average Uplink Score | 477 | 448 | 227 |
| Bufferbloat Average Uplink latency (ms) | 2.1 | 2.2 | 4.4 |
Table 3: Bufferbloat performance
The Cut Through Forwarding tests look for throughput reduction when various router features are used. The P's CTF score of 59 means the router lost around 40% of its normal throughput when, in this case, either of its domain blocking or traffic meter features were enabled. The R8000 also suffered throughput loss when either of these features were used, but more like 60%. Interestingly, enabling QoS on the R8000 did not reduce throughput.
Wireless Performance
The R8000P is not Wi-Fi Certified. It was loaded with V1.1.3.2_1.1.74 firmware and tested with the Revision 10 wireless test process. The router was reset to factory default, then set to Channel 6 and auto 20/40 MHz bandwidth for 2.4 GHz and Channel 40 and 80 MHz bandwidth for the low band 5 GHz radio. The high band radio was shut off and not tested. WPA2/AES encryption was used for all connections. The Revision 10 process still uses 20 MHz bandwidth for 2.4 GHz tests for throughput vs. range, but uses 40 MHz for peak throughput tests. These settings are enforced by the octoScope Pal test client.
The router body was centered on the test chamber turntable with all antennas vertical as shown in the photo below. The 0° position for the router had the front facing the chamber antennas. Although you see four chamber antennas in the photo, only the center two are used for throughput vs. attenuation testing, which is done with the Pal set to operate as a 2×2 AC device.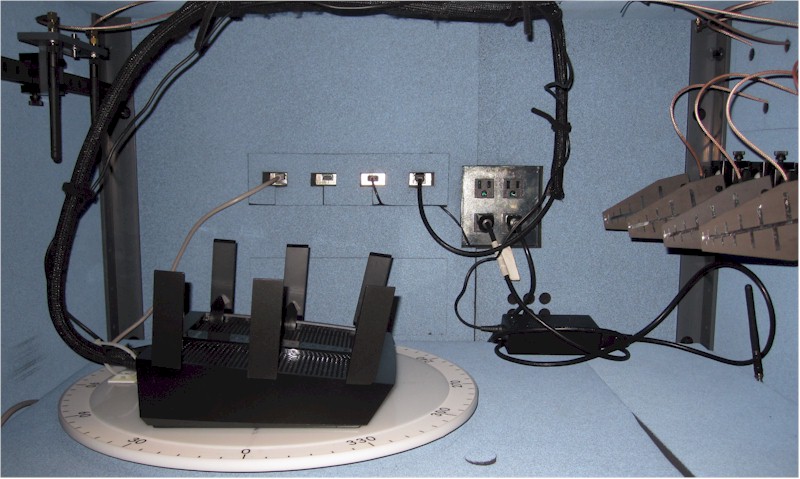 NETGEAR R8000P in test chamber
We'll start by comparing average throughput to get an initial feel for how the R8000P measures up. Average 2.4 GHz throughput was in the lower half of the charts for both up and downlink.
2.4 GHz average throughput comparison
The 5 GHz average plots show much poorer downlink than uplink throughput. But 5 GHz downlink was also an R8000 weakness.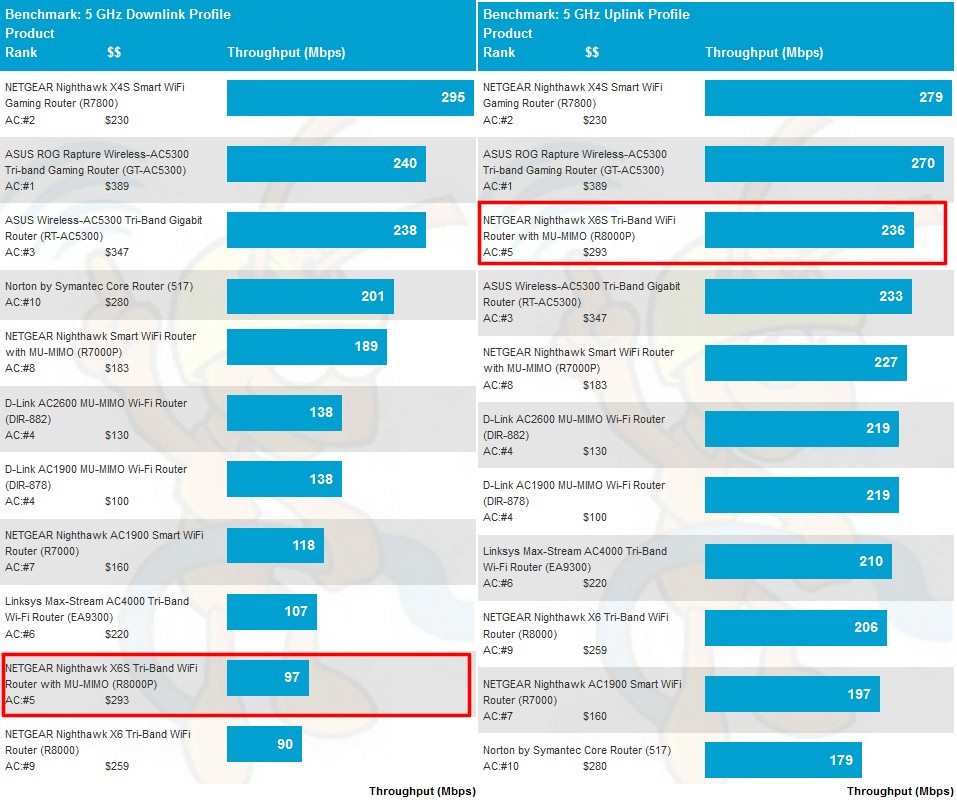 5 GHz average throughput comparison
Wireless Performance – more
For the throughput vs. attenuation plots, I'll be comparing all four three-stream NETGEAR routers, i.e. the R7000, R7000P, R8000 and R8000P. For 2.4 GHz downlink throughput only the R7000P breaks from the pack with much lower throughput under stronger signal conditions.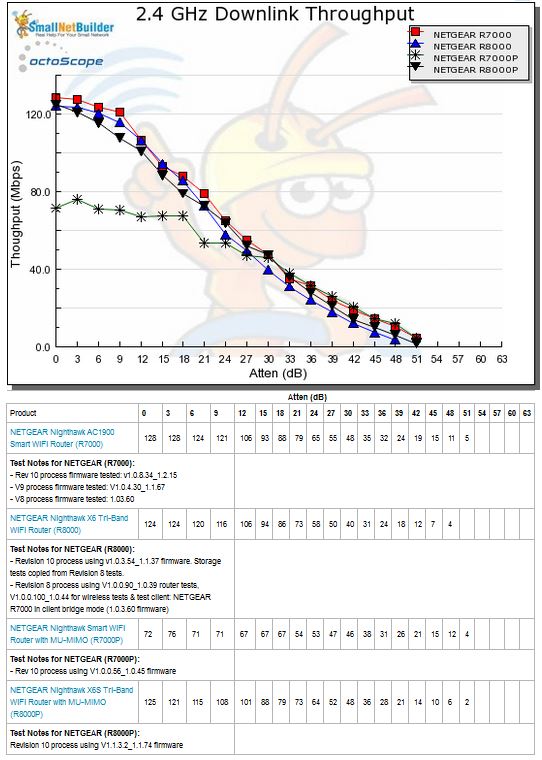 2.4 GHz Downlink Throughput vs. Attenuation
For 2.4 GHz uplink, all four routers are essentially the same.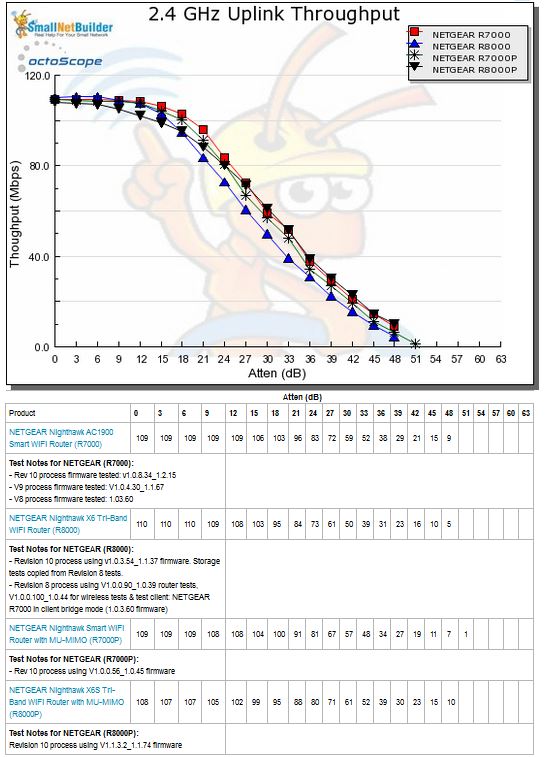 2.4 GHz Uplink Throughput vs. Attenuation
5 GHz downlink is more interesting, showing each router is unique. The 7000P fares best in this test, which is curious since it uses the same BCM4365E as the R8000P. Each line in the plot below is the average of two test runs and there was not much variation between the two runs for each product. It's a bit difficult to see, but there is a definite plateau in the R8000P's curve between the 21 & 27 dB attenuation tests. The 8000P never reaches the maximum throughput that the other three routers achieve.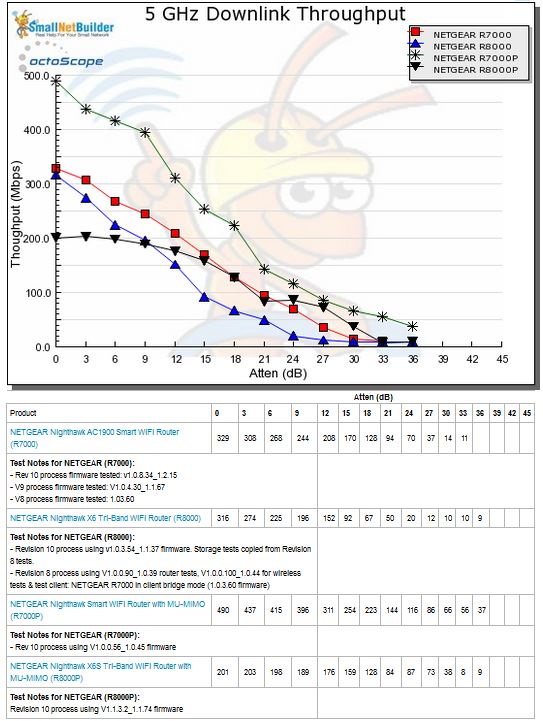 5 GHz Downlink Throughput vs. Attenuation
The 5 GHz uplink plot shows the P's and originals tracking very closely until around 12 dB attenuation, then spreading out just a tad.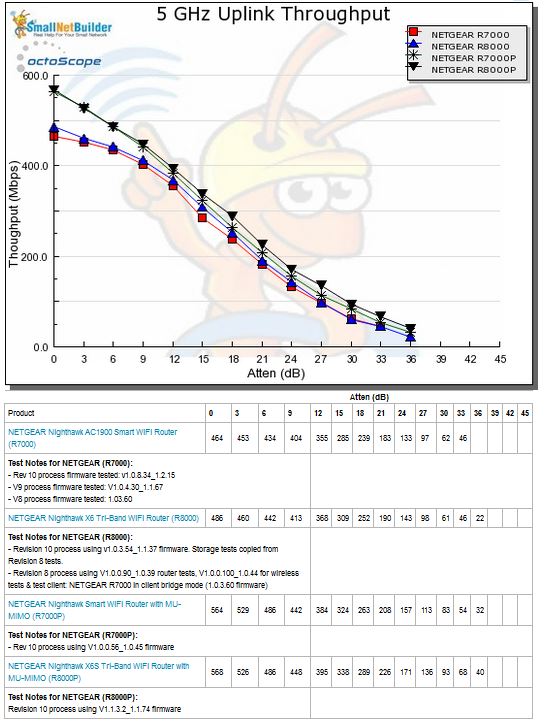 5 GHz Uplink Throughput vs. Attenuation
The upshot is the R8000P's weakest wireless spot is 5 GHz downlink.
Peak Wireless Throughput
For our peak wireless performance tests, the octoScope Pals are configured as 4×4 AC devices and left to negotiate their best connection, with 10 dB of attenuation applied on 2.4 GHz. The latter is necessary so the 2.4 GHz Pal isn't overloaded.
The R8000P doesn't do that great in the 2.4 GHz peak benchmarks, landing in the middle for downlink and third from bottom on uplink.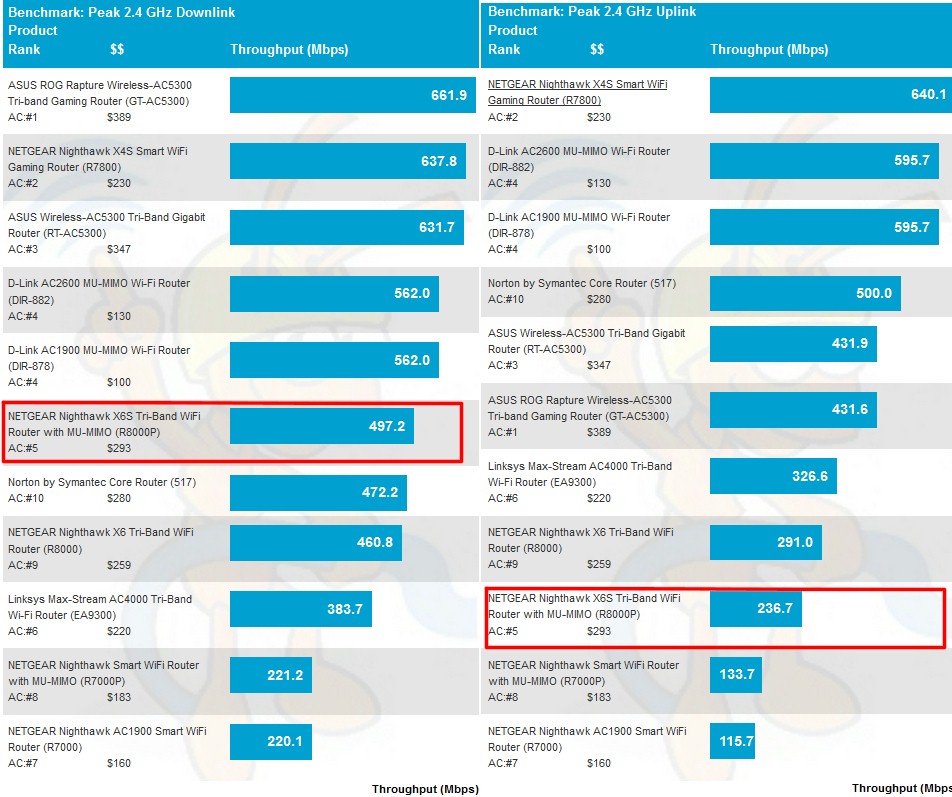 2.4 GHz Peak Wireless Throughput comparison
The 5 GHz peak benchmarks again show the R8000P almost running dead last in both directions. Oddly, the R7000P, which uses the same radio, does much better in both directions. These results are mostly of interest to folks who will be using a pair of 8000Ps as wireless bridges.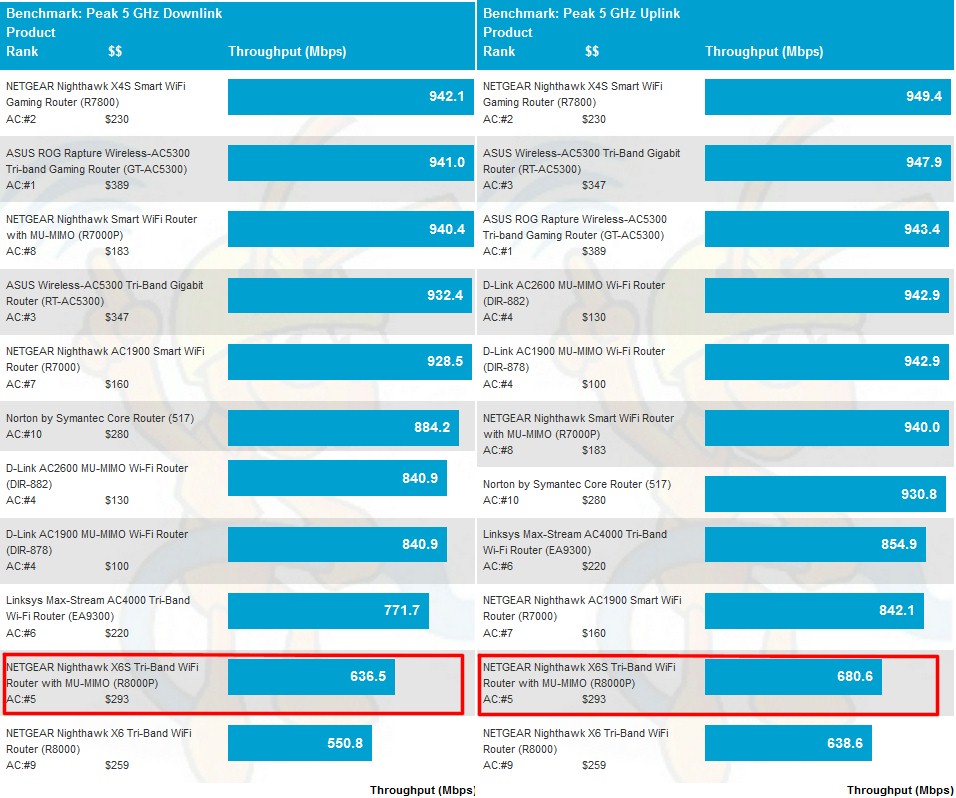 5 GHz Peak Wireless Throughput comparison
I did not test MU-MIMO, because it doesn't benefit most people or Smart Connect, because previous tests have shown that the feature either can't or doesn't influence how devices connect in order to optimize total throughput.
Closing Thoughts
To pull everything together, it's always good to look at the Router Ranker, which shows the R8000P at #5 and the R8000 at #9. The Performance summary for each shown below shows the P earns the higher rank due to higher 2.4 GHz range, 5 GHz average and peak throughput and range and routing performance, the latter being its most commanding lead. And although it doesn't count in ranking, don't forget the P's much improved storage throughput.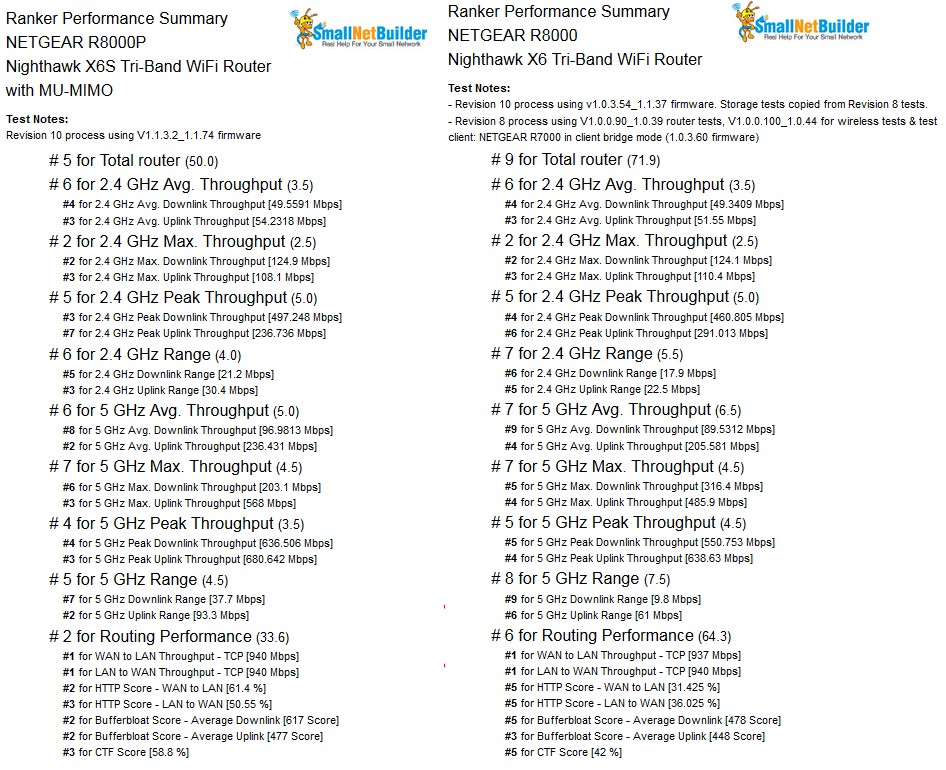 5 GHz Peak Wireless Throughput comparison
But is the P really worth the extra $40? Hard to say. Most people won't notice the routing performance difference and both the P and original have weaknesses in wireless performance.
The more significant question is whether you can really benefit from a tri-band router in the first place. If we've learned anything in the past few years, it's that client devices are the boss when it comes to both roaming and band steering. Routers mess with client decisions at their peril, risking being seen as flaky if they choose to battle with client connection decisions. In the end, many users end up disabling smart connect, setting different SSIDs and trying to manage client connections on their own. Whether or not their decisions result in the intended total bandwidth optimization is something only careful experimentation can tell, and most folks will never attempt to do.
A better bang for your buck is probably to look to a two-radio four stream router (AC2600/AC3150 class). The extra stream helps improve receive gain and boost throughput in medium signal locations and even maybe help eke out a bit more useful throughput as signals fade to black. Something like the damn cheap D-Link DIR-878—a DIR-882 clone, AC 4×4 router masquerading as a 3×3—could be a much better buy.
Buy Nighthawk X6S Tri-Band WiFi Router with MU-MIMO from Amazon