At a glance
Product
Cisco Wireless-N Access Point with PoE (WAP121) [Website]
Summary
Broadcom-based single-band 802.11bgn access point with Enterprise feature set and 802.3af PoE.
Pros
• Extensive feature set
• HTTP/S, Telnet, SSH admin
• Lots o' QoS options
• IPv6
Cons
• Web admin requires a lot of scrolling
• WPS doesn't work properly
Typical Price: $49 Buy From Amazon
Overview
If you liked what you saw in Cisco's WAP321 [reviewed] small-biz access point, but want a less-expensive, single-band alternative and don't mind giving up a few features, then the WAP121 is for you. Since I covered the feature set in detail in the WAP321 review, we're going to take a quick look at the hardware and feature differences and move right on to performance.
Figure 1 shows the simple back panel, which has a 10/100 Ethernet port vs. the 10/100/1000 port on the WAP321. Both, however, support 802.3af PoE and have three bi-colored lights on the top of the WAP—power, WLAN and LAN—that flash and change color to indicate status.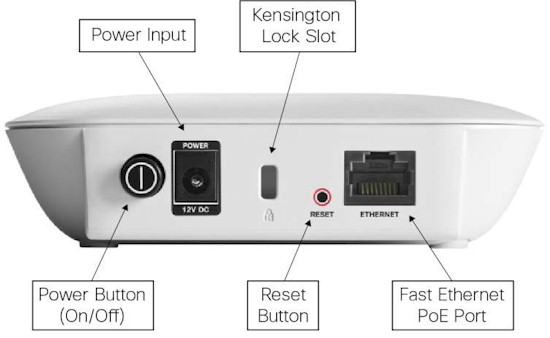 Figure 1: WAP321 rear view with callouts
Folks without access to PoE switches will appreciate that the WAP121 comes with the 12V wall-wart power adapter that the WAP321 lacked.
Figure 2 is a quick photo I snapped comparing the sizes of the WAP121 and 321. The 121's footprint is about the size of a CD jewel case.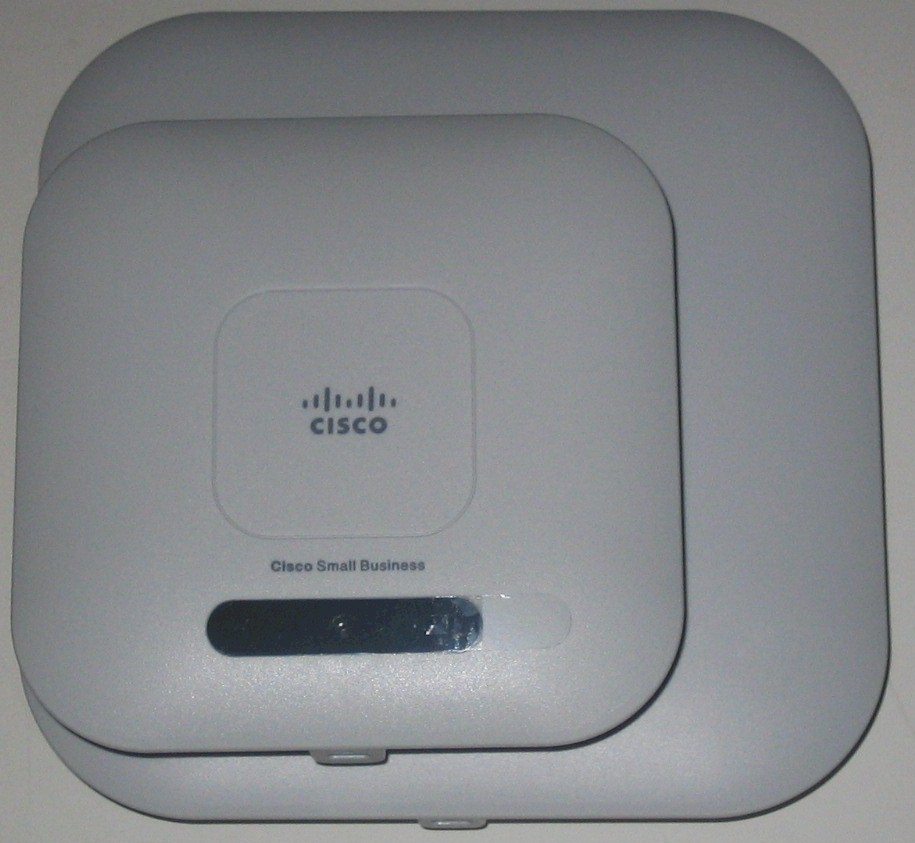 Figure 2: WAP121 and WAP321 size comparison
The 121 comes with a mounting plate similar to, but smaller than the one supplied with the WAP321. However, it has the same weaknesses of the WAP321's plate, i.e. no way to lock the AP to it either via mates to the Kensington locking slots on the AP's front and rear or another mechanism.
The plate's rear shroud covers the ports and power switch and has a knockout for cable routing and a hole for reset switch access.
Inside
The FCC photos weren't clear enough for me to identify all the components. So after testing I opened up my sample for a look and found a view similar to the FCC photo in Figure 3.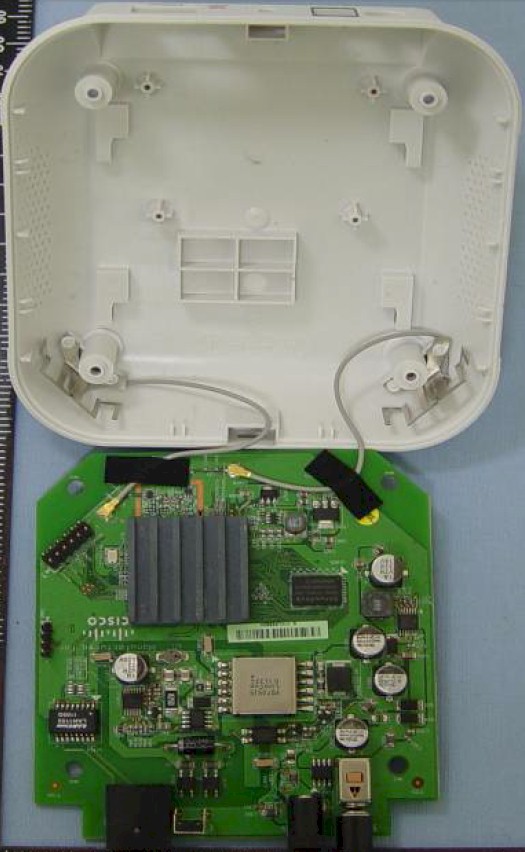 Figure 3: WAP121 inside
Table 1 summarizes the key components, which show another Broadcom based design. The FCC ID prefix indicates that the WAP121 is manufactured by Sercomm, the same Taiwanese OEM that makes the WAP321.
WAP121
WAP321
CPU
Broadcom BCM5358 2 stream 2.4 GHz
802.11n router SoC w/ VoIP support
Broadcom BCM4748 Intensi-fi XLR
2 x 2 IEEE 802.11n 2.4 GHz + 5 GHz SoC
RAM
64 MB
64 MB
Flash
16 MB
16 MB
Ethernet
in BCM5358
Broadcom BCM54612E
Radio
in BCM5358
– BB / MAC / RF In BCM4748
– SiGe 2547A Dual Band 802.11a/b/g/n
Wireless LAN Front End (2X)
Table 1: Component summary
The antennas are both 2 dBi metal PIFA (Planar Inverted F Antenna) patch type.
Figure 4 shows an unobstructed although somewhat fuzzy view of the board with the heatsink removed from the Broadcom BCM5358 SoC that does most of the heavy lifting in the AP. Note that there are no external RF power amplifiers or front ends up near the top center of the board.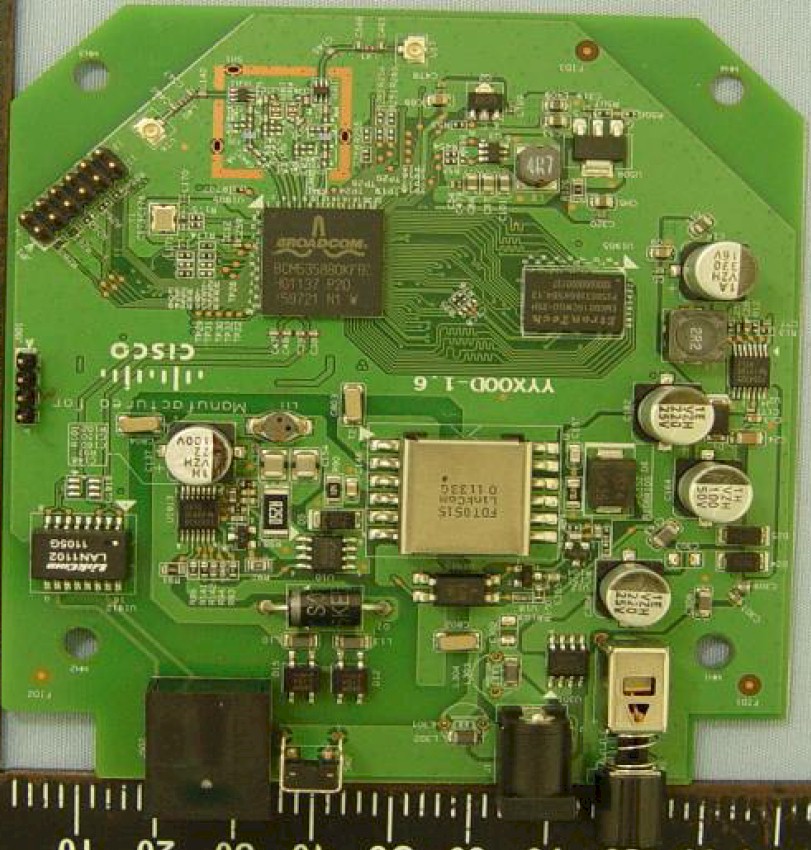 Figure 4: WAP121 board
Features
Here is a feature summary for the WAP121, which is very similar to the WAP321's:
AP/WDS Bridge/WDS Repeater modes
Client bridge mode (no WDS required)
Four SSIDs (vs. 8 on the WAP321)
SSID broadcast control
1 management VLAN plus 4 VLANs for SSID
SSID to VLAN mapping
Auto-channel selection
Transmit power adjust
Multicast and Legacy Rate setting
MCS setting
Rogue AP detection
WAP and Station Enhanced Distributed Channel Access (EDCA) QoS (802.11e)
TSPEC support
Bandwidth utilization (% of AP bandwidth used before AP stops allowing associations)
Diffserv based client QoS
Client limit (16 maximum, 10 active recommended)
802.11i preauthentication for fast roaming
IPv6 Host, RADIUS,syslog, NTP support
Wireless enable/disable scheduling per SSID
WiFi Protected Setup (no physical pushbutton)
WEP, WPA/WPA2 Personal and Enterprise security
MAC address filtering
Management access control
IPv4, IPv6, MAC Deny/Permit ACL
HTTP/HTTPS/Telnet/SSH/Bonjour/SNMP v3 administration
Internal and syslog log support
LAN and WLAN traffic statistics
Packet capture
802.1d Spanning Tree support
Now that I've made you read the list, Table 2 has what you really want to know—the difference between the WAP121 and WAP321's features.

| | WAP121 | WAP321 |
| --- | --- | --- |
| VLANs | 1 management VLAN plus 4 VLANs for SSID | 1 management VLAN plus 8 VLANs for SSID |
| SSIDs | 4 | 8 |
| Captive Portal | No | Yes |
| Client Limit | 16 maximum , 10 recommended | 32 maximum, 20 recommended |
| Bands | 2.4 GHz | 2.4 / 5 GHz, selectable |
Table 2: WAP 121 / WAP321 Feature comparison
Figure 5 is a shot of the web admin interface so you can confirm that the Captive Portal option isn't there. The interface is otherwise the same as the WAP321's and many other Cisco small-biz products. It requires a wide format screen and therefore isn't tablet and notebook friendly. You'll find yourself doing a lot of horizontal scrolling, especially in the status screens.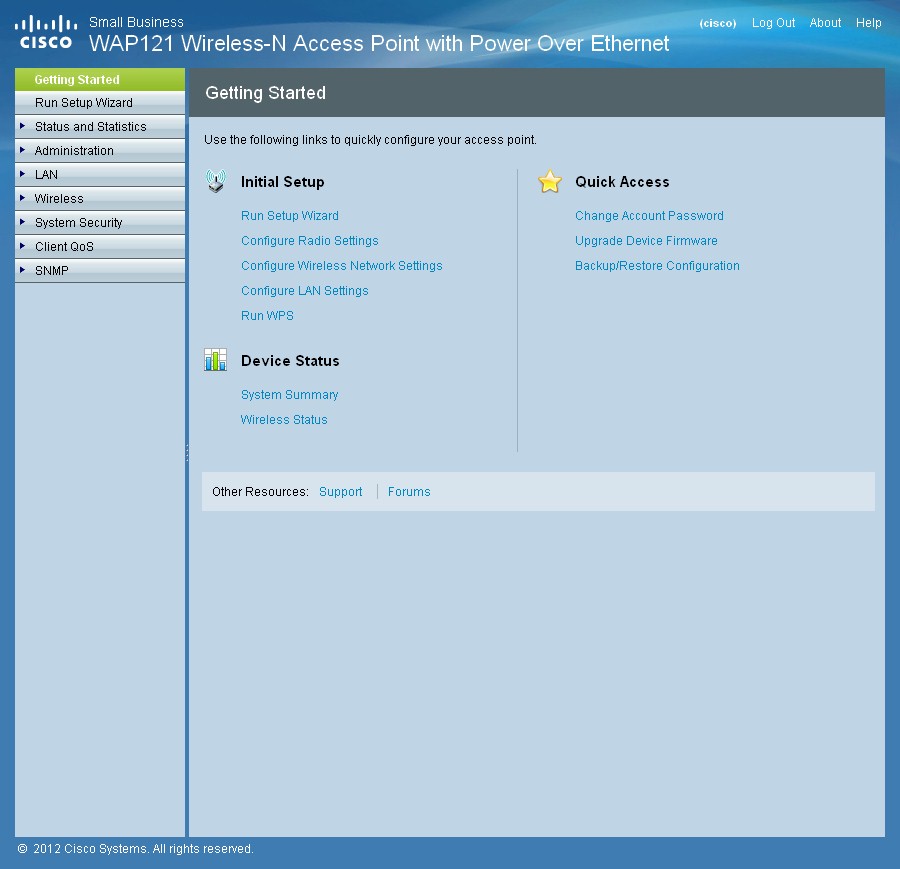 Figure 5: WAP121 landing page
Cisco unfortunately doesn't have an online emulator so that you can take the WAP121 for a test drive. There are a lot of features and nuances, so you might want to download the admin guide.

Wireless Performance
The WAP121 is Wi-Fi Certified and defaults to the 2.4 GHz band in 20 MHz bandwidth mode on power-up. Wi-Fi Protected Setup (WPS) is enabled by default. But when I associated my test client to the AP, the client did not indicate that WPS was available by either prompting for a PIN code or informing me that I could push a button on the router.
So I had to manually configure the AP with WPA2/AES security before running tests using our standard wireless test process, using Channel 1 for the 2.4 GHz band. I used an Intel Centrino Ultimate-N 6300 in a Lenovo x220i notebook running Win 7 Home Premium as the test client. I left all other controls to their defaults, which included no QoS features enagaged.
Because the WAP121 is not a router, you'll find it in the Wireless Charts, not the Router Charts. I don't test that many non-routing wireless products, so I included both single and dual-band products in the comparison charts in Figures 6 and 7.
Figure 6 shows the WAP121 does slightly better than the single-band EnGenius EAP-300 with 35 Mbps 20 MHz mode downlink throughput, but not as well as its dual-band WAP321 sibling at 44 Mbps. Remember these numbers represent the average of measurements at all four test locations.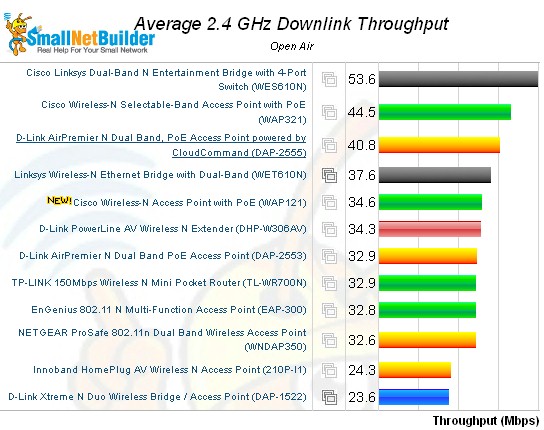 Figure 6: Wireless performance comparison – 2.4 GHz, 20 MHz mode, downlink
Uplink in 20 MHz mode turns the tables with the WAP121 doing slightly better than the WAP321 with 32 Mbps vs. 30 Mbps. The EnGenius lags far behind with 21 Mbps.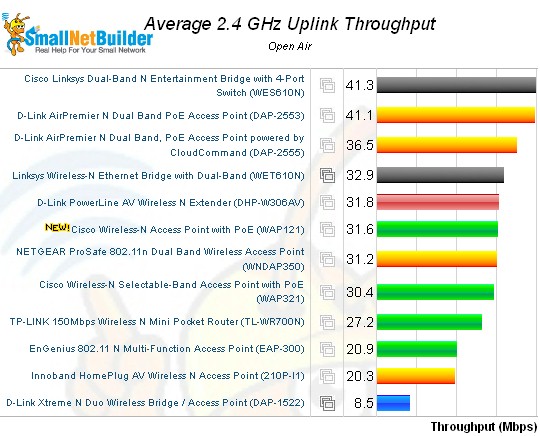 Figure 7: Wireless performance comparison – 2.4 GHz, 20 MHz mode, uplink
Running simultaneous up and downlink streams showed you'll get higher aggregate throughput with 73 Mbps measured in 20 MHz mode and 97 Mbps in 40 MHz mode.
Speaking of 40 MHz mode, I ran the Neighboring AP and Fat Channel intolerant tests described in Bye Bye 40 MHz Mode in 2.4 GHz – Part 2. The WAP121 had the same results as the WAP321, i.e. it failed the neighboring AP test and passed the Fat Channel intolerant test. So both the WAP121 and WAP321 will let you squash neighboring networks if you care to by setting Channel Bandwidth to 20/40 MHz. Don't count on this in the long term, however, since Cisco should fix it.
Figure 8 shows the individual test results for all three products in the Performance Table. Note that the EnGenius does better than the two Ciscos with a strong signal (Location A), but throughput fades quickly with signal level, especially running uplink. The EnGenius' 40 MHz throughputs are pretty good. But buying a wireless product based on 40 MHz performance isn't a smart move, unless you really have no other networks around (see Bye Bye 40 MHz Mode in 2.4 GHz).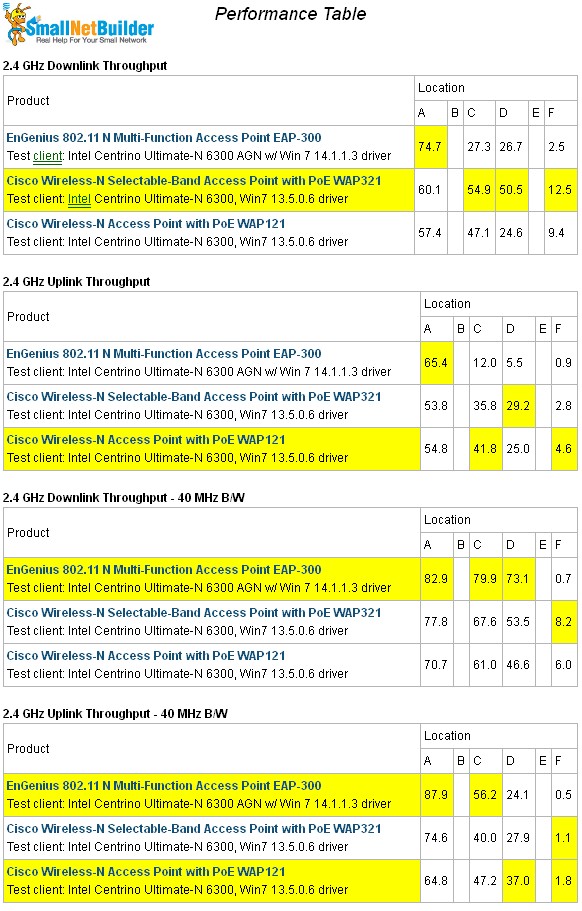 Figure 8: Wireless Performance Table
For an even more direct comparison between the WAP121 and WAP321, check the composite Radar Plots in Figure 9. They visually show what we know already, the WAP321 is better on downlink, the WAP121 slightly better for uplink. You can play with the Radar plots more if you like here.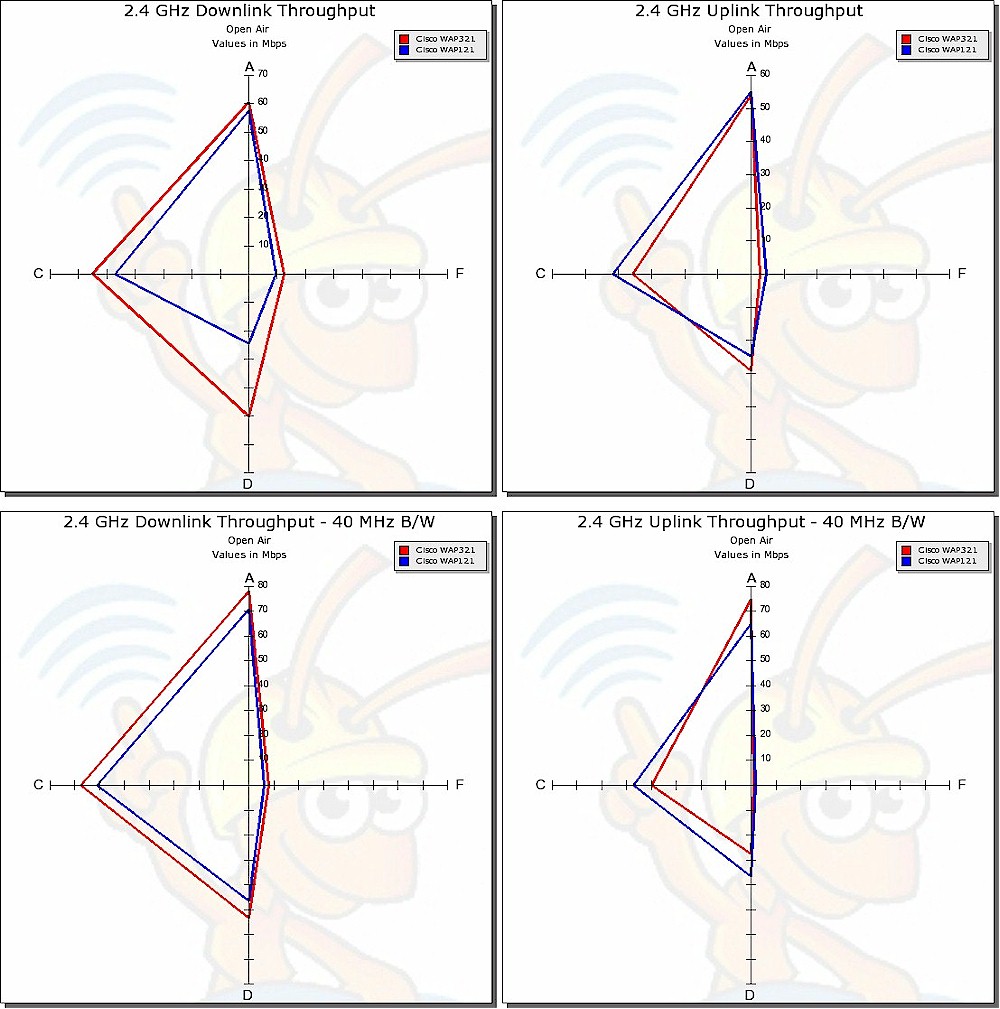 Figure 9: WAP121, WAP321 Radar Plot comparison
Throughput stability is so-so as shown in the IxChariot plot for 20 MHz mode downlink in Figure 10.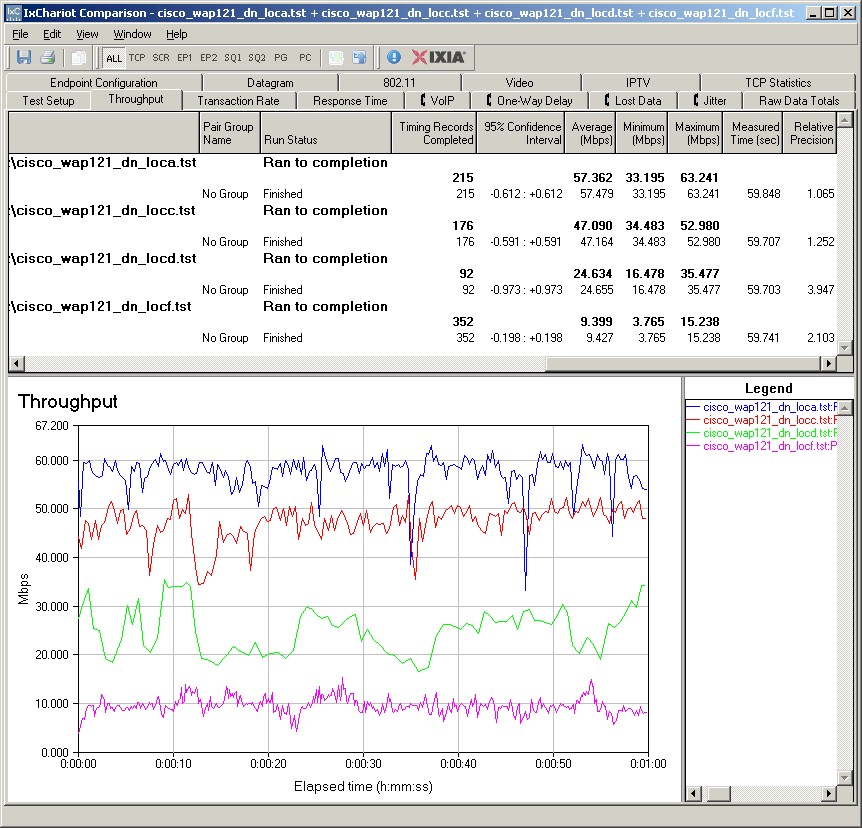 Figure 9: IxChariot plot – 2.4 GHz, 20 MHz, downlink
These other plots show high variation in the weakest test location F.
Closing Thoughts
Bottom line is that the WAP121 should do you just fine if you are looking for a cheaper (~ $100) alternative to the WAP321 and can live with a single-band AP. It's not the highest-performing AP you can buy. But its small size, (relatively) low cost and PoE feature will let you easily put a bunch of 'em up to make up for that.
Buy Wireless-N Access Point with PoE from Amazon