At a glance
Product
Cisco Wireless-N Dual Radio Selectable Band Access Point (WAP561) [Website]
Summary
N900 class small-biz access point with PoE and ability to "cluster" with 15 other APs for control.
Pros
• Can group up to 16 APs with centralized control and channel management without a controller
• PoE powered
• Many bandwidth shaping features
• 15 VLAN'd SSIDs per radio
Cons
• Shoulda had AC radios
• Unimpressive range
Typical Price: $0 Buy From Amazon
Overview
Our last look at Cisco's small business access points were their N300 WAP121 single band and WAP321 selectable N300 dual-band almost two years ago! While time may fly, it appears that Cisco's small business AP design team moves much more slowly. Although they have added this new 500 series, one of which I'm looking at today, these are N450 / N900 class APs, not 802.11ac.
The WAP561 Wireless-N Dual Radio Selectable Band Access Point is an N900 class (simultaneous 3×3 dual-band 802.11abgn) AP. Its sibling WAP551 carries only a single radio making it selectable dual-band N450 class. Other than the single radio, the two APs have the same feature set.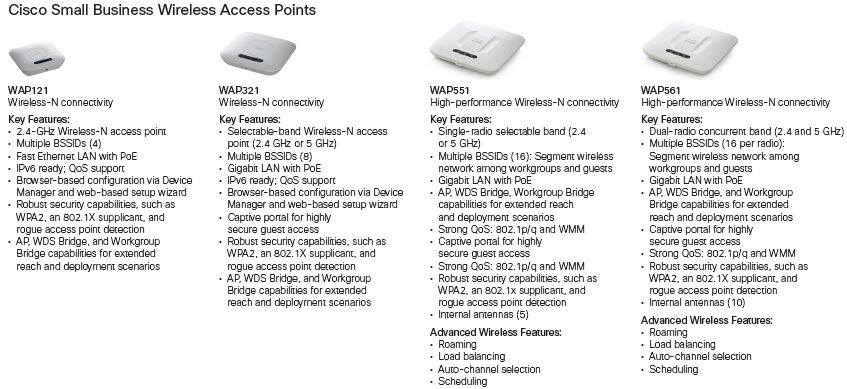 Cisco Small Biz AP Family Features
The WAP561 is much larger than I expected with its 9" x 9" footprint—almost twice the size of the single-band WAP121 at 5" x 5"! The WAP321 is in the middle at about 6.5" x 6.5". The top and bottom are pretty simple, with power and wireless and Ethernet activitity lights on the top and a single 10/100/1000 Mbps Ethernet port on the bottom. There is no power switch like on the WAP121 and WAP321.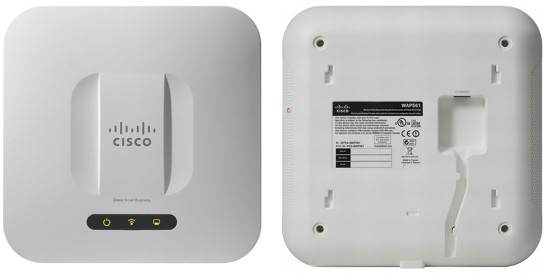 WAP561 front and back views
Power is expected to come via 802.3af PoE through the Ethernet port, but the AP doesn't come with an injector. Cisco sent an SG300-28P switch instead (Doug reviewed the SG500-28P awhile back) along with a second WAP561 so that I could check out the multi-AP "Single Point Setup" feature. But it was much more convenient to use the SB-PWR-INJ1 injector they previously sent for the WAP321 review.
The WAP561 comes with a mounting bracket, making removal for service easy. Here's a composite shot done for the WAP321 so that you can get the gist of how the bracket works.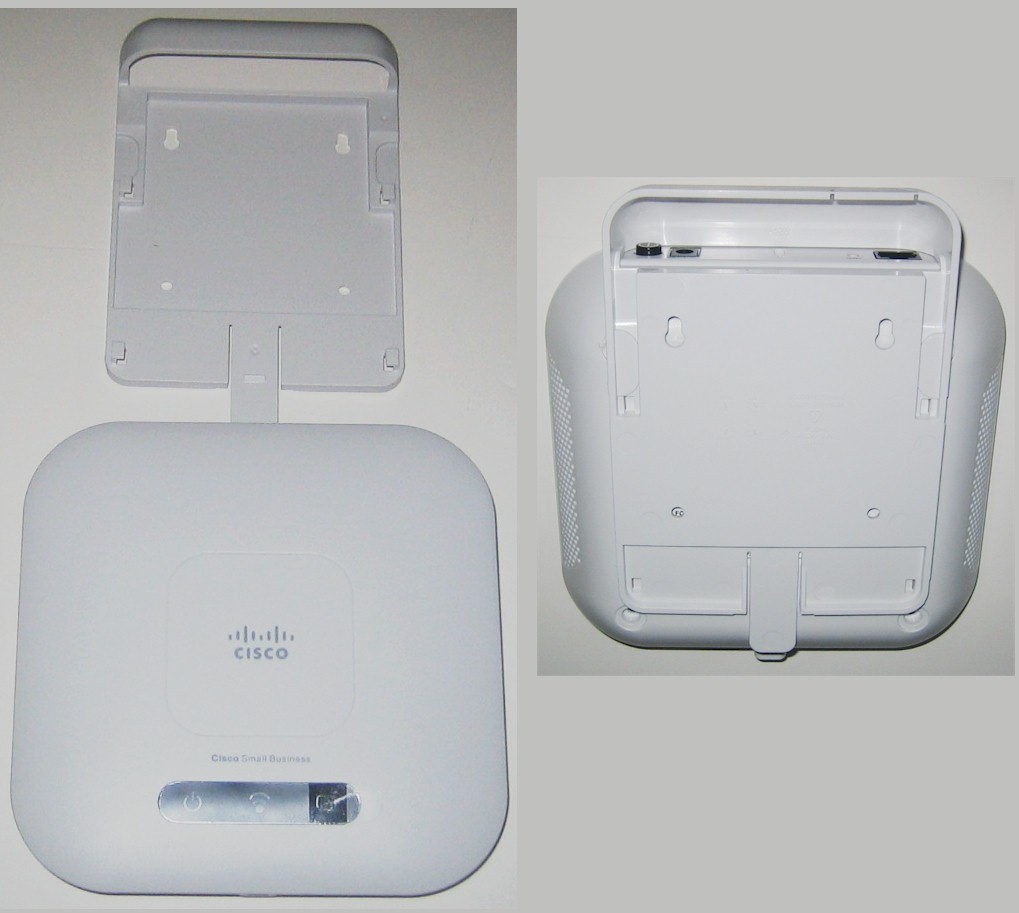 WAP321 with mounting bracket
Inside
The FCC photos inside shot shows a clean and tidy design. The CPU and memory is in its own RF "can" on the left. Two identical mini-PCIe modules on the right are the two radios.
Figure 3: WAP561 inside
Sharp-eyed readers may notice the, uh, unique antenna arrangement with five antennas per radio and two antenna types. Cisco said all the antennas are 5 dBi dual-band, so I'm guessing the difference is polarization. They also provided the following explanation:
…this is our SmartSignal antenna system, which is automatically optimized for different mounting orientations, either horizontal (ceiling or desktop) or vertical (wall mount). At the heart of the system is an orientation sensor that automatically detects the position of the AP then selects the optimum antenna set…
Table 1 summarizes the key components and includes the WAP321 for comparison. Cisco went with a beefier (and separate) CPU for the WAP561 vs. a single-chip design for the less-expensive WAP321.
WAP561
WAP321
CPU
Cavium CNS3420 @ 600MHz
Broadcom BCM4748 Intensi-fi XLR
2 x 2 IEEE 802.11n 2.4 GHz + 5 GHz SoC
RAM
128 MB
64 MB
Flash
32 MB
16 MB
Ethernet
?
Broadcom BCM54612E
Radio
– Broadcom BCM43431
– SiGe SE2594L Dual Band 802.11a/b/g/n Wireless LAN Front End (x3)
– In BCM4748
– SiGe 2547A Dual Band 802.11a/b/g/n Wireless LAN Front End (x3)
Table 1: Component summary
I put other pictures of the 561's innards in the gallery that you'll find later on.
Features
The WAP561 has a very broad feature set. The list below comes mainly from the data sheet.
Network
1 management VLAN plus 16 VLANs for SSIDs, 802.1q based
SSID to VLAN mapping
802.1x supplicant
Spanning tree support
Load balancing
IPv6 host, RADIUS, syslog, NTP suppot
Security
Management access control list (ACL) plus user MAC ACL
Kensington Lock slot (physical security)
QoS
WMM
TSPEC support
AP and Station (client) 802.11e Enhanced Distributed Channel Access (EDCA)
DiffServ support on client QoS
Management
Web browser, Simple Network Management Protocol (SNMP) v3, Bonjour
"Single Point Setup": one AP can control up to 15 others
Automatic channel management of multiple APs in "Single Point Setup" mode
HTTPS management
Remote management
Local, syslog, email alert logging
Packet capture
Firmware update via web browser and config file import/export
HTTP redirect
IPv6 host support
Captive portal
Wireless
Auto-channel selection
Transmit power adjust
Multicast and Legacy Rate setting
MCS setting
Rogue AP detection
64 client connected client limit (programmable) ; 30 active users per radio recommended
Wireless access schedules; Schedules assignable to radio and Virtual AP
Bandwidth utilization (% of AP bandwidth used before AP stops allowing associations)
WPA/WPA2, Home and Enterprise modes
802.11i preauthentication for fast roaming
MAC address filtering
WPS (soft pushbutton)
SSID broadcast control
AP/WDS Bridge/WDS Repeater modes
Client bridge mode (no WDS required)
The web admin interface is essentially the same introduced in the WAP121 and WAP321. It still requires a wide (> 1024px) format screen, so isn't tablet and notebook friendly. You'll find yourself doing a lot of horizontal scrolling, especially in the status screens.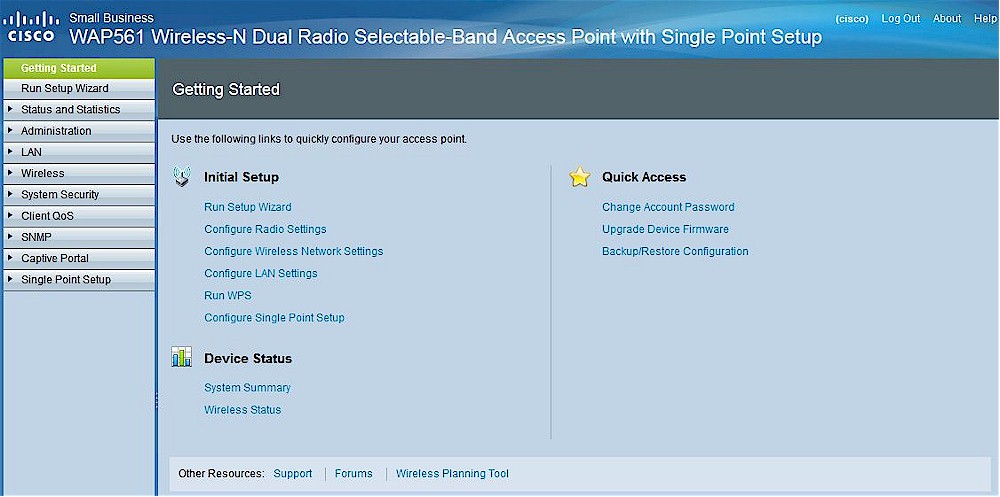 WAP561 Getting Started
I covered most of the features in the WAP321 review, so I won't repeat that walkthrough here. There are a lot of features and nuances, so you should download the admin guide if you want a deep dive.
The big feature the 551 and 561 bring to the party is Single Point Setup. From the admin guide:
The WAP551 and WAP561 devices support Single Point Setup. Single Point Setup provides a centralized method to administer and control wireless services across multiple devices. You use Single Point Setup to create a single group, or cluster, of wireless devices. After the WAP devices are clustered, you can view, deploy, configure, and secure the wireless network as a single entity. After a wireless cluster is created, Single Point Setup also facilitates channel planning across your wireless services to reduce radio interference and maximize bandwidth on the wireless network.
The video below walks you through using Single Point Setup.
Actually, Single Point Setup looks like it has been rolled out to the WAP121 and WAP321 as well. At least that's what the online emulators that I discovered via this Cisco Blog post show.
The WAP emulators include some multi-AP emulated networks, too. These screens are static, but at least you can get the idea of what SPS does.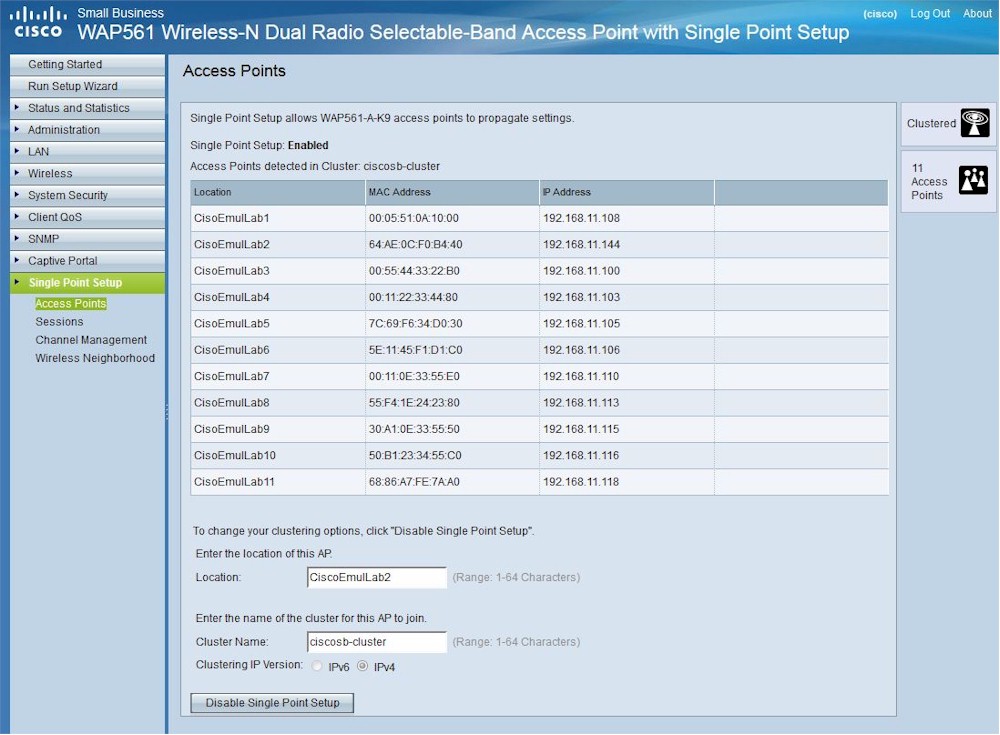 Single Point Setup APs
The 561's specs cite load balancing and fast roaming handoff. But there are no controls that I could see for these features in the SPS screens or anywhere else. The is a Bandwidth Utilization control in the Wireless settings. It controls how much of the AP's bandwidth can be used before it stops allowing new client associations. This is set to 70% by default and appears to apply to the AP as a whole, not each radio.
The gallery below has a few closer views of the 561's board and SPS screens grabbed from the emulator.
Top view of the board. The two radio modules and RF can top for the CPU and memory have been removed.
Not much to see here
There are two of these mini-PCIe modules in the WAP561 and one in the WAP551. Both are dual-band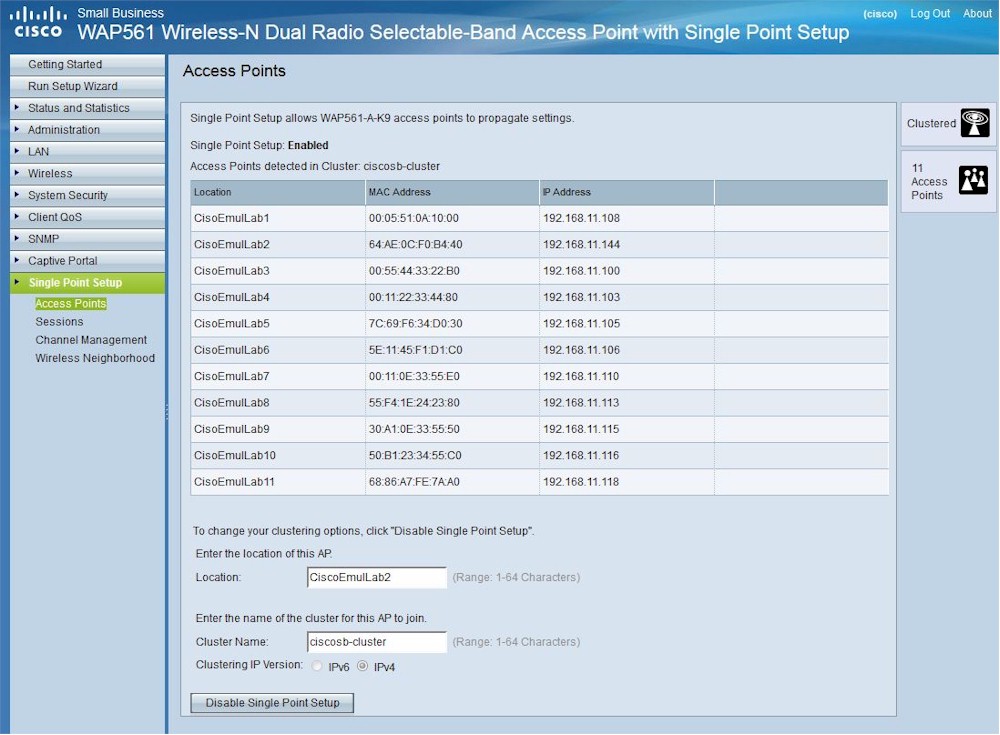 This emulator view of the Single Point Setup feature shows 11 APs in the cluster. There can be a max of 16.
This view shows what each AP is doing, You can sort and filter the view by any of the column attributes.
Channel assignment can be automatically managed or manually set.
The Wireless Neighborhood page shows up to 20 devices per radio within range of each wireless radio in the cluster. It takes some time to get the hang of this view
Wireless Performance
The WAP561 is Wi-Fi Certified. Radio 1 defaults to 802.11b/g/n (2.4 GHz) mode, 20 MHz bandwidth and auto channel assignment, while Radio 2 defaults to 802.11a/n (5 GHz), 20/40 MHz bandwidth and auto channel assignment. Radio 2 can also be set to 802.11a and 802.11n 5 GHz modes. But Radio 1's mode can be set to either band with choices of 802.11a, 802.11b/g, 802.11a/n, 5 GHz 802.11n or 2.4 GHz 802.11n.
Both radios are disabled by default, but set to the default ciscosb SSID. Getting initially setup is a bit confusing since all the settings you need are scattered among multiple screens. so I recommend using the Setup Wizard to ensure that SSIDs, security and frequency bands get configured the way you desire.
When you do enable the radios, WiFi Protected Setup (WPS) is enabled by default. Given the business nature of the product, I didn't test it. I also didn't run 40 MHz Coexistence and Fat channel intolerant tests.
I used Channel 6, 20 MHz bandwidth mode for 2.4 GHz tests and Channel 153, 20/40 MHz bandwidth mode for 5 GHz tests. WPA2/AES secured connections were used in both cases. The AP was placed horizontally in the test chamber on a 3" plastic stand. Given the 9" size of the AP, its closest surface was around 7.5" from the test chamber antennas vs. the usual 8".
Because the WAP561 is not a router, you'll find it in the Wireless Charts, not the Router Charts. It's the only N900 class AP in the charts, there isn't anything to compare it with. The good news is that it was tested with the new chamber-based test process, so we have a good view of its performance over its entire signal range.
Fortunately, I also tested Ubiquiti's UAP-AC AC1750 class AP using the new process. And since the 2.4 GHz side of an AC1750 AP is N450 class (3×3), I can compare these two products in that band below.
The 2.4 GHz downlink plot shows the Cisco starting out with higher throughput, but starting to fall off after 15 dB of attenuation. The Ubiquiti starts out with lower throughput, but doesn't start its decline until after 30 dB. This and the fact that the WAP561 disconnected at 57 dB indicates better 2.4 GHz downlink range for the Ubiquiti.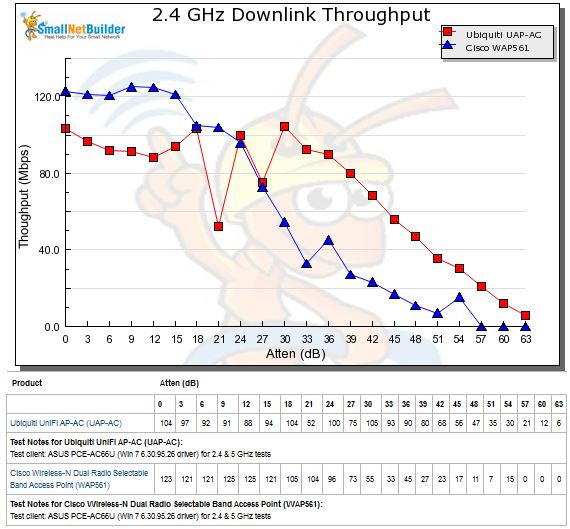 Wireless performance comparison – 2.4 GHz, 20 MHz mode, downlink
The two products are more evenly matched for 2.4 GHz uplink, but it looks like the Ubiquiti still has a slight range edge.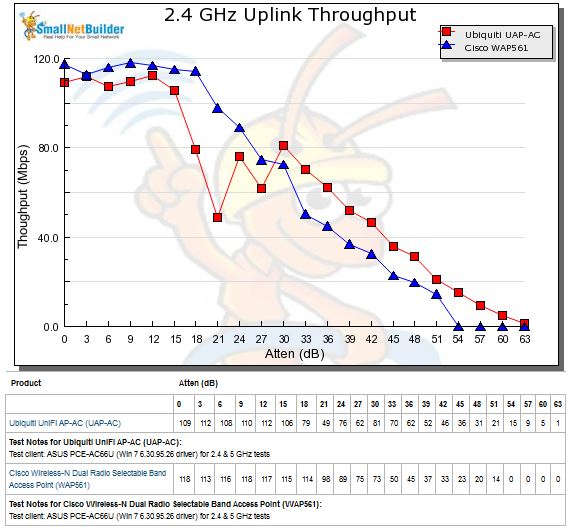 Wireless performance comparison – 2.4 GHz, 20 MHz mode, uplink
For 5 GHz, I chose the ASUS RT-N66U to compare. It's a router, not an AP, but it is an N900 class product, so the comparison is fair. Since the Charts don't let me mix APs and routers, I had to cobble together the plots below.
The 5 GHz downlink plot shows the ASUS with superior range over the Cisco since its throughput holds steady out to 30 dB of attenuation.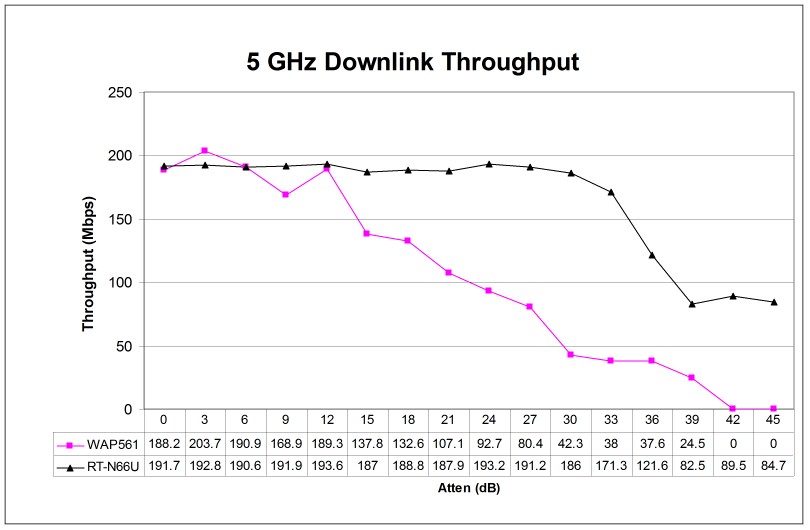 Wireless performance comparison – 5 GHz, 40 MHz mode, downlink
The ASUS' superior range holds true also for 5 GHz uplink.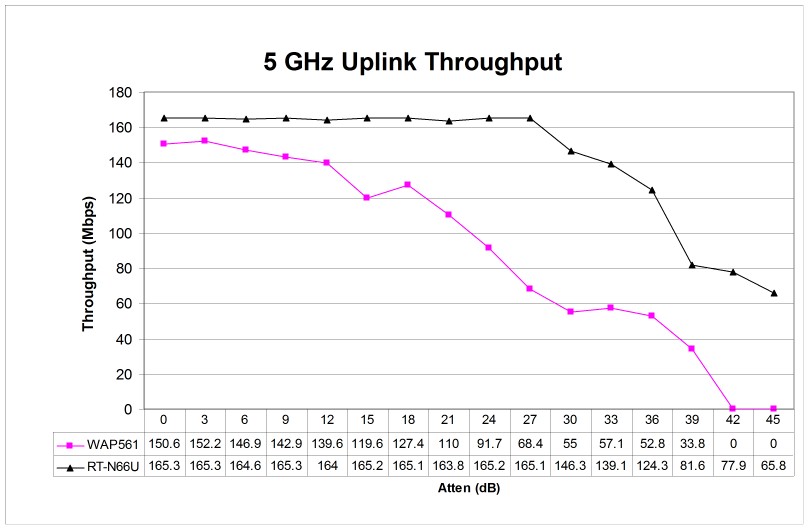 Wireless performance comparison – 5 GHz, 40 MHz mode, uplink
Closing Thoughts
The WAP561 has a good feature set that should put a smile on anyone charged with managing a small multi-AP wireless LAN. No controller to set up, manage or pay extra for, automatic channel management, captive portal and rogue AP detection are among its pluses.
But I had hoped for more sophisticated load management controls and some idea of how fast handoff would work.And it doesn't appear that Cisco's "Smart Signal" antenna system provided a performance edge over a consumer router priced much lower, albeit a best-in-class one. And finally, a little graphics thrown into the administrative views would have been nice to help better visualize larger multi-AP networks.
In the end, the main thing going against the WAP561 is that it's an N900 AP, and a fairly pricey one, in a world that's fast moving to 802.11ac. But if you're looking for business grade AP features with controller-less multiple AP management, the WAP561 could be worth checking out.
Buy Wireless-N Dual Radio Selectable Band Access Point from Amazon