At a glance
Product
D-Link Wireless AC1750 Dual Band Gigabit Cloud Router (DIR-868L) [Website]
Summary
Second-generation Broadcom-based AC1750 class router with IPv6 support and USB 3.0 port
Pros
• Good routing feature set
• IPv6 support
• USB 3.0 port for drive and printer sharing
Cons
• No bridging mode or matching AC1300 adapter
• Only two status lights / indicators
Typical Price: $70 Buy From Amazon
Overview
D-Link has started to ship the draft 802.11ac routers it rolled out at January's CES. The first to hit our test bench is its new top-of-line DIR-868L.
D-Link is banking on its cylindrical form-factor to attract potential buyers, since four of its five new draft 11ac routers come in that shape. The family portrait below shows the 868L as the tallest of the group. As an AC1750 class router, the 868L supports link rates up to 450 Mbps in the 2.4 GHz band and 1300 Mbps in 5 GHz.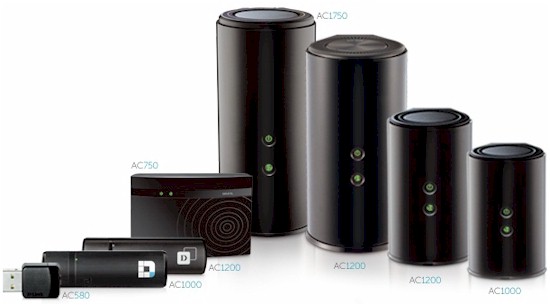 D-Link's "AC" router line
If you're a fan of blinking lights, you won't like the 868L, or any of the D-Link "AC" line, for that matter. All you get are a power and Internet light on the front, which use color and blinking to indicate, power, boot, WPS and internet connection status. There are no indicators to show either Ethernet or wireless activity or status.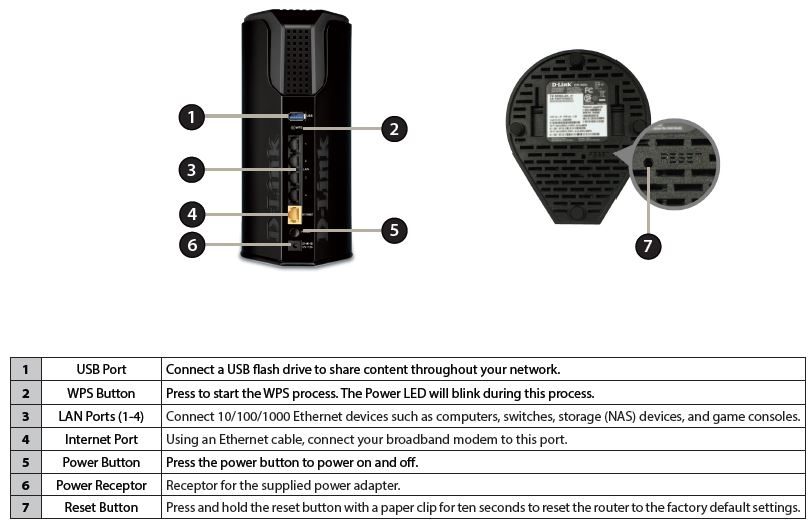 DIR-868L ports and buttons
As is befitting a top-end router, all the 868L's Ethernet ports are Gigabit. You get only one USB 3.0 port, however, that supports D-Link's Shareport Plus drive and printer sharing feature.
Inside
The FCC ID docs had lots of pictures, but none clear enough to identify most of the components. So I opened up my sample after testing was done for a look. Unfortunately, D-Link really doesn't want you messing with the innards and has applied silicone goop to all the fasteners and connectors. They even went to the trouble of soldering the RF shields in place!
The component side of the radio shown in the photo below holds the 2.4 GHz band radio and main processor. The underside of the board is where the 5 GHz radio sits, on a mini PCIe module. Each radio gets its own three single-band antennas, with most of them on small printed circuit boards positioned around the two halves of the router's cylinder housing. The FCC docs have pictures of each antenna, which are clearly identified as M•gear from Whayu Industrial Co.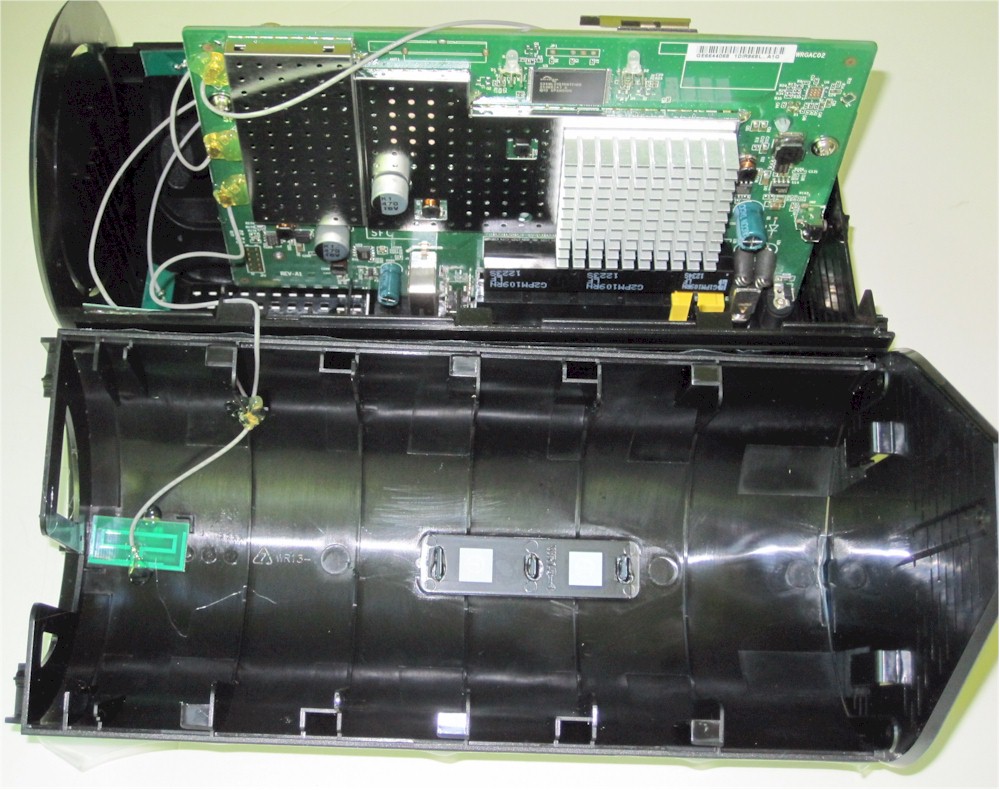 DIR-868L inside
Even though I couldn't see the actual components, I've put my best guesses into the table below.
DIR-868L
CPU
Broadcom BCM4708X
Switch
In BCM4708X
RAM
128 MB
Flash
128 MB
2.4 GHz Radio
– BCM4331
– Unidentified external power amplifier (x3)
5 GHz radio
– Broadcom BCM4360
– Unidentified power amplifier (x3)
Table 1: D-Link DIR-868L key components
I've included some more pictures from the FCC ID docs in the gallery that you'll find in the next section. Feel free to make your own guesses!
Features
D-Link hasn't changed its router feature set or admin GUI in awhile. Here's a shot of the screen you get when you log first log in.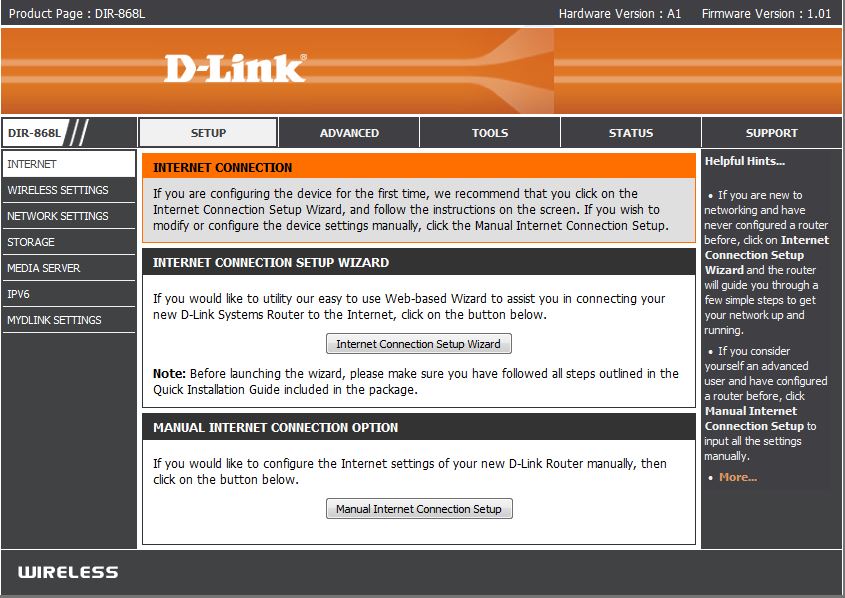 DIR-868L Setup > Internet screen
D-Link hasn't posted an emulator for the 868L, or for any of its newer routers, for that matter. The DIR-657's emulator is still pretty close, though. The feature summary below is copied from the 657 and 827 reviews.
Routing
DHCP, Static, PPPoE, PPTP, L2TP, DS-Lite WAN types
DHCP server with MAC address reservation, lease time setting and NetBIOS controls
Built-in dynamic DNS client for dlinkddns.com and dyndns.com free and custom services
Static routes
DMZ host
SPI firewall disable, UDP / TCP endpoint filtering, anti-spoof checking
WAN ping allow / deny
Multicast stream enable
IPv6 support (auto-detect, static, link-local, autoconfiguration (SLAAC/DHCPv6), PPPoE, IPv6 over IPv4 tunnel, 6to4, 6rd)
IPv6 static routes
IPv6 port forwarding
PPTP, IPsec, RTSP, SIP ALG disables
Schedulable single port, port range and triggered port forwarding. (Can set source and destination ports on single ports [virtual servers])
Allow / deny (global) MAC address filtering for network access
Outbound schedulable port filtering by IP or MAC address with selectable web access logging
40 domain-based allow / deny (global) Web access filters
8 inbound IP range allow / deny (global) filters
Remote admin access enable, IP access filtering, port setting and graphic authentication enable
UPnP support
WAN port speed set
HTTPs admin access enable
Syslog support
Email alerts and log send
Automatic uplink QoS with manual / automatic uplink speed detection and manual rule option
Sharing features
UPnP / DLNA Media server enable
iTunes server enable
SharePort Plus drive and printer sharing
Wireless
Since this is a wireless router, I like to provide a bit more detail about its wireless features. Table 2 summarizes the basic wireless setting modes and channels supported.
Setting
2.4 GHz
5 GHz
Channel
Auto [default]
1 – 11
Auto [default]
36, 40, 44, 48
149, 153, 157, 161, 165
Channel Width
20 MHz only
20/40 MHz (Auto) [default]
20 MHz only
20/40 MHz
20/40/80 MHz (Auto) [default]
Network Mode
802.11b only
802.11g only
802.11n only
Mixed 802.11g and 802.11b
Mixed 802.11n and 802.11g
Mixed 802.11n, 802.11g and 802.11b [Default]
802.11n only
802.11ac only
Mixed 802.11a and 802.11n
Mixed 802.11ac and 802.11n
Mixed 802.11ac, 802.11n and 802.11a [default]
Security Modes
None
WEP
WPA-Personal
WPA-Enterprise
WPA
Auto (WPA or WPA2)
WPA2 only
WPA only
Table 2: Wireless settings summary
In addition to the manual wireless security settings, the router supports WPS PIN and pushbutton setup modes. You also can define schedules for turning each radio on and off for added security.
The Advanced Wireless screen shown below lets you disable 20/40 MHz coexistence. This shouldn't be possible on a Wi-Fi Certified product. Equally interesting are the greyed-out WMM Enable boxes, which are enabled by default. This is good, because WMM must be enabled to allow 802.11n and 802.11ac link rates to be supported (anything above 54 Mbps). At least you can adjust transmit power, as long as you are ok with High (default), Medium and Low settings only.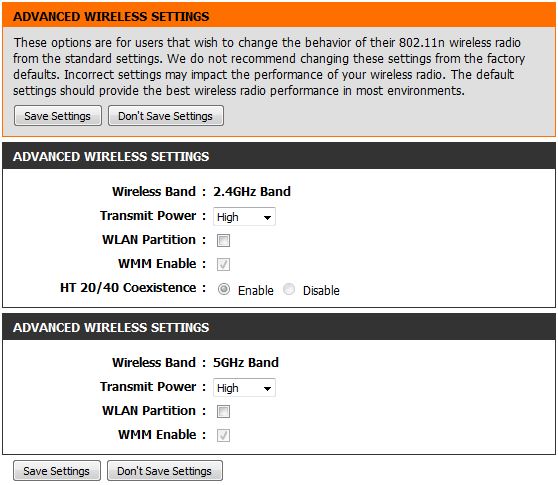 DIR-868L Advanced Wireless settings
The most important missing feature is support for wireless bridging and repeating. Oddly, if you want access to the 868L's full 1300 Mbps draft 802.11ac link rates you'll need to look to another vendor. D-Link has no draft 802.11ac bridges in its catalog at this point and its highest rate USB adapter is USB 2.0 supporting 300/867 Mbps maximum link rates for 2.4 and 5 GHz, respectively.
Cloud
The 868L is a "cloud" router, which means it supports D-Link's rather basic mydlink features. We reviewed mydlink about a year ago and a quick browse through with the 868L registered showed that not much has changed. The Router Status view shown below is essentially unchanged from the last time we looked at it.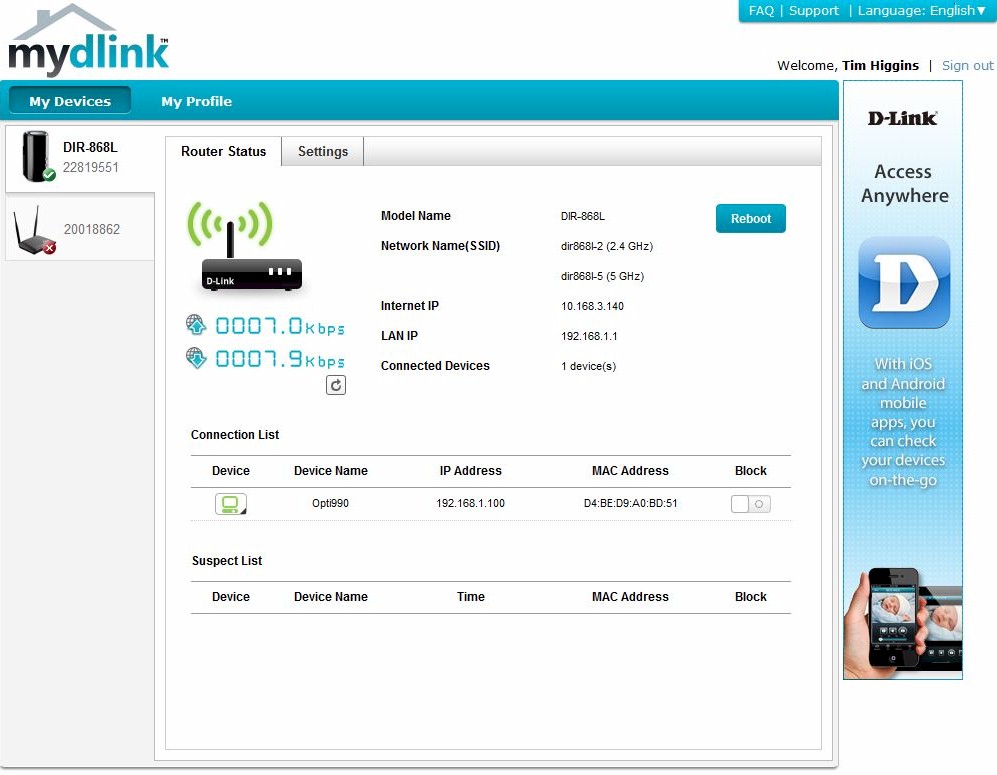 mydlink Router Status
Check the gallery below for some more router internal pix and a few other admin page screenshots
Component side view of the board with RF shields and heatsink in place. Not much to see here except the 128 MB flash device.
Component side view of the board without shields and heatsinking. The FCC photos are only clear enough to make out the Broadcom logo on the main SoC. But given the lack of separate switch chip, we know it's a BCM4708 series.
Circuit side view of the board with heatsink in place. This plate is all to keep the 5 GHz radio cool. Also seen is one of the three 2.4 GHz radio antennas.
Circuit side view of the board without the heatsink. The 5 GHz radio is a Broadcom-based mini PCIe module, similar to those seen in the first crop of AC1750 routers.
One of the five printed circuit antennas. All of them appear to come from Whayu.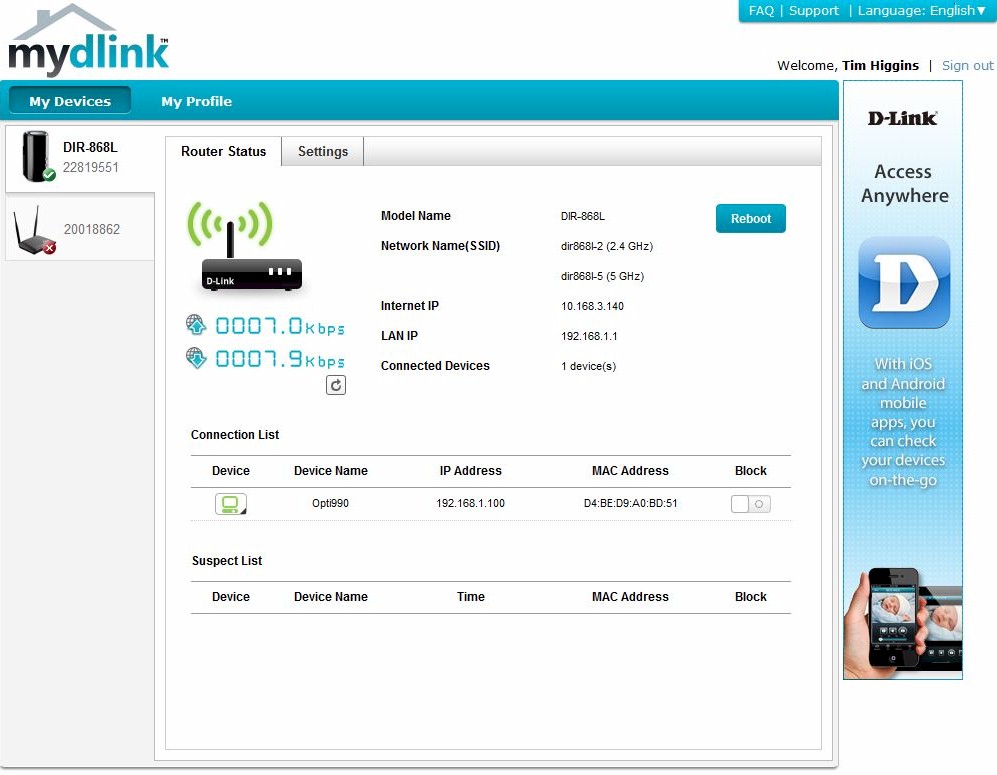 mydlink router support has not changed much in the past year.
The router settings you can control are minimal
You get this warning when enabling USB 3.0.
Storage
The 868L supports D-Link's Shareport Plus drive and printer sharing feature. The router admin GUI now has separate links for Storage and Media Server and the Media Server screen below now has separate DLNA and iTunes server enables. Unchecking the default Folder root selection lets you browse to choose your own file storage directory for each server.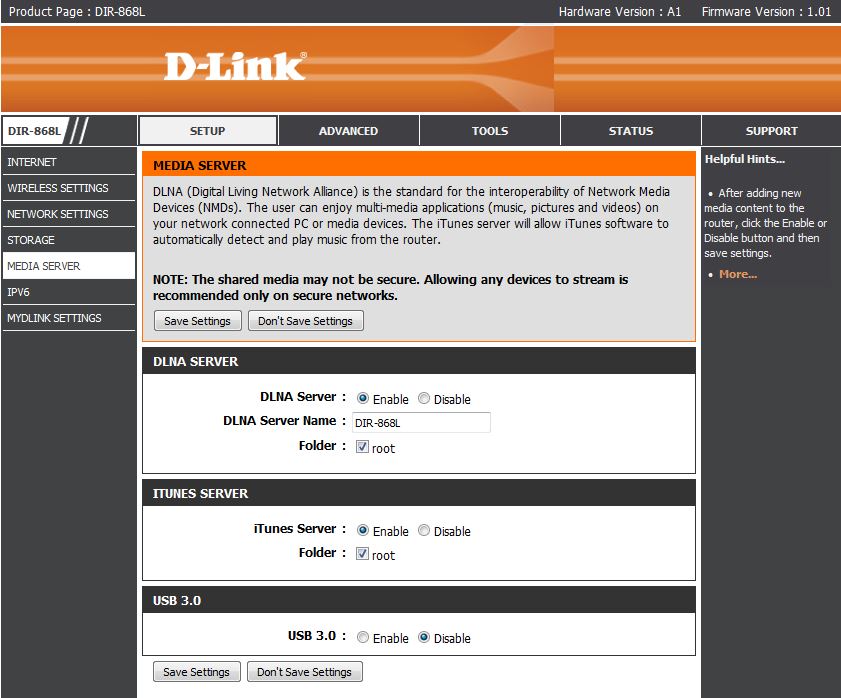 mydlink Router Status
The USB 3.0 enable didn't seem to do its job because I was able to run file copy benchmarks to an attached USB drive without changing it from its default disabled state. Enabling this control just popped up a Please note that enabling USB 3.0 may adversely affect your 2.4 G wireless range warning. I have been seeing physical shielding on routers recently that looks like it is aimed at solving the USB 3.0 / 2.4 GHz interference problem described in this Intel whitepaper. This is the first time I have seen a software approach…if that is what this control is.
I ran Windows filecopy tests using the standard NAS testbed to the 868L with our USB standard drive (Startech USB 3.0 eSATA to SATA Hard Drive Docking Station (SATDOCKU3SEF) containing a WD Velociraptor WD3000HLFS 300 GB drive) formatted in FAT32 and NTFS. I ran tests with and without the USB 3.0 control discussed above enabled. There wasn't much difference with the drive NTFS or FAT32 formatted except for FAT32 format read. I measured a 4 MB/s increase with USB 3.0 enabled.
| | DIR-868L | DIR-857 | Linksys EA6300 | Linksys EA6500 |
| --- | --- | --- | --- | --- |
| FAT32 Write (MBytes/s) | 16 | 13.9 | 11.2 | 4.8 |
| FAT32 Read (MBytes/s) | 27 | 30.9 | 17.4 | 10.7 |
| NTFS Write (MBytes/s) | 11.5 | 7.7 | 9.8 | 7.7 |
| NTFS Read (MBytes/s) | 13.8 | 16.1 | 17.2 | 9.5 |
Table 3: File copy throughput
The values in Table 3 are with USB 3.0 enabled and include a few other draft 802.11ac routers. Given that the both use the same Broadcom BCM4708 processor, I would expect the 868L's performance to be similar to the Linksys EA6300, which also uses a Broadcom BCM4708 processor. The D-Link's FAT32 performance is definitely higher than the Linksys, especially for FAT32 read. The 868L's NTFS write is a bit faster than the 6300's and its read a bit slower.
Routing Performance
Routing throughput was measured running 1.01 firmware, using our router test process. Table 4 summarizes the results, which earn it a position at the top of the Router Charts for downlink (WAN to LAN) throughput and a #1 rank among AC1750 routers for Routing performance.
| Test Description | DIR-868L |
| --- | --- |
| WAN – LAN | 924 Mbps |
| LAN – WAN | 888 Mbps |
| Total Simultaneous | 1005 Mbps |
| Maximum Simultaneous Connections | 33,894 |
| Firmware Version | 1.01 |
Table 4: Routing throughput
The IxChariot composite plot below shows steady throughput in the unidirectional benchmarks. But the simultaneous up/downlink benchmark shows each direction shares equally at the beginning of the test, but then switching to a battle for bandwidth that causes high variation for most of the rest of the test.
Maximum simultaneous connections maxed out our test process with 33,894 sessions.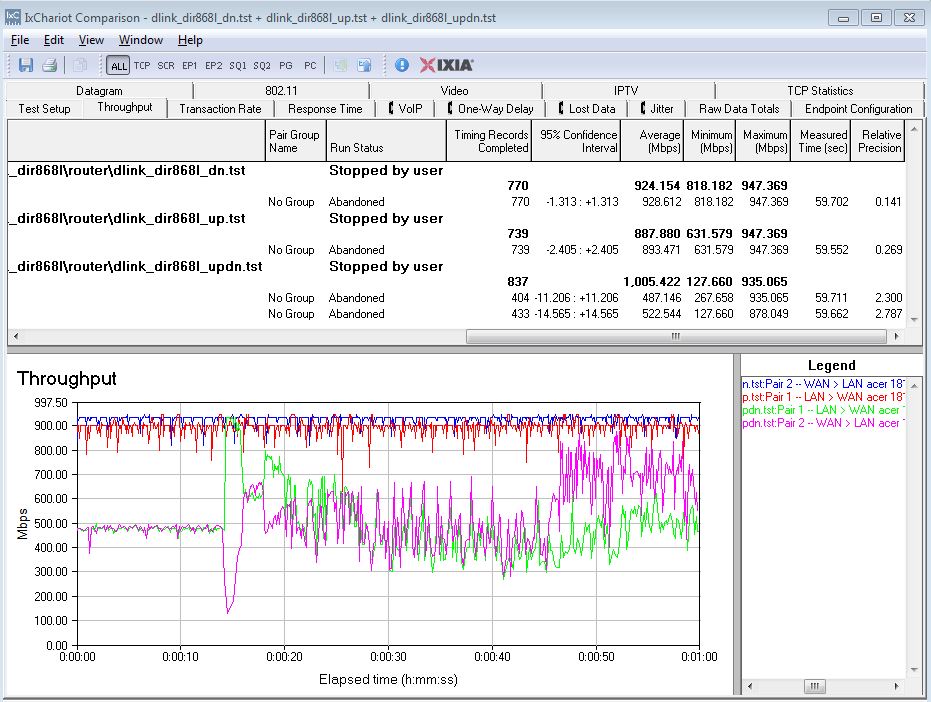 D-Link DIR-868L routing throughput summary
Wireless Performance
The DIR-868L is Wi-Fi Certified and defaulted to Auto 20/40 Channel Width on the 2.4 GHz radio and Auto 20/40/80 MHz bandwidth mode for the 5 GHz radio upon power-up. The router comes with different 2.4 and 5 GHz SSIDs set, so you'll be able to connect to your desired band without having to change router settings.
I ran 40 MHz Coexistence and Fat channel intolerant tests passed to make sure the 868L behaved when encountering interfering 2.4 GHz networks. Both tests passed with the 868L responding immediately and falling back to 20 MHz mode link rates. I did note that when the Fat Channel Intolerant bit was set back to disable, that the router stayed in 20 MHz mode for the few minutes that I monitored it.
I successfully ran a pushbutton Wi-Fi Protected Setup (WPS) session with a Win 7 client. The WPS session completed quickly and resulted in a WPA2/AES secured connection with the same WPA2 pre-shared key set for both radios.
All tests were run using our new wireless test process and 1.01 version firmware loaded. The router was first reset to factory defaults and Channel 6 was set for 2.4 GHz and Channel 153 for 5 GHz. 20 MHz bandwidth mode was set for 2.4 GHz and 80 MHz mode (to enable draft 802.11ac link rates) was set for 5 GHz. The test client was connected using WPA2/AES encryption.
The router were positioned 8" from the chamber antennas in all test positions. The 0° position had the router front facing the chamber antennas.
The retest Benchmark Summary below from the new Consolidated benchmark process shows the average of throughput measurements made in all test locations. The 2.4 GHz values in the summary correspond to 2.4 GHz 3-stream values (20 MHz B/W) and the 5 GHz values correspond to the 80 MHz B/W – 3 stream values measured with the previous test methodology.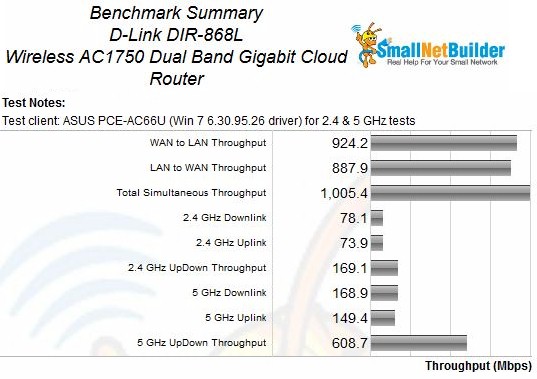 D-Link DIR-868L Benchmark Summary
Comparing average 2.4 GHz benchmark values with other AC1750 class routers, the 868L's 78.1 Mbps downlink and 73.9 Mbps uplink results ranks it next to last among the six routers currently in our database. This low result is primarily due to the router producing only 1 Mbps downlink throughput and failing to connect for uplink with the 60 dB of attenuation we use for the equivalent "Location F" test.
The simultaneous up/downlink result of 169.1 Mbps brings the 868L into that benchmark chart in the #2 spot. This test is run at the highest signal level with 0 dB attenuation.
For 5 GHz, the 868L's 168.9 and 149.4 Mbps results for downlink and uplink rank it in the #3 position in those charts. But its 608.7 Mbps simultaneous up and downlink throughput handily beat the next best WD My Net AC1300 by over 50 Mbps.
Wireless Performance – more
For a look at full throughput vs. attenuation plots, I chose two other top-ranked AC1750 routers, the ASUS RT-AC66U and WD My Net AC1300.
As we saw in the NETGEAR R6300 retest, 2.4 GHz downlink performance tends to track very closely as signal levels drop. The only exception is the ASUS RT-AC66U as the plot clearly shows.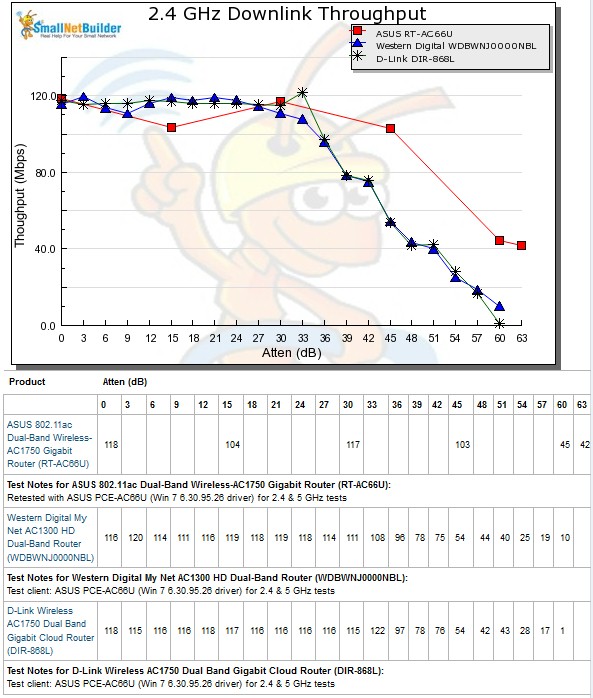 2.4 GHz Downlink Throughput vs. Attenuation
The 2.4 GHz uplink plot shows the reason for its relatively poor 2.4 GHz uplink showing. The 868L's throughput starts to fall off after only 21 dB of attenuation and stays under the WD My Net AC1300 the rest of the way down. It also failed to run tests with 60 and 63 dB of attenuation programmed.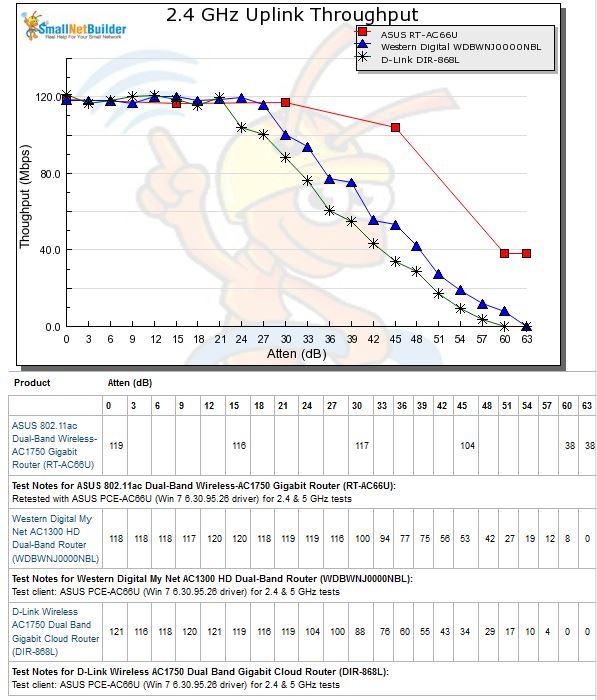 2.4 GHz Uplink Throughput vs. Attenuation
The 5 GHz tests show draft 802.11ac performance with the downlink plot below showing the WD and 868L tracking fairly closely all the way down.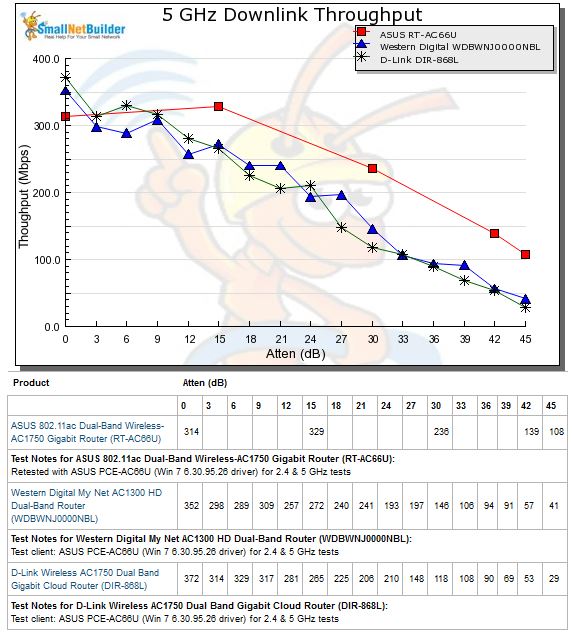 5 GHz Downlink Throughput vs. Attenuation
The 5 GHz uplink plot shows more separation between the WD and D-Link, with the latter besting both other routers only at the 0 dB test point, which is also used for the "Location A" equivalent.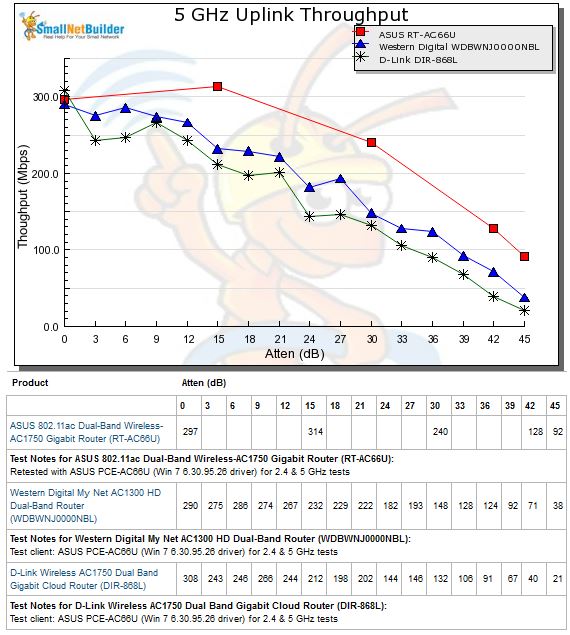 5 GHz Uplink Throughput vs. Attenuation
D-Link is using its unusual cylindrical packaging to differentiate itself. But, aside from looking different, does it really help wireless performance? Our wireless test process includes four complete sets of tests, turning the router 90° each time. I do this so we don't penalize anyone for any near-field effects from our chamber test technique. I always use the best run of the four, but it has to be the same run for both up and downlink. If the average result is the best, I use that.
For the 2.4 GHz downlink tests, there's a pretty wild set of runs. The plot below shows the four test runs and the calculated average. The bolded 180° run (with the router connector panel facing the test chamber antennas) was the overall best for both up and downlink. The 270° run had better throughput at the lower levels, but started falling off way too early and then jumped up again.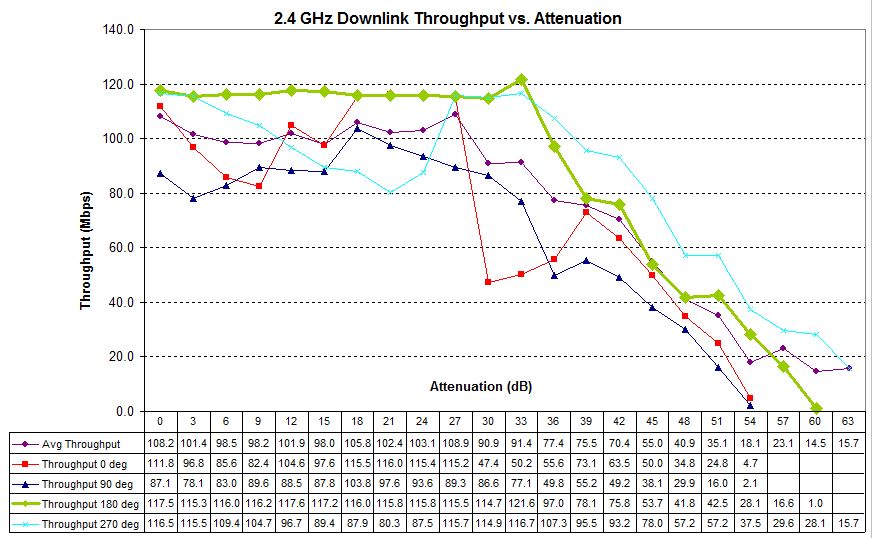 Four test runs – 2.4 GHz downlink – D-Link DIR-868L
The uplink plot shown below was again best at the lower signal levels with the router in the 270° position. But since I use the same run for both up and downlink, I again used the 180° run.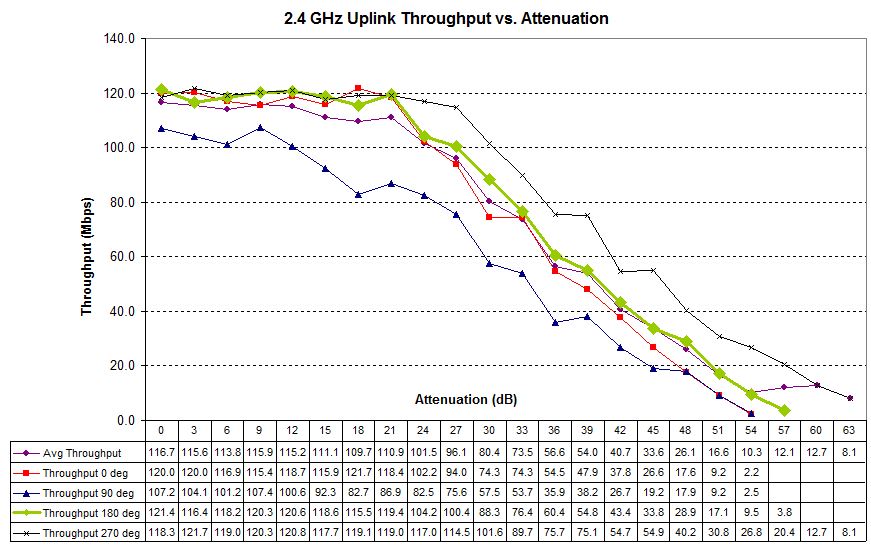 Four test runs – 2.4 GHz uplink – D-Link DIR-868L
The upshot of this is that D-Link's unusual antenna arrangement is perhaps more directional than the cylindrical format might suggest—at least when the router and client are very close together. There's definitely something odd going on in the router's internal rate / power adjustment algorithms running downlink, however. The throughput decline at low attenuation levels occured in multiple runs at different orientations.
Closing Thoughts
As the first AC1750 router using Broadcom's more powerful second-generation router SoC, the DIR-868L has a bit of an edge in storage sharing throughput over products using the first-gen BCM4706. The USB 3.0 port certainly contributes to that storage sharing throughput advantage.
But folks really pay the big bucks for AC1750 routers for the higher wireless throughput they are supposed to provide. And D-Link oddly has left customers on their own to find a solution from other vendors to get the most out of its flagship draft 802.11ac router. The DIR-868L's biggest disadvantage vs. its competition is its lack of a bridge mode and lack of a companion AC1300 class standalone bridge product.
Still, the DIR-868L as a whole is good enough to take the #2 spot for AC1750 class routers in our Router Ranker. The summary below shows that its main weakness is range, primarily in the 2.4 GHz band. With strong signals and in three out of four benchmarks, however, it's the current best of the AC1750 class bunch when it comes to wireless throughput as long as it has a good, strong signal.
D-Link DIR-868L Router Ranking Summary
Buy Wireless AC1750 Dual Band Gigabit Cloud Router from Amazon