At a glance
Product
Linksys Smart Wi-Fi Router AC 1750 HD Video Pro (EA6500) [Website]
Summary
Broadcom-based draft 802.11ac router with Gigabit ports, USB drive and printer sharing and optional cloud features
Pros
• CCC no longer needed for full admin access
• High routing throughput
Cons
• Slow storage read/write throughput
• USB 2.0 vs. USB 3.0 ports
Typical Price: $90 Buy From Amazon
Introduction
Updated 10/30/2012 – Added links to Part 2
Cisco is a relative latecomer to the draft 802.11ac market, lagging even behind D-Link, which usually takes a long time to ship after announcing product. But the company has finally started to ship its EA6500, so let's see whether it's any different than the current crop of first-generation draft AC routers.
I was surprised when I opened the shipping box from Cisco to see the new look for Linksys product packaging. The photo below compares the EA6500 and EA4500 product boxes. The things that stand out for me on the new look are the more prominent "Linksys" and the much smaller product photo. Most of the front of the box is given over to a busy kaleidoscope-style image on a black background. I'm not sure what Cisco is going for here, but it sure is a departure from past packaging.

Linksys EA6500 and EA4500 packaging compared
At first glance, the EA6500 looks like its top-of-line N Linksys sibling, the EA4500. But stacking the two shows the 6500 has a larger footprint.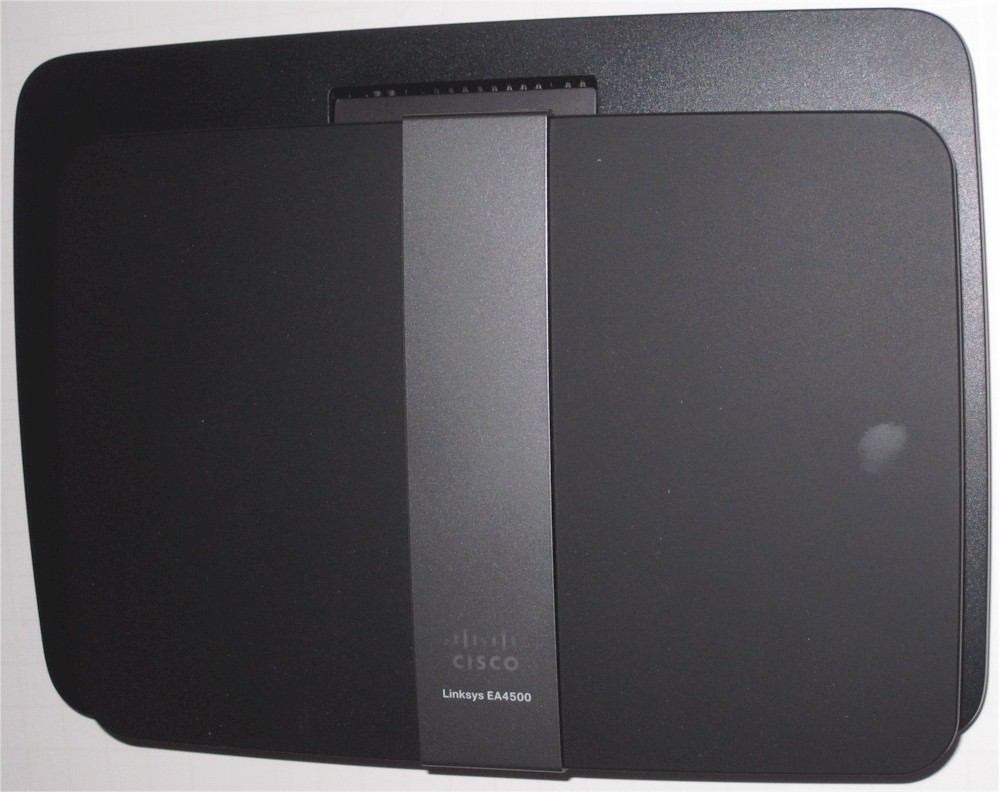 Linksys EA4500 and EA6500 compared
If you look closely in the photo above, you can also see an air vent at the top of the wider center band of the 6500, which is on the bottom of the stack.
The 6500's rear panel looks a lot like the EA4500/E4200v2's. The main difference is that the 6500 has two USB 2.0 ports. You would think that a tippy-top-of-line router these days would have USB 3.0 ports. But D-Link's DIR-857 and DIR-827 and NETGEAR's CENTRIA are currently the only routers to have those.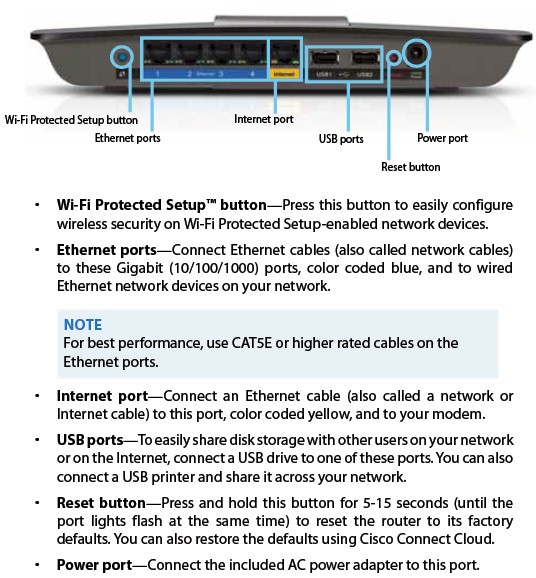 Linksys EA6500 rear panel callouts
Unlike many current routers with vertical orientations, the 6500 is designed to sit flat on a table or desk. If you want to hang it in a wall, there are mounting slots on the bottom side. But they are at the left side of the router, so it will hang with all connections pointing right.
There is a user manual posted on the EA6500's support page that covers all four EA series routers. It doesn't really have much information, however, on the "Smart Wi-Fi" features. More on that in a bit.
Inside
Like all other first-generation draft 11ac routers, the EA6500 uses the same basic Broadcom-based design. The photo below shows the FCC ID photo of the 6500's inside.
There are six bent-metal internal antennas, three for each radio. The 5 GHz antennas are positioned left, center and right (black cabling). The 2.4 GHz antennas (grey cabling) have a similar spread, but the front-facing antenna is in the left front corner.
Like the Buffalo WZR-D1800H / WLI-H4-D1300 and NETGEAR R6300, Cisco has put the 6500's 5 GHz radio on a PCI-e card that sits at the front right of the router. The 2.4 GHz radio is integrated directly into the main board on its front left.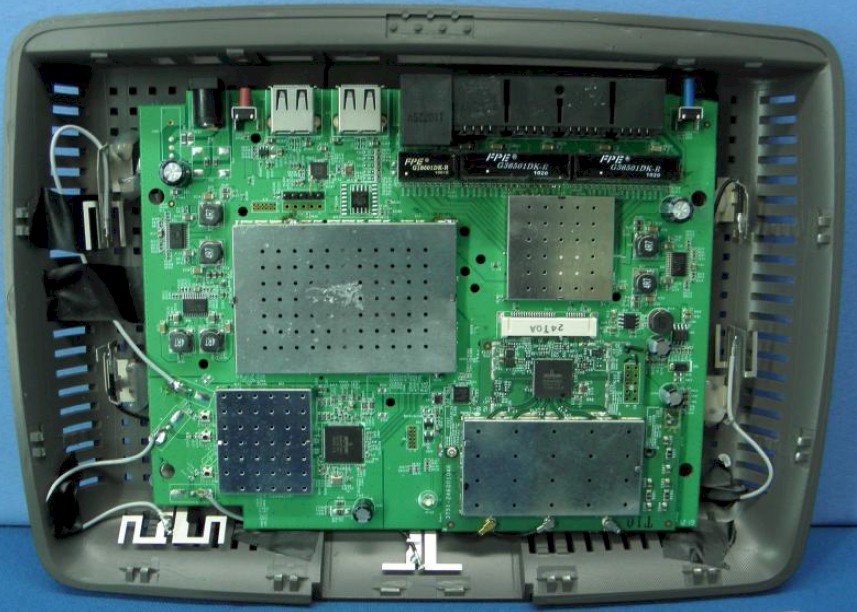 Linksys EA6500 rear panel callouts
Table 1 summarizes the key components in the EA6500. The FCC photo was not clear enough to identify the Broadcom switch chip. I'm pegging it as a BCM53125, although it's possible that it is a Broadcom BCM53115, like NETGEAR uses in the R6300.
Cisco Linksys EA6500
CPU
Broadcom BCM4706
Switch
Broadcom BCM53125 (unconfirmed)
RAM
128 MB
Flash
128 MB
2.4 GHz Radio
– BCM4331
– MicroSemi LX5535 2.4 – 2.5 GHz Power Amplifier (x3)
5 GHz radio
– Broadcom BCM4360
– Skyworks SE5003L 5 GHz, 23dBm Power Amp
w/ Power Detector (x3)
Table 1: EA6500 component summary
Another notable change from other designs is the use of MicroSemi LX5535 2.4 – 2.5 GHz power amplifiers in the 2.4 GHz radio. The NETGEAR and Buffalo draft 11ac routers use SiGE SE2594L 802.11a/b/g/n WLAN front ends.
There are more photos of the 6500's innards in the gallery below.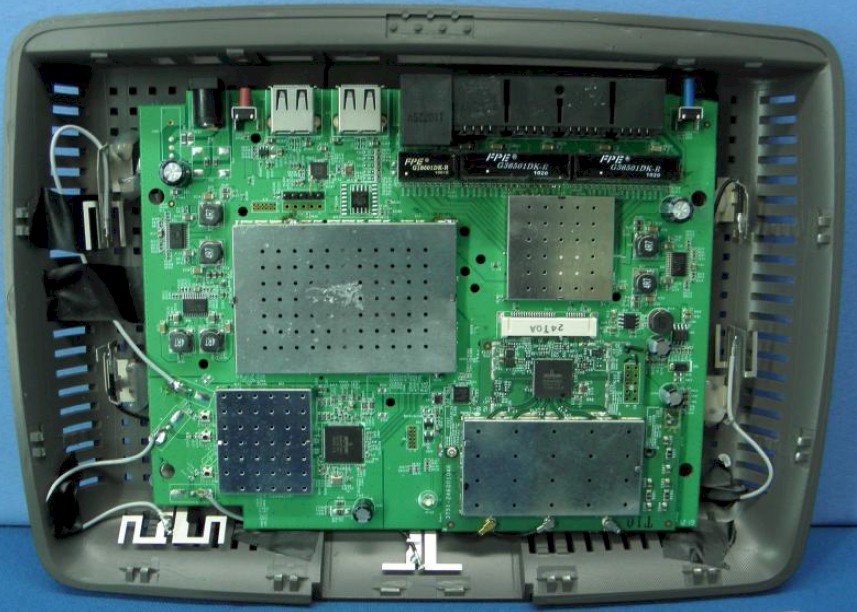 Inside view. 5 GHz radio is on a PCI-e module. 2.4 GHz radio is built into the board
Closer view of the top of the board.
Board top with shields removed
128 MB of flash is hiding on the board bottom.
The 5 GHz radio is on a PCI-e module. The design is similar to the module found in Buffalo and NETGEAR draft 11ac routers.
Features
Since the 6500 is an "EA" series router, it's app-based. Cisco looks like it is trying to move away from the Cisco Connect Cloud (CCC) branding that it originally launched the EA line with, but I was still able to find it by searching on Cisco's Home site. The links from the site's home page and product packaging all now feature Smart Wi-Fi branding.
Those familiar with the big fuss will remember that one of the complaints about CCC was that you could access only very limited admin features if the router was offline. If you wanted full admistrative access, you had to either fall back to the previous non-CCC firmware or sign up for CCC.
So I had another surprise when I hit the EA6500's login and saw the For local access, click here box highlighted in the screenshot below.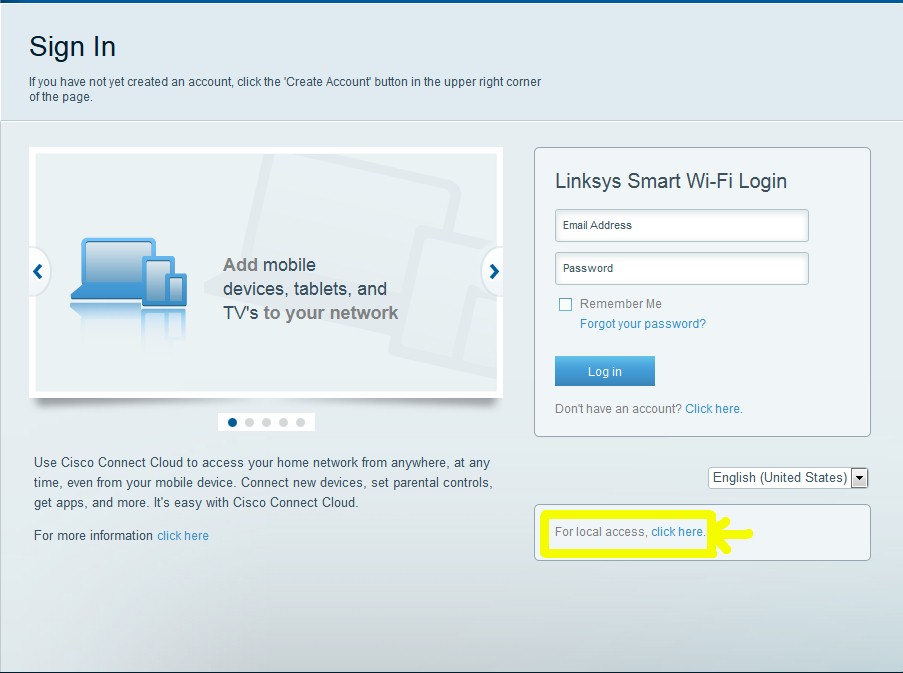 EA6500 admin login
Clicking the link switched the screen to show an Access Router password login box that accepted the traditional Linksys admin password and then presented the full admin dashboard shown below.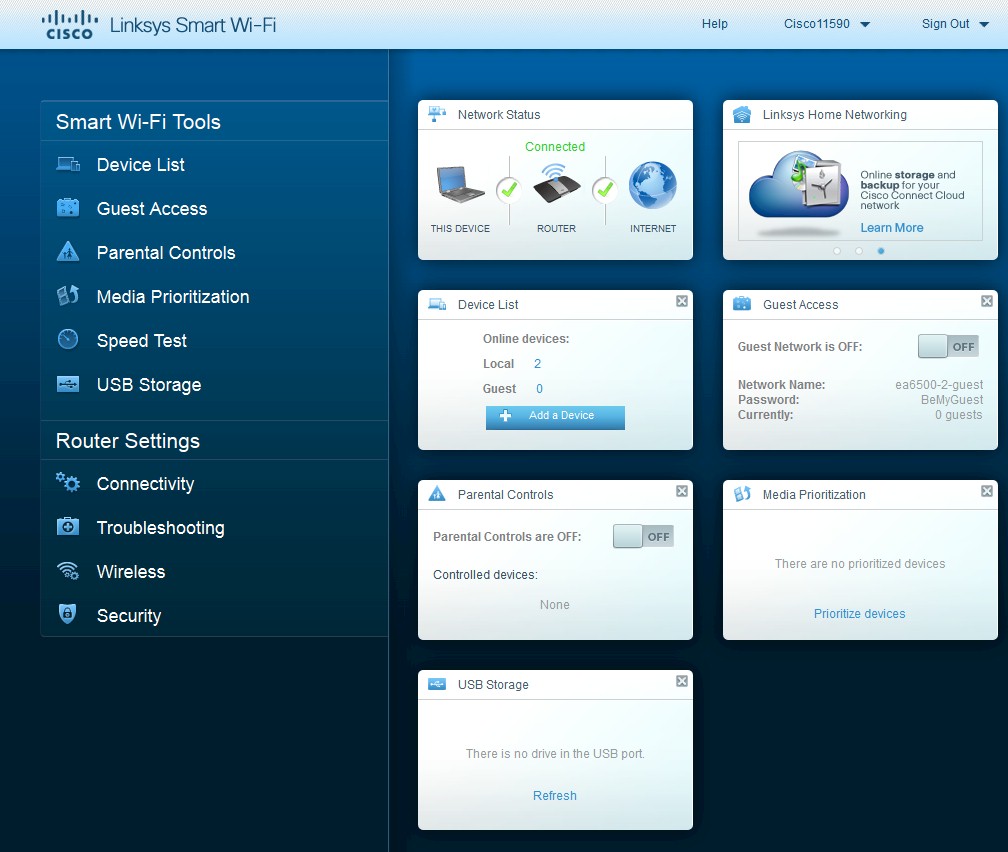 EA6500 admin dashboard
The choice of local or CCC login is sticky, by the way, which is a nice touch that saves unnecessary clicking. So Cisco has come around to making the decision to sign up for CCC purely voluntary, as it probably should have been in the first place.
Craig fully reviewed CCC a few months ago, so I won't repeat that information here. The only change made in the router's main dashboard view shown above is the renaming of the built-in Apps section to Smart Wi-Fi Tools. The apps/tools themselves remain the same.
If you want to install optional apps, you will need to sign up for CCC. The Smart Wi-Fi App Center uses a carousel selector that makes it harder to see how few apps there still are. There are multiple copies of some apps that make it look like there are more than there are. But after a careful review, I was able to count only the six original apps shown in the list below from Craig's review. (The Device Monitoring app has been renamed to Device Monitr.)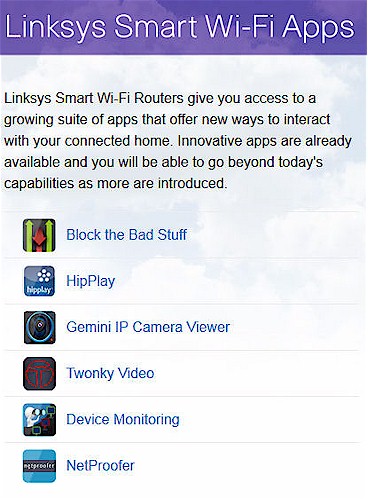 Available Smart Wi-Fi Apps
One unique feature that Cisco featured in its original private press briefings was a demo of SimpleTap technology. According to Cisco's SimpleTap FAQ SimpleTap uses "Near Field Communication (NFC) technology, which allows for easier connection of NFC-compatible smartphones to the router's wireless network". At the briefings, Cisco demoed touching a SimpleTap-enabled phone to the top of the prototype router to quickly and easily establish the Wi-Fi connection.
Cisco must have rethought the approach or perhaps its commitment to SimpleTap. While the EA6500 does include the technology, it's in the form of a plastic card in the product box vs. a device inside the EA6500 itself. You tap a compatible phone with the card and you get connected to the router's 2.4 GHz radio. I didn't test this because I don't have a NFC-equipped phone.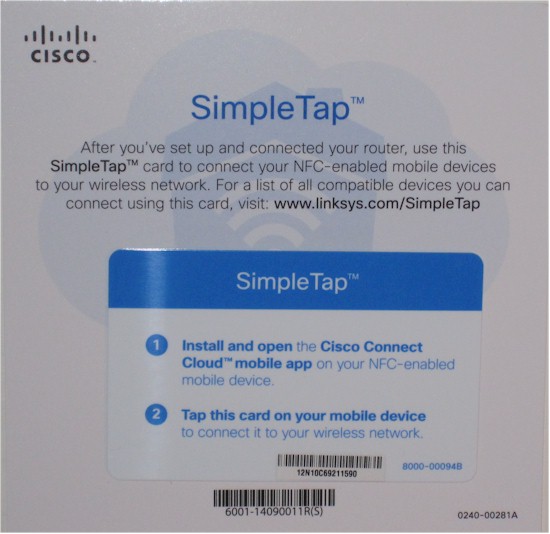 Bundled SimpleTap card
I suppose it's just as cool (if you have an Android phone with NFC). But it just seems more like a gimmick or maybe another security risk. You can disable SimpleTap access via a checkbox in the router admin.
Routing Performance
Routing performance for the EA6500 using our standard test method is summarized in Table 2, along with the ASUS RT-AC66U and E4200v2/EA4500. The results show that the EA6500 has not only higher throughput than its Marvell-based sibling, but it also handles more simultaneous sessions. On the other hand, the EA6500 is slower than ASUS' draft 11ac router that uses most of the same components.
Note that the simultaneous connection test results indicated a collision with ports in use by Windows 7 vs. the inability to open additional ports. So the actual number of connections that the EA6500 can support is likely higher than the result shown.
| Test Description | EA6500 | RT-AC66U | E4200v2/EA4500 |
| --- | --- | --- | --- |
| WAN – LAN | 626 | 836 Mbps | 254 |
| LAN – WAN | 633 | 839 Mbps | 235 |
| Total Simultaneous | 742 | 819 Mbps | 253 |
| Maximum Simultaneous Connections | 29,405 | 30,069 | 8,192 |
| Firmware Version | 1.1.27.142736 | 3.0.0.4.164 | 2.0.26.124551 |
Table 2: Routing throughput
The IxChariot plot for the routing tests shows generally stable throughput, but with a few pronounced dips. I experimented a bit and found that throughput would dip when I accessed the admin interface. Unlike other routers that are unresponsive when I'm blasting them with full-bore IxChariot traffic for these throughput tests, the EA6500 continued to respond to my admin navigation clicks.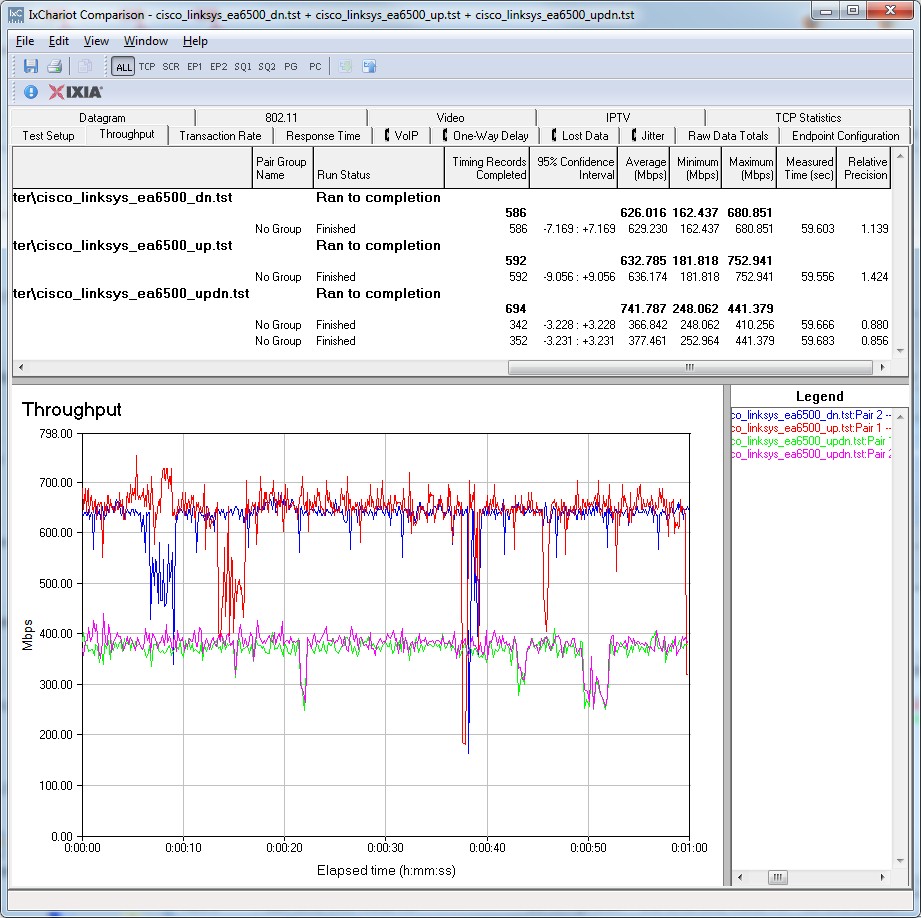 EA6500 Routing throughput IxChariot plot summary
Storage Performance
I ran Windows filecopy tests using the standard NAS testbed to the EA6500 with our new USB standard drive (Startech USB 3.0 eSATA to SATA Hard Drive Docking Station (SATDOCKU3SEF) containing a WD Velociraptor WD3000HLFS 300 GB drive) formatted in FAT32 and NTFS. The results are summarized in Table 3, along with other draft AC routers and the current N-based leader, NETGEAR's WNDR4700 CENTRIA.
Cisco-Linksys EA6500
ASUS
RT-AC66U
Buffalo
WZR-D1800H
NETGEAR
R6300
NETGEAR
CENTRIA
FAT32 Write
4.8
9.0
7.3
8.6
17.4
FAT32 Read
10.7
9.9
11.8
10.2
32.9
NTFS Write
7.7
13.5
8.4
11.3
31.6
NTFS Read
9.5
9.4
8.7
10.3
61.3
Table 4: Router filecopy performance comparison – MB/s
Results show that the EA6500's storage performance is similar to the other Broadcom-based AC routers with the exception of FAT32 writes, which are about half of what we normally measure. But Broadcom's design can't come anywhere near the CENTRIA's, which is powered by an Applied Micro APM82181 CPU.
Wireless Performance – Draft 802.11ac
Cisco sent along a Linksys WUMC710 Wireless-AC Universal Media Connector for testing the 6500's draft 11ac performance. By opting to provide a dedicated bridge device instead of adding a bridge mode to the EA6500, you save $60 (off list price – $50 off most street price) if you want an all-Linksys draft 11ac setup.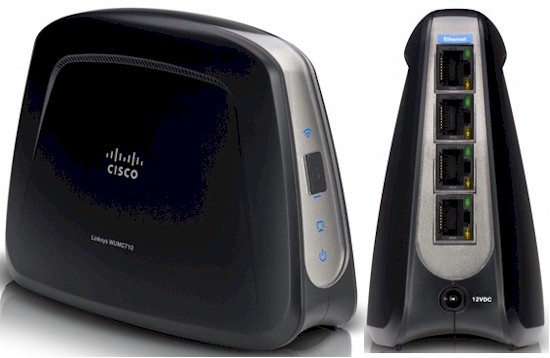 Cisco Linksys WUMC710 Wireless-AC Universal Media Connector
Cisco is currently providing more of a nudge in this direction by knocking $30 off the cost of its bundle of the EA6500 and WUMC710. They're even throwing in a $50 Amex gift card (via mail-in rebate) if you buy direct from them before 11/3/2012.
The WUMC710 had V1.0.00 firmware installed and was tested with the EA6500 set to channel 36 using our standard wireless test process. As is our standard practice, testing was done with WPA2/AES wireless security engaged. The EA6500 channel width was set to its default 80 MHz, which enables draft 11ac operation.
I ran throughput vs. location plots, including the NETGEAR R6300, Buffalo WZR-D1800H and ASUS RT-AC66U. The downlink plot below shows the 6500 failing to outperform the top-performing NETGEAR with a best case Location A throughput of 146 Mbps vs. 158 Mbps. As signal levels drop in Locations C and D, the EA6500 performs more like the Buffalo and NETGEAR routers and the ASUS takes the lead. The ASUS remains the only product to connect in our weakest signal Location F (with another copy of it set to bridge mode).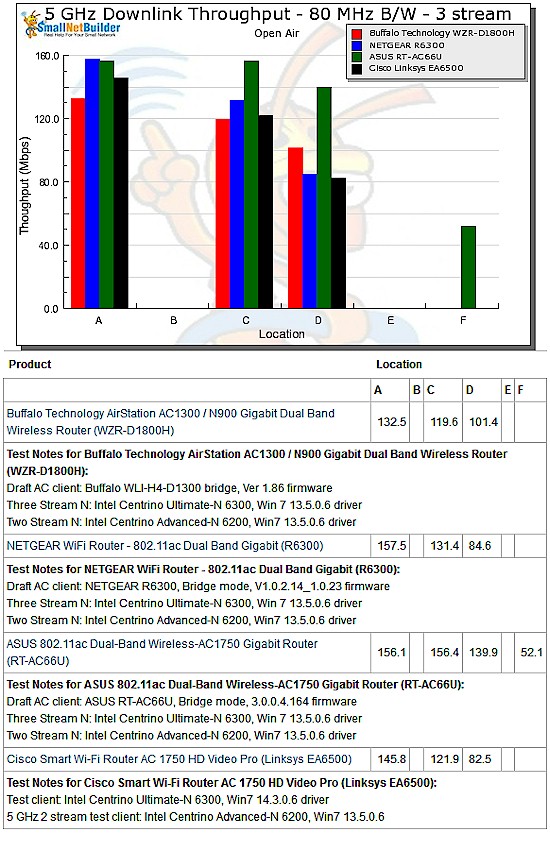 Draft 802.11ac throughput vs. location comparison – downlink
The uplink plot shows a slightly different story, with the EA6500 beating the ASUS with 382 Mbps vs.361. When signal levels drop, the Linksys ranks in second place in Locations C and D, but again fails to connect in Location F.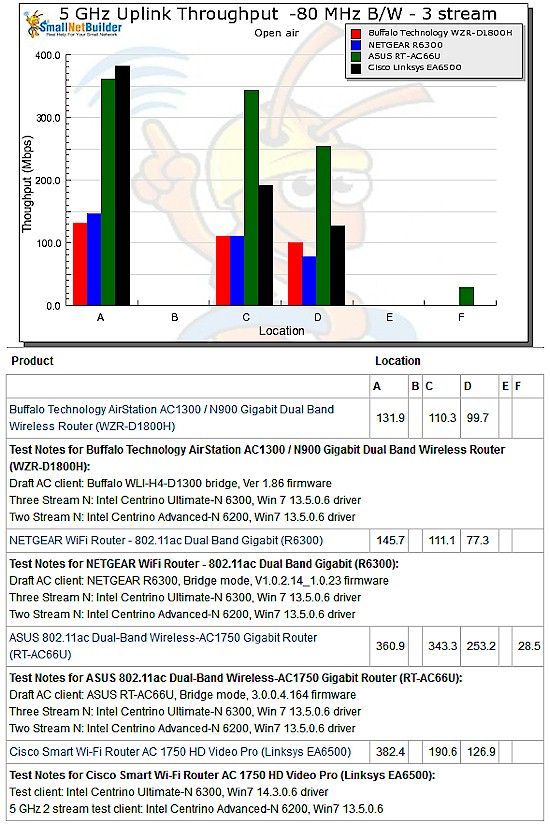 Draft 802.11ac throughput vs. location comparison – uplink
Wireless Performance – more
Here's the IxChariot plot for downlink, showing relatively stable throughput.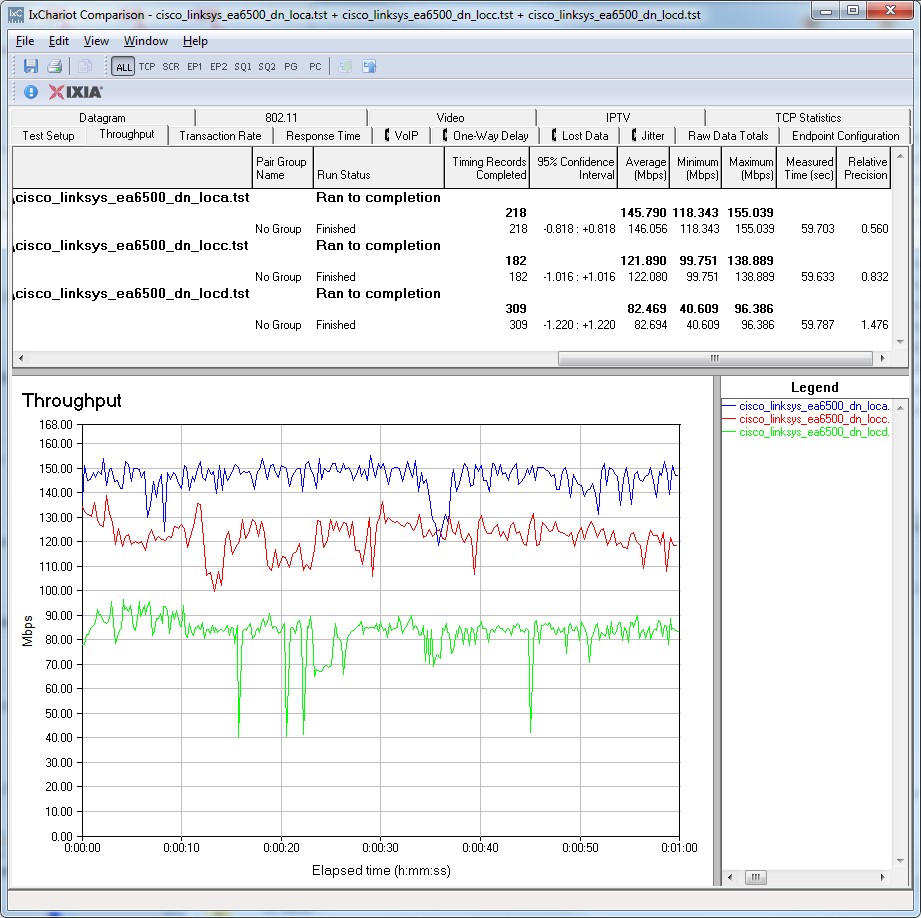 Draft 802.11ac throughput IxChariot plot – Linksys EA6500 – downlink
The uplink plot is very different. With a strong signal in Location A, the router shifts to a higher throughput level two times, peaking at around 600 Mbps (!) for a short time around 45 seconds into the run. It then falls back to bounce around the 300 Mbps line for awhile and then begin its upward climb again. I reran the test a few times and found a similar pattern each time.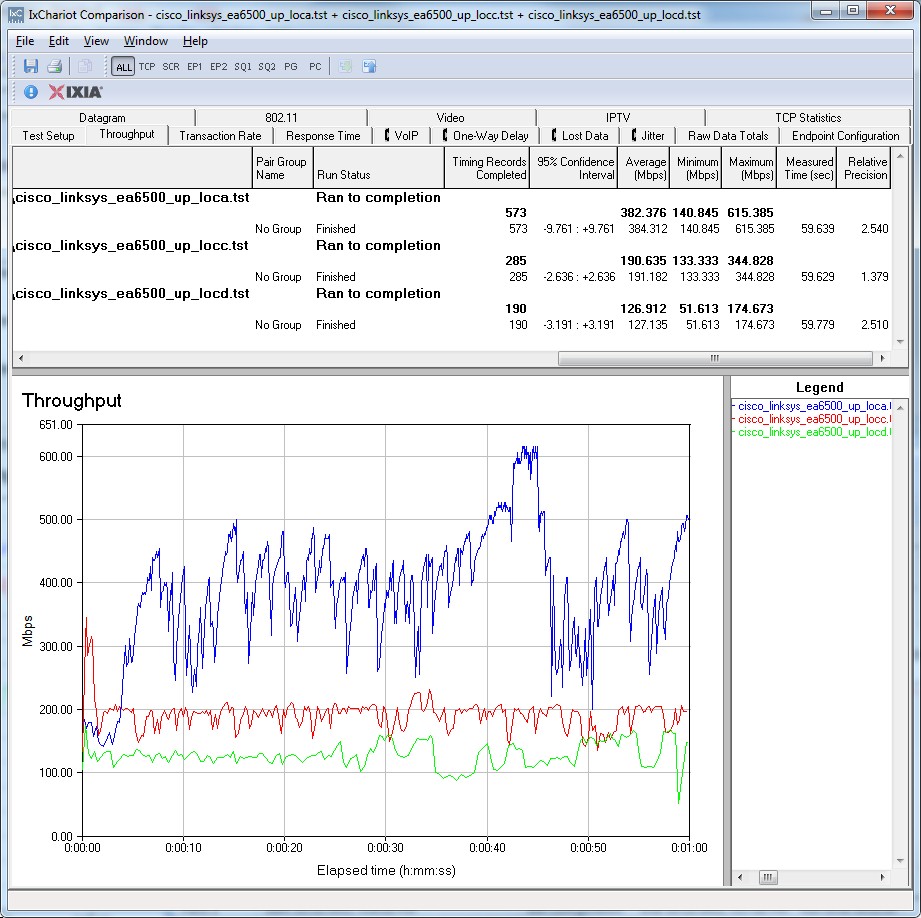 Draft 802.11ac throughput IxChariot plot – Linksys EA6500 – uplink
I have seen other draft 11ac and N routers take awhile to shift up to their maximum throughput at the start of a test run. But I haven't seen the multiple shift, fallback and repeat pattern before.
Maximum 11ac Throughput
I ran our multi-pair test to see how throughput scales as more test scripts are run simultaneously. The plot below shows the EA6500 behaving more like the ASUS, with (just) over 400 Mbps of total throughput with one pair and total throughput peaking at four pairs. The EA6500 even beats the ASUS with a peak total throughput of 548 Mbps vs. 527.
Draft 11ac throughput vs. traffic pairs
Closing Thoughts
Our testing so far shows that the EA6500 has high routing throughput with plenty of simultaneous connections. But its storage filecopy performance doesn't set any records, especially if you write to it with a FAT32 formatted drive attached.
Since we don't test with a standard AC client, it's tough to say that one product is really better than another. But it seems like the ASUS RT-AC66U still holds the crown for best overall draft 11ac performance, especially as signal levels drop. With a strong signal, however, the EA6500 holds its own against not only the ASUS, but the Buffalo and NETGEAR AC routers too.
Part 2 of the review has the rest of the wireless test results so that you can decide if the EA6500 is the draft 11ac router for you.
Buy Smart Wi-Fi Router AC 1750 HD Video Pro from Amazon